Liverpool will be given priority access to the match officials' audio from Saturday's controversial defeat to Tottenham before it is released to the public.
The PGMOL are keen for the communication breakdown that led to Luis Diaz's goal being incorrectly disallowed for offside to be shared as they bid for full transparency over the error.
However, This Is Anfield understands they will first grant access to the audio to Liverpool, who lodged a request to that effect on Monday afternoon.
UPDATE: Liverpool have now received the VAR audio, with a review underway
Following review by the Reds, the plan is for the discussion between the officials to then be released to the wider public as part of the Premier League's new VAR review show.
Match Officials Mic'd Up, which sees PGMOL chief refereeing officer Howard Webb join Michael Owen to dissect controversial decisions, is scheduled to be broadcast next Tuesday (October 10).
It is likely that major focus will be placed upon Saturday's events, which Liverpool have demanded are the subject of a full and thorough review.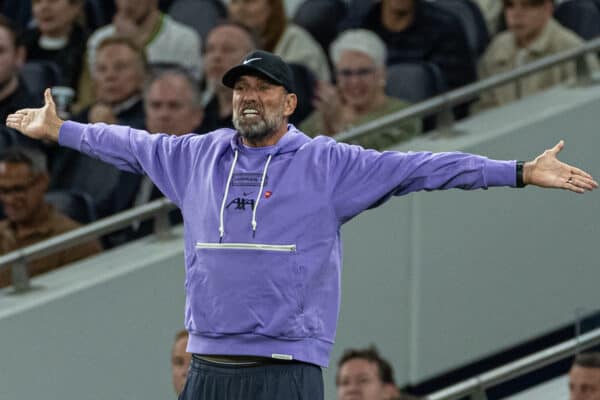 VAR Darren England and AVAR Dan Cook, whose "significant human error" has been cited as the main cause for the blunder, were immediately stood down from officiating further games across the last Premier League match week.
They have also not been selected to officiate in any of this weekend's games.
But Liverpool want further action, including changes to protocols that resulted in the loss of a legitimate goal and then compounded that mistake by not allowing play to be brought back.
They also have questions over the wisdom of allowing the officials involved to make the gruelling trip to the UAE in the days prior to the game.