Trent Alexander-Arnold has spoken of the "opportunities" of his new role in Jurgen Klopp's side and has laid out Liverpool's lofty ambitions this season.
A hamstring injury has restricted the right-back's minutes so far this season, but he made his return to the pitch as a substitute during the 2-1 defeat at Tottenham last weekend.
Alexander-Arnold was shifted into an inverted full-back role towards the end of last season, a switch which reinvigorated the form of the side and the individual.
Speaking ahead of the trip to Brighton, the 24-year-old detailed how his new position affords him more "opportunities" going forward and the way in which his "foundations" enabled him to seamlessly adjust to the tweak.
"It creates a lot more opportunities and options for me on the ball," explained Alexander-Arnold.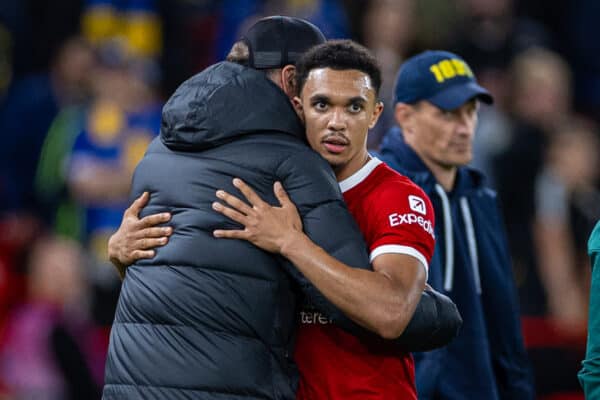 "It is not like I did not know how to receive a ball and pass a ball. The foundations were there. It was just getting it set in a system that worked and got the best out of everyone."
The Reds wrestled with inconsistency throughout 2022/23, but Alexander-Arnold's move into a hybrid role across right-back and midfield facilitated the start of a 19-game unbeaten run that only came to an end against Tottenham last weekend.
Liverpool's vice-captain explained how the tactical change has made him feel "more connected" to his teammates in a move which has visibly improved the side's form.
"On the right side of the pitch, you are quite limited because most of the time you are quite close to the touchline so you cannot pass to the right. When you are in the middle, you can pass left and right," he continued.
"It opens up that passing option to the right out to Mo or whoever it is occupying that space out there.

"The only time I was connected to Robbo was a big switch of play. Now it is a much shorter pass."
"It is a lot more connected. I feel like I am able to dictate games in there as well. You get more chance to get on the ball and dictate the tempo, dictate when and where we attack. Just that feeling of being in control of games."
Alexander-Arnold didn't hold back when asked about the Reds' objectives this season and described upcoming opponents Brighton as the "masters" of dictating a game.
"Win the league," when quizzed about the goals for 2023/24.
"[Brighton] are the masters at [controlling the match]. It will be difficult to control the game there, not many teams can do that.
"When we do have the opportunity to do it, we need to make sure we do it effectively and are set up defensively to make sure they cannot control the game as much as they really want to."