Thomas Frank took a sensible view on VAR and the referee's decision not to send off Wataru Endo, despite Brentford's costly 3-0 loss at Liverpool.
Frank is undoubtedly one of the smartest and most relatable managers in the Premier League, which has earned the Dane considerable plaudits at Brentford.
That shone through regardless of the result on Sunday, with his side comprehensively beaten at Anfield through Mohamed Salah's brace and a fine strike from Diogo Jota.
There was a big talking soon after the second half got underway, though, as Endo came together with Christian Norgaard in a robust, old-fashioned challenge.
Endo came away with the ball but Norgaard was left on the floor, with VAR eventually pulling the situation back – and, fortunately, the decision was made not to dismiss Liverpool's No. 3.
Asked about the situation in his post-match press conference, Frank gave a balanced view, insisting that while recent examples suggest it would have been a red, he believes it "shouldn't be."
"Back in the day, there would be a lot less red cards. I think this situation, back in the day, never would have been a red card," he explained.
"In the football we are playing now and also back in the day, I think the ref missed a foul and a yellow card, on the pitch. That's what I think he missed.
"With VAR, I think it's a different situation. But even with VAR, I think we get it wrong, in my opinion.
"Even with VAR, I think a situation like this shouldn't be a red card – should not be a red card.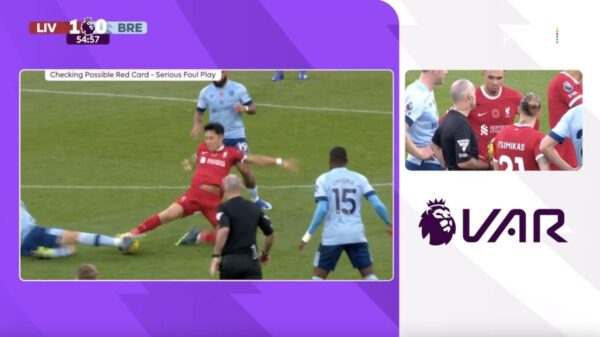 "But with the slow image we get today, you will see a clear foot on the leg and you will see four bloody marks on Christian's leg, then that is definitely some contact and it must be with some excessive force.
"So he definitely went over the ball with enough force to do that.
"When you do that with the still footage, you have Curtis Jones against Tottenham, you have Rashford against Copenhagen, there is probably a lot more.
"Then you have similar against Newcastle from ourselves a couple years ago and this one today.
"With that in mind, then it's a red card. I think all four, going forward, shouldn't be, in my opinion. But with the way it is, it's a red card."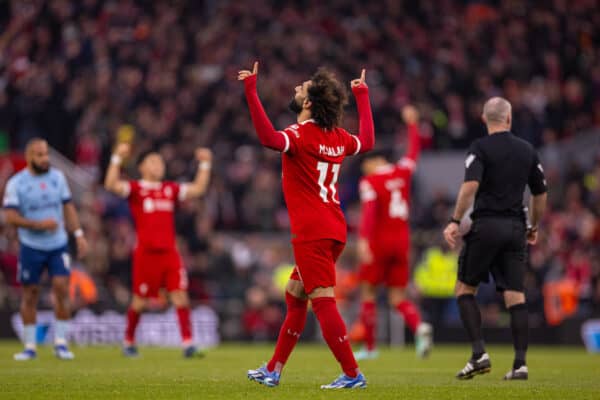 Brentford fans may also feel aggrieved over the buildup to Salah's second goal, with Kostas Tsimikas crossing the ball when it looked as if it may have already gone out.
A VAR check ruled that the entire ball had not crossed the line, and Frank backed the decision due to the lack of clear technology.
"The [second Salah goal], I will never complain about that," he told reporters.
"I think you guys in Liverpool, you were hard done by 1.3cm wasn't it, back in the day [against Man City]? And that was only because of goal-line technology.
"Unless you have that technology [for every line], I will never, ever, ever, ever complain.
"And, by the way, I was pretty far away, so I think it was difficult for me to see that.
"I'm more disappointed with our own defending, I think we need to look into that first."