Liverpool currently occupy second spot, but Jurgen Klopp knows it is "only November" and there's still plenty to come from his side, though he's not pleased about the 12.30pm start that awaits.
Here are four key points from the manager's post-match press conference…
How many superlatives can we have for Salah?
Another brace for Salah and that is 12 goals for the season already, seeing him notch more milestones and records and leaving Klopp with an abundance of praise for his winger.
"Exceptional, just an exceptional player," Klopp said. "Played a super game and we all know how difficult it is against these tall centre-backs, two players around him.
"How often he kept the ball for us and we could play from there, super important. The composure for the first goal is insane.
"Pretty special player."
That he is, Jurgen. That he is.
The ideal boost for Tsimikas
Kostas Tsimikas was markedly better than his midweek outing, and Klopp knows how important his two assists did and could yet prove to be.
"Kostas, we could all see the difference between Kosty before the assists and after the assists," the manager said. "That's football. It's helpful if you get positive feedback.
"Very important and all players performed at a top level today, and I'm really happy with that."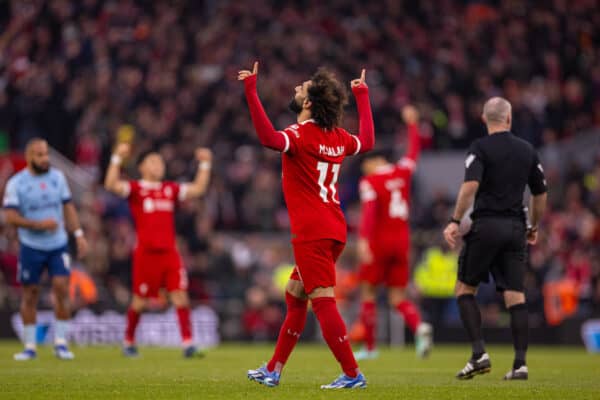 27 points and near the top, but "only November"
Liverpool have left a lot of points on the table so far this season but they remain firmly in touch with the leaders and with gears still to find.
"It feels good, but it's November," the boss said of the Reds' current second-place position.
"It's really important that we have points similar to other teams because we obviously didn't play perfect football yet, not even close."
We look forward to seeing that "perfect football!"
Why do we play Man City at 12.30?!
It's beyond belief that decision-makers thought it apt to select Liverpool's trip to Man City for the early kick-off immediately after the international break.
Klopp did not hide his bewilderment as he will only have one training session with his team, a number of whom will share a flight back to England with City players.
"We come back and train once and then play City. How can you put a game like this on Saturday 12.30?" Klopp questioned.
"Honestly, the people making the decisions they just cannot feel football. It's not possible."