Liverpudlian provides his run-down of the season; on our free flowing football, the manager of the year and how the rivals fared.

So where do you start to describe a season like that? In August, if anyone had offered us fourth place, we would have taken their hand off, but now we are gutted at finishing second. In a roller coaster of a season, there is no doubt though that the highs far outweigh the lows though and the undisputed, predominant fact that has come out of season 21013/14 is that out of the blue, not only are we now back in the pack, there is no reason we cannot move on now and mount a sustained challenge repeatedly due to the age and ability of our team.
Yes there have been occasions in the past where we have flirted with the holy grail of the Premier League, only for us to flatter to deceive the following season but this time around though there seems to be a momentum that this is "our time" both within and around the club. It is tangible and for a few weeks it even looked like that unbeaten run would take us all the way to the title and those scenes welcoming the coach into the ground were incredible.
OK we fell short in two of the last three matches but not until after we had put that incredible run of eleven successive victories together that frightened the life out of everybody with a brand of attacking play matched only by the eventual champions. As it turned out, we would have needed 40 out of 42 points to have won it so that gives you an idea of how close we were.
The potential of us becoming champions, from seventh the previous season, was considered impossible and our efforts were not lost on anyone with knowledge of the English game. Even the cynics from the Stretford End and the Gladwys St were having palpitations as we chalked up win after win. Gary Neville summed it up perfectly in reflecting either us or City as champions, when he compared it to choosing which guy you want to pinch your wife.
As the support from neutrals far and wide grew, the entertainers had apparently become everybody's second team with allegedly a groundswell actually wanting us to win it! Now I am not sure about that, but in terms of sheer box office, a season that produced a staggering 151 goals from 38 games is surely worth the Sky Sports subscription from anyone's pocket alone. The cold hard facts and discipline of winning the premiership however, dictates that the fifty goals conceded made even that 101st goal from Daniel a bridge too far with City's goal difference infinitely superior, primarily due to their ability grind out clean sheets, a feat that we found almost impossible at times with our cavalier football.
The purists loved it of course, while the tacticians cringed, because it does not take a genius to see that if we continually had to score more than the opposition to win, we were always going to come unstuck eventually – even if we did have a genius leading our attack. But hey, every other team in the country bar City would swap right now for our final position and that is a fact.
Champions League, our rise in stature back onto the world stage, the prestige of going straight into the group stages with its attendant financial rewards, the global exposure, European nights at Anfield and the subsequent ability to attract the cream of European talent to join our ranks. When the current disappointment fades, those are the rewards of this fantastic season under a manager who has surpassed all expectations with his methods and calm demeanour.
Rodgers

At such a young age, Brendan Rodgers has embraced the values and history of the club and accelerated our progress into the big time at a rate even quicker than he envisaged. The potential is there for him to achieve legendary status and a new contract is in the offing for an excellent season and I feel we have the best young manager in the country. Even our friends in the media are saying nice things about us with our positive attitude and entertaining style of play. A British manager with a high dependency on English players who is not afraid to give youth a chance is exactly the ethos envisaged at the start by FSG when they took over. Furthermore, the stance adopted last year with Luis was justified and a telling factor and he was rightly awarded both versions of footballer of the year to cap an incredible transformation from public enemy number one.
Naturally, we are hearing the odd mutterings in the media already though from the likes of Alan Smith of how difficult it will be next season with the potential "huge" transfer outlays of City, United, Chelsea and Arsenal with the assumption, presumably, that we have not only have peaked, but also that we will not be spending big to improve our squad as well? How strange? A notion then, that I can only assume is more down to wishful thinking than sound logic as there can be no doubt we certainly have ruffled a few feathers at Stamford Bridge, the Emirates, Old Trafford and White Hart Lane and some of their media based (but biased) ex-pros who suffered on the pitch to us in the 70's and 80's, are not best pleased and seemingly never miss an opportunity to reveal their true feelings and have a pop. Alan Brazil similarly, was aghast that we are third favourites for the title next year, having already presumably written us off as just one season wonders and he repeatedly challenged a bookmaker live on radio regarding the accuracy of our odds.
The manager of the year was exceptional then, but with the return of the special one, we were expecting a season of controversy and duly got, it but that wit and mischief has sadly been replaced by an aura of cynicism and suspicion with all the charm and demeanour of a bulldog licking piss off a nettle. "Infamy, Infamy they've all got it in for me" were the wailings as his title bid imploded, firmly in the belief that the entire infra-structure of the premiership had been transformed into a pro-Liverpool-anti-Chelsea agenda, blaming everyone but himself for the indiscipline raging within his club.
"Special one"

After proclaiming he will be the happy one this year, he is very much looking like the man who wanted the United job then forgot the "never go back" mantra and, realising his mistake, has also found out the Premier League has moved on and will not be bullied any more.
His sarcasm and criticism is not limited to football's aristocracy either as having sold his best player, he's subsequently fallen out with his second best now, insulted his strikers and that is just the spats we know about. His banned number two has definitely lost the plot and if parking two buses is the required tactic to disprove his conspiracy theory, then all it did was hand the league to an even more expensively assembled adversary and relegate his own side to third. That was bright, wasn't it Jose? A master class? My arse, as somebody once said.
Last time round of course, he was ejected for failing to produce the fluent attractive football the owner thought he was buying with his roubles. How ironic then, that both the sides above him have displayed that in abundance and the pressure may well be on next season to replace the anti-football currently being employed at the bridge. If it all goes pear shaped and the antics of the coaching staff are replicated again next year, it remains to be seen if Roman will continue to preside over yet more excesses to try and outspend everyone in order to pamper the ego of football's version of the grumpy old man.
At the Emirates, Arsenal did their usual last minute surge to grab fourth place but most of us are wondering exactly what the point is any more, as every season is basically the same. They start well, are crowned champions by the media in March and then it all unravels in April.

They always were the poor man's Barca, but the sad fact is they are not even amongst the top two most entertaining sides in England any more, let alone Europe, added to the fact that the best young English talent is now blossoming at Anfield and Southampton. In defeat, Arsene's Mr Bean impressions actually pull at the heart strings until you remember the smug, holier than thou, persona of those self-satisfied gooners, who are only slightly less mouthy than the plastics. All credibility in the "project" there then has largely disappeared now and our surge has only served to suck the air out of their argument that it takes a large outlay of money to usurp the dominance of "Manufactured City and Chelski".
Still, the Frenchman seems to have carte blanche to stay for as long as he wants, presiding over a side that are flat track bullies that can beat the smaller teams but get battered by the big ones. Providing he continues to take his team as far as the last 16 of the champions league every year though, it seems it's a case of smiles all round.
Spurs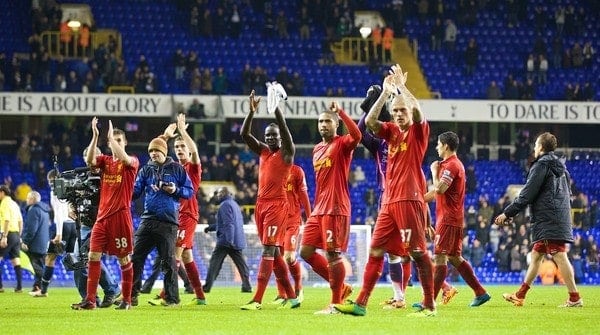 Our five nil hammering of the "Spurrrss darn at the lyne" signalled the death knell for AVB and the fractious reign of our Tim began and you've just gotta love this streetwise guy for his honesty and integrity, haven't you? Bringing that mouthy cockernee, for example, out of the stands for a spell on the bench in his last match was pure genius. In a tempestuous season and a time where he was deffo dead man walking with yet another managerial change in the offing by Mr Levy, I loved it. When there is categorically a dearth of characters in the game, Tim will do for me.
United
The shambles at Old Trafford surprised everyone in the football world except those of us who have stated many times that the team's results were 25% better under the Fergie than the actual quality on the pitch. Now that the long standing intimidation of officials has stopped and the fear factor has disappeared from the theatre of screams, agent Moyes delivered exactly the scenario we envisaged and after 24 years we are all forgiven some semblance of pleasure in witnessing the start of their slide into oblivion and long may it continue.

Moyes is dour in nature and dour in management style and totally at odds with the way they play the game at Old Trafford. Say what you like about them, but under Fergie they attacked right up to the 98th minute of every match and knew how to get a result and their ethos was totally alien to the chosen one. Along with the gaffs in his book and personally overseeing the choice, the credibility of the great man has taken a few knocks lately and it is rumoured the incoming Van Gaal will insist on his removal from any sort of power prior to accepting the poisoned chalice of overseeing Ryan Giggs eventual progress into the manager's chair.
Oh how the football landscape has changed in Manchester, with a lifetime of hurt turned on his head and the City fans I know are pinching themselves every time they wake up to make sure it's all real. Yes, they bought the title with non-football money but somehow it's different to the Chelsea situation. City fans are still grounded and realists unlike their obnoxious Chelsea counterparts who are firmly up their own arses like they are god's gifts to football. Unlike Mourinho, Pellegrini acted with dignity and humility throughout the season and if we were going to finish second to anyone, well they would have been my choice.
Blues
And so to our friends from across the park who were quite willing to swap any chance of a Champions league berth by letting City beat them. In a season where even Newcastle had a good go at us in the last match of the season (when their heads have been on the beach since April) what a truly pathetic half-hearted effort that was once Barkley had scored that gem.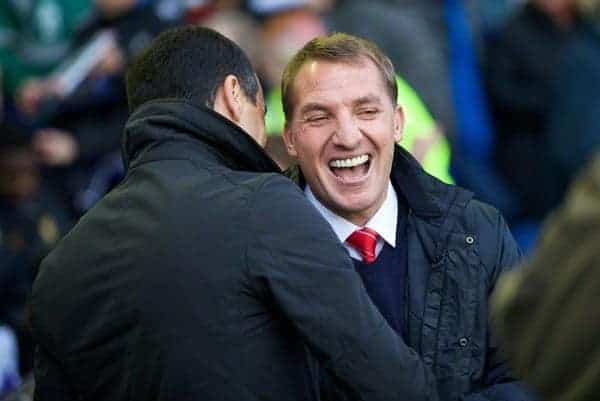 Living up to every inch of their "bitter blues" tag, the anxiety was quite blatant until City regained and then increased their lead. Even Gary Neville was bemused by the lack of home support but given that I have never seen them do us a favour in the last 50 years, it was no surprise to me that City enjoyed a practice game on a day when the home team showed neither fight nor integrity.
As someone said, what goes around comes around and at a time when every Red I know was hoping Martinez would oust Wenger from that fourth place, you saw that and wondered why. Small club with small club mentality from their special fans and the rest of the country witnessed what we have known for years and any respect for their good season evaporated on that day. Roberto Martinez is too good for that place.
Exceptional times to be a red.
Liverpudlian.