Joel Matip has dismissed suggestions he will look to leave Liverpool in the near future, but did hint that he could if opportunities remained scarce.
Matip has made eight appearances for the Reds so far this season, but has only started three games—one in each of the Premier League, Champions League and League Cup—playing 275 minutes.
His five remaining outings have been as a stoppage-time substitute, with Jurgen Klopp utilising his No. 32 to shore things up against Brighton, Leicester, Tottenham, Arsenal and Watford.
He has, therefore, only averaged 34.4 minutes on the pitch per game, with Virgil van Dijk (1,585), Joe Gomez (1,339) and Dejan Lovren (540) all featuring more heavily.
After arriving as first-choice centre-back alongside Lovren in 2016, Matip is now fourth choice, albeit one of the best of his standing in Europe.
At 27, Matip should be playing first-team football week in, week out, but speaking to the Evening Standard he stressed he remains committed to Liverpool.
However, with his contract set to expire in 2020, he did hint that he could consider a move in the near future.
"I only concentrate now on the season on Liverpool and there's nothing else in my mind. Everything else would only distract me," he said.
"I've got to wait for my opportunity, I have to work hard—this is the life of a player.
"I try to be in the best form I can be and to be ready if I had to be."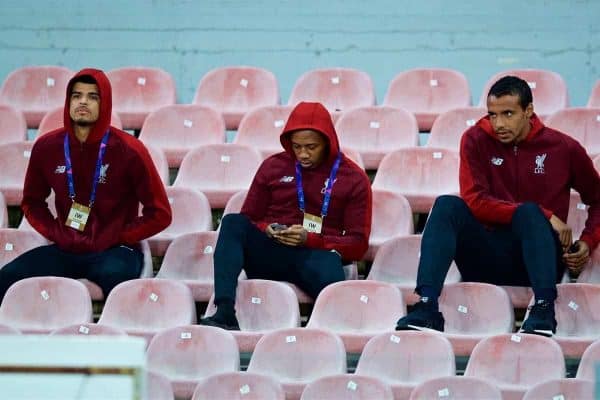 Matip previously told the Liverpool Echo that his squad role left him "frustrated," but remained optimistic, saying "you have to work hard and sometimes that means waiting for your chance."
This is the right attitude for the Cameroonian to take, with both Van Dijk and Gomez warranting their places in the starting lineup, but an end-of-season review seems likely.
It was claimed earlier in November that both Fenerbahce and Fulham were interested in the ex-Schalke defender, who joined Liverpool on a free transfer as one of Klopp's first signings.
Persistent injuries have certainly hampered his prospects at Anfield, but a lack of consistency has also seen him struggle to cement himself in the XI.
There are clear qualities that suit Klopp's system, with Matip extremely comfortable on the ball and willing to penetrate the opposition midfield with vertical passes.
But it is questionable whether he fits in physically, particularly compared to Gomez and Van Dijk.