Liverpool were atrocious in their 2-0 defeat away to Red Star on Tuesday, but how concerned should we be about so many underwhelming performances?
Jurgen Klopp's side were expected to go to Belgrade and pick up three more precious Champions League points, but they flopped spectacularly at the Rajko Mitic Stadium.
Liverpool never recovered from Milan Pavkov's first-half double, with a pair of half-time changes failing to inspire a lifeless outfit.
It leaves Group C looking perilously tight, but the Reds do know that victory away to Paris Saint-Germain on Matchday 5 should see them progress to the last 16.
After the game, Henry Jackson (@HenryJackson87) was joined by Karl Matchett (@karlmatchett) and Dan Wilcox (@LfcDan) to discuss a dismal European night for Klopp's men.
The average…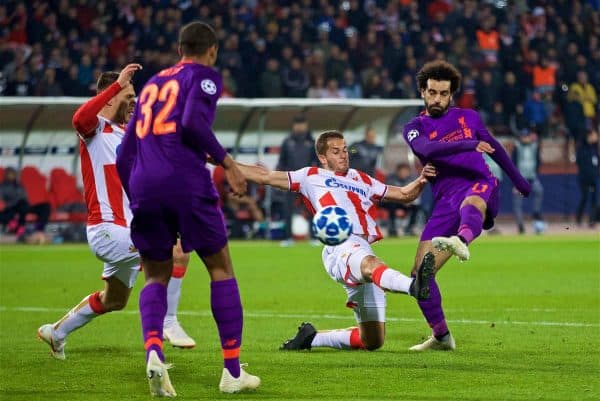 HENRY: There was absolutely nothing good about the performance, and to be honest, not much is even worthy of being deemed average.
It was a terrible night for anyone of a Reds persuasion—the type of anaemic performance witnessed towards the end of Brendan Rodgers' reign.
Van Dijk was adequate by his standards, as was Andy Robertson, while Mohamed Salah did at least come close to scoring a few times.
Those are about the nicest and only half-decent things I can say about that display.
KARL: To put the most positive spin possible on the match, it could act as a wake-up alarm, a call to arms before it's too late.
And it's not: we have to beat one of the other two sides and we can still progress.
A two-legged tie in Europe? We did alright in those last term. That's essentially what we face now.
What else? Lallana was actually reasonable in the second half in terms of endeavour, though nothing much came off. Robbo was the best of a bad bunch, again all the effort.
And Mane one-on-one against his left-back was a good outlet for us—why didn't we use it more often?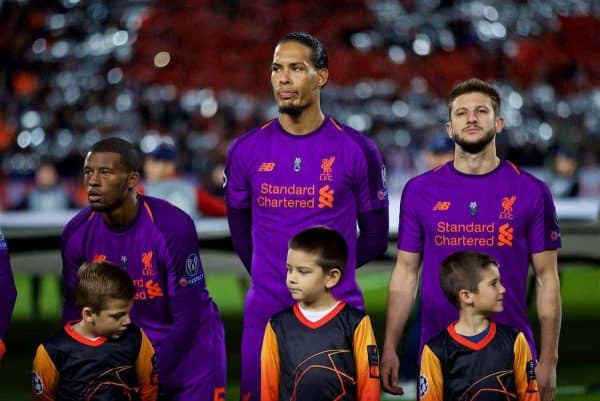 DAN: In a game with very few positives, it's actually difficult to find something average.
Van Dijk, for the most part, had a solid enough game. He's a real mountain at the back for us. His ability to be on the end of so much that enters the box can only be explained as sheer brilliance.
The Dutchman was arguably at fault for the first goal the Reds conceded, though, and could have helped prevent the second.
Salah also represented a small positive for me. Nowhere near his devastating best, but had the odd moment of class, especially when he clipped the post with a volley.
Probably the biggest plus point, and I'm clutching at straws here, was the atmosphere in Belgrade.
That looked unreal and made for quite the spectacle—for the home fans at least!
The bad…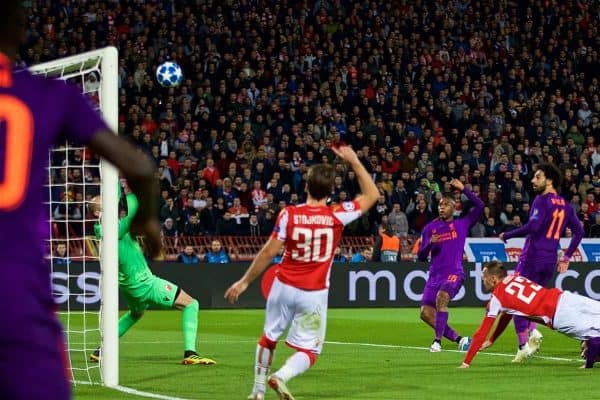 HENRY: Unfortunately, there too many bad aspects of the performance to mention.
I thought Sturridge was the worst of a very poor bunch, on a night when he will not have done his future chances any good whatsoever.
All of his bad sides were on show: lazy offsides, greedy decision-making and a lack of dynamism leading the line. He even missed a gilt-edged opportunity at 0-0, which was so costly.
Sturridge wasn't alone, though, with the entire midfield non-existent for the vast chunk of proceedings, even though Milner upped it a tiny bit in the second half.
Mane did beat the odd man but his touch was like a trampoline—I stole that from a quote about Romelu Lukaku!—Trent was again completely off the boil and Matip gets worse with every showing.
Even Alisson should have done better with the second goal. If that was Loris Karius or Simon Mignolet, they would have been lambasted.
The team performance as a whole was pathetic, with many looking daunted by the atmosphere, and Klopp also deserves criticism for a poor team selection.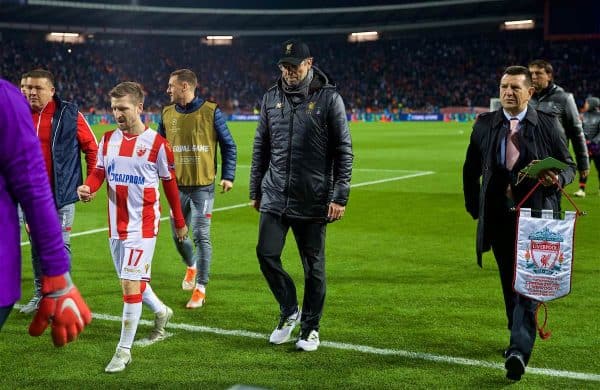 KARL: Klopp takes the biggest share of the blame here for me.
Set the team up basically saying "we expect to win easily" with those changes, when it should have been strongest team, get the job done, rotate at home against Fulham.
Now we're in a much tougher situation.
Individually and collectively, the midfield was atrocious last night. Passing and closing down were both off the menu and that's never a good combination in the centre of the park.
DAN: Where do I begin? This could take a while…
Wijnaldum, who should have cleaned Pavkov out before he scored Red Star's second, generally had a dismal game. Alisson could and probably should have done better with his efforts to save the Serbian's shot, too.
Alexander-Arnold had a real shocker on the right, following on from his poor game against Arsenal. He was beaten far too easily on a number of occasions before getting the hook at half-time.
Sturridge missed an absolute sitter—had that gone in the game would have panned out very differently.
As Henry says, he was also too greedy in front of goal and almost appeared as though he was over-eager to impress with his start.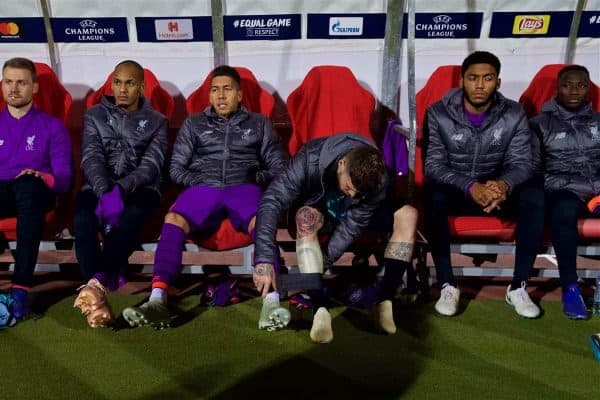 Klopp made changes but not necessarily the correct ones and certainly not at the right time.
The last roll of the dice saw Origi appear from the wilderness with just 10 minutes to play. Why not go for it much earlier?
He also made a bad call to leave Shaqiri at home.
All-in-all, it was a shambolic effort in a game in which three points were so vital. Pretty much the whole side under-performed—when that happens, you don't expect anything less than what took place.
And how concerned are you moving forward?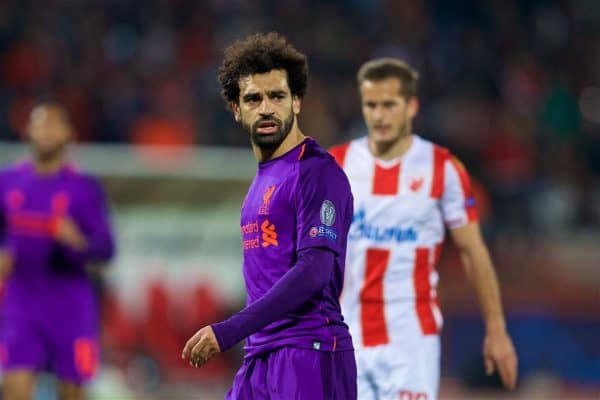 HENRY: I'm still not particularly concerned, considering we remain unbeaten in the Premier League—Liverpool's only dropped points are against rivals—and our Champions League destiny is in our own hands.
That being said, the level of performances have to start improving soon, because it is now November and we can't keeping saying "it will click soon."
The final ball continues to be frustratingly erratic from so many players and there just isn't the same cohesion as last season.
The attacking trio are not firing at all as a unit, but an inconsistent midfield is supplying them with poor service and the full-backs also need to offer more.
I see Keita as somebody who is going to come in and help transform matters—Liverpool are lacking guile and pace in the midfield without Oxlade-Chamberlain, but Keita is the man to solve that problem.
I still think Liverpool will qualify for the knockout stages, and will suddenly go up a gear, but that was an undeniably worrying evening.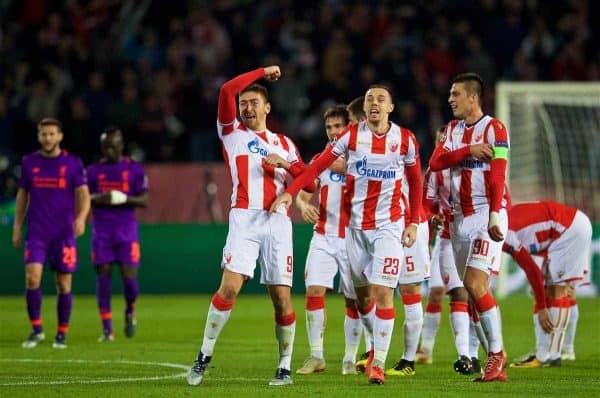 KARL: I'm not concerned by results, but I am annoyed at lethargic displays lacking energy, drive and guile.
This was always going to happen to an extent as we focused more on improving the defence.
It's simple football mathematics: when you strengthen one area, another is weakened accordingly.
In our case, it's in having the extra supporting runner or two, leading to our swamping of opposition defences on the turnover being all but non-existent this season.
Something has to change in that regard because we don't have the players to be direct, to play wider, or otherwise change our attacking patterns.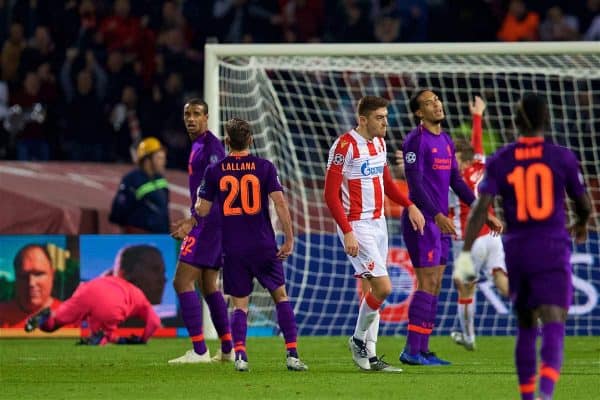 DAN: I'm personally quite concerned. The cavalier football from last season is all but non-existent.
We've clearly looked to change our style to become harder to beat, and to an extent it has worked, but at the minute it feels like we've pulled it back too far.
The synergy and clinical nature of our forwards is far less evident and the midfield consistently seems to lack creativity to aid that.
We're just not in the best place currently, performance-wise.
It's important to remember that we're still well in a title fight and still have a fighting chance to progress from this group but things need to vastly improve, and quickly.
Fulham on Sunday represents a perfect opportunity to use this result as a kick up the backside and return to what we've been so good at over the past year or so.