It's been a big year for the evolution of Jurgen Klopp's tactics at Liverpool, and a glance at the league table shows how effective these changes have been.
The goals conceded column is almost unrecognisable for modern-day Liverpool.
Even though last season was their best defensively in the league since the days of Rafa Benitez, with over half of this season gone the Reds are yet to reach double figures in the goals conceded column.
They are averaging over two goals per game, and have somehow managed to overtake Man City's goal difference as well as their points total.
The manager has moved to solve problems and iron out mistakes, and has done so with great success in 2018.
Seeing Off Mourinho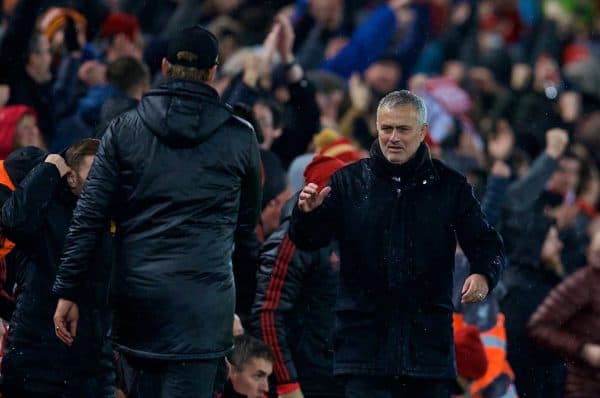 One of the main problems Klopp has had tactically since joining Liverpool has been against teams who bypass the high press simply by lumping balls over it.
If the high counter-press is your greatest playmaker, as Klopp says it is, what happens if it is taken out of the game?
The use of this tactic against Liverpool has been epitomised by the approach used by Man United under former manager Jose Mourinho, who has utilised various collections of target men in attacking midfield positions to help win long balls from the back.
To counter this Klopp scrambled his formation for December's 3-1 win at Anfield, setting up in an asymmetric shape which was able to trouble United even if they bypassed the initial press: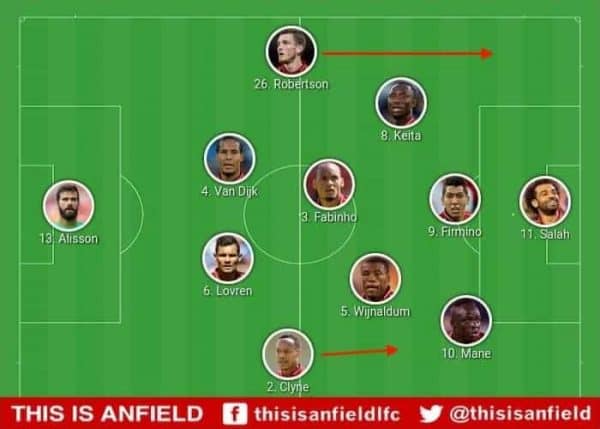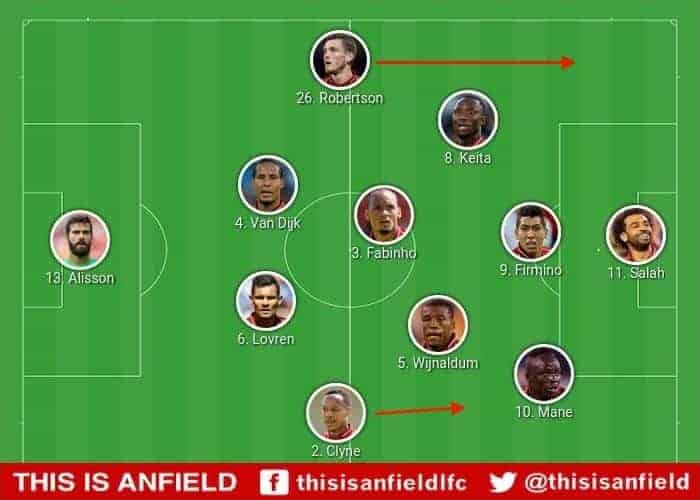 This saw the use of a tall defensive midfielder—Fabinho—plus Naby Keita in a shuttling role in which he was half part of the attacking midfield three, but also part of the deeper trio.
Fabinho and Virgil van Dijk, who is good at both reading and winning aerial balls, looked to nullify the threat of the target man, but it was Dejan Lovren, bouncing back from a poor performance at Old Trafford in March, who won the most aerial duels, with six.
This lack of an out-ball, and Liverpool's staggered formation, meant United lost the plot.
It has been a year of subtle change and evolution for Klopp, and here he'd found a way for his own team to maintain their style while also stopping the opposition.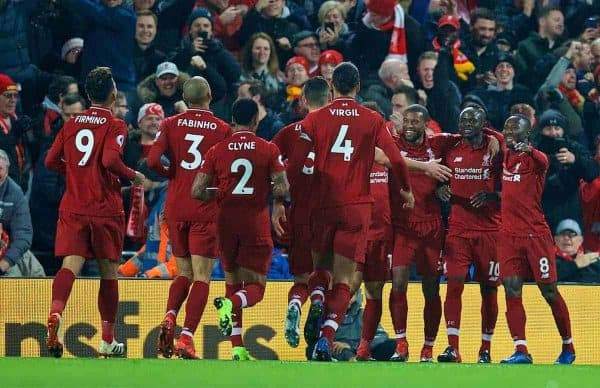 Klopp had managed to outwit his opponent thanks to a couple of key signings and a slight change in shape, finally beating Mourinho in a league match in the last meeting between the two.
Mourinho was sacked shortly after and though the Portuguese's exit had been coming, it felt like the final nail in the coffin.
At least he had had Liverpool's number? Not anymore.
Huddle Formation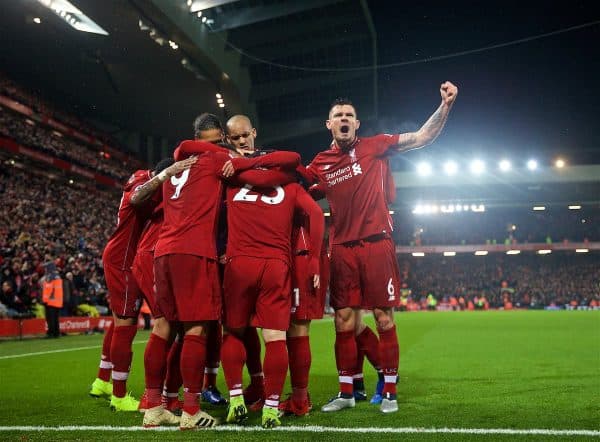 The formation against United was somewhere between 4-3-3 and 4-2-3-1, dropping into a 4-4-1-1 in defence.
On occasions before that game, but especially since, Klopp has used a standard 4-2-3-1—his once-favoured formation which brought him success at Borussia Dortmund.
He had reverted to it occasionally prior to this season, including in the final game of the last campaign, but now it looks like it could be here to stay.
There were originally suggestions, planted by Klopp himself, that the use of this shape in the new season was to accommodate Fabinho, but it has since become evident that this formation gets the best from a number of players.
The best thing about it is that it allows Xherdan Shaqiri to join Roberto Firmino, Sadio Mane, and Mohamed Salah in the starting XI.
Prior to Shaqiri's introduction to the team, the 4-3-3 was occasionally a 4-4-2 diamond as Firmino dropped deep into an attacking position.
"Our system, when we play with all three up front, is something like a diamond; it can be a 4-5-1, it can be a 4-3-3," Klopp explained in November.
The Brazilian No. 9 was one of the best centre-forwards in the world throughout 2018, but he ended the year as an attacking midfielder.
Whereas Mane and Salah would move forward into the front line of the attack from their wide positions in a 4-3-3, Salah is now the striker, and the use of Shaqiri retains the double wide threat with Mane on the other side.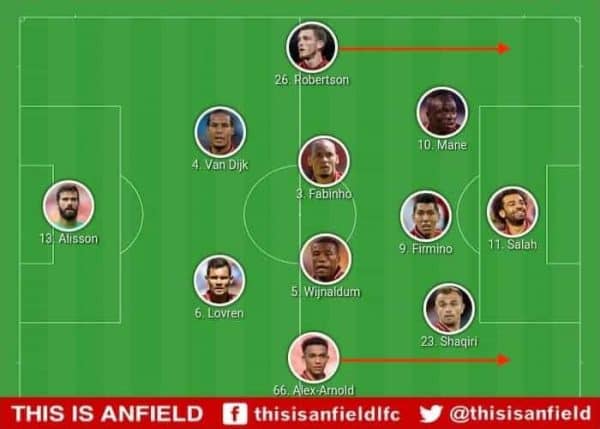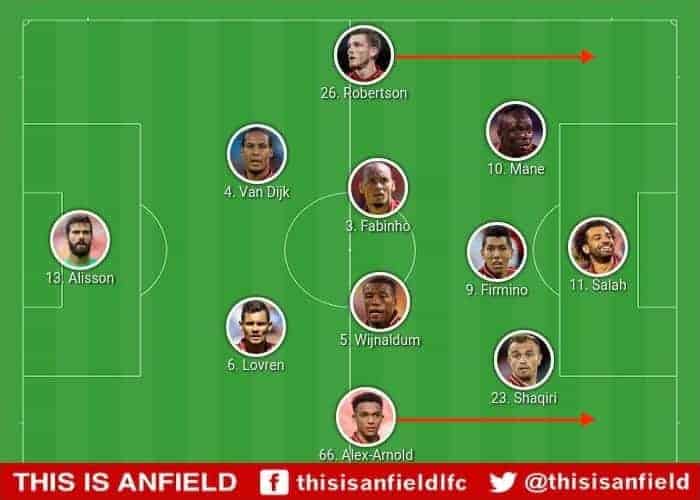 The double pivot in midfield offers a shield for the back four while occasionally giving one of them a license to get forward, and attacking midfielder Firmino has the work rate to match even the most tenacious central midfielder.
The 4-2-3-1 also seems to suit Jordan Henderson, who has looked good in the slightly more advanced roles afforded by the fact that the players in a two can take it in turns going forward.
The captain has also looked useful when playing ahead of Fabinho in a three.
Progressive Metal Football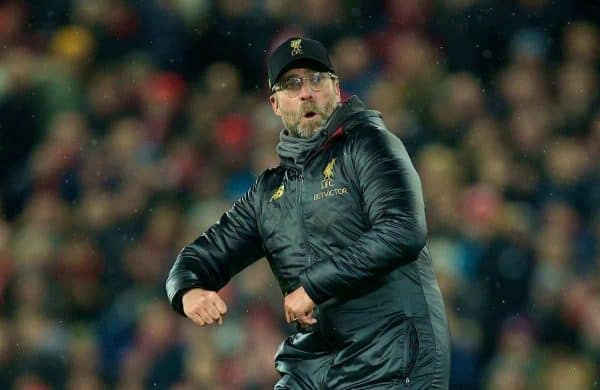 This flexibility has also applied to 'The Pressing'. The team are still pressing intensely in most games, with a few exceptions, but the type of press and the area in which it is executed is now more fine-tuned.
This has led to an idea that Klopp's heavy-metal football is a thing of the past, but instead of blasting out three-minute punk songs, these are now more carefully arranged metal epics where everyone knows their part.
"We were 1-0 up and then we defended in a different space," said Klopp after a hard-earned win against Huddersfield, which was evidence that they are able to defend in different ways.
"That's how you develop, step by step, doing different things," he added.
Problems have arisen when the press from the forwards isn't supported by the midfield, as was the case in the away game against Paris Saint-Germain.
This is then just closing down rather than pressing as such, but overall the pressing traps have been more effective, as mentioned by PSG manager Thomas Tuchel when Liverpool played them at Anfield earlier in the season:
Tuchel: "There wasn't much space for Neymar to get into that No 10 position. I think what Liverpool do really well is they try to get you to play in that area then close the space down."

— James Nalton (@JDNalton) September 18, 2018
Klopp has spoken about this increase in control, and perhaps compactness, which is built on defensive solidity.
"I always think about how to win and defence is the basis for all of it," Klopp said in a recent interview with Sky Sports.
"If the team gives us the opportunity to do it—we will still be there with the counter-press, but very often it is not possible.
"It means that now we have to control more games. We have to keep the ball, especially against counter-attacking sides.
"That may change in the second part of the season when opponents who are down the table need the points and so they will need to open up a bit more. But at this moment we have to control games and be patient but in a very lively way."
Making the Right Moves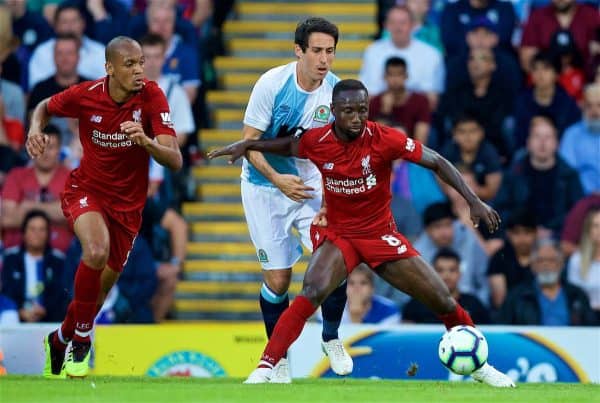 These tactical changes and improvements have been helped massively by the recruitment team, and shows that the club is in good health when it comes to fitting players to the system, and making signings which suit everyone, from owners to manager.
The problem in the Champions League final was that once Salah departed, Liverpool were unable to stick with their original tactics, replacing him with a completely different type of player in the shape of Adam Lallana, who was ineffective.
Now that the @arsenal game is done and dusted thought I'd ask Klopp to sum up 2018:

"A fantastic, fantastic year apart from one really shit day…" #LFC

— juliette ferrington ? (@juliette_grace) December 29, 2018
Now they have options, and the reason Klopp has been able to use so many different systems throughout 2018, especially at the start of this season, is because there have been new arrivals.
Liverpool might still be an attacker short, especially one who can play up front in the same manner as Salah and/or Firmino, but if they were to revisit that Champions League final with this squad, they would have options from the bench which wouldn't affect the style.
Even it they might affect the shape, the new flexibility would come into play.
Alisson has bolstered both the defence and attack, while Fabinho has also been key to the pressing side of Liverpool's game on top of the tactical flexibility he brings.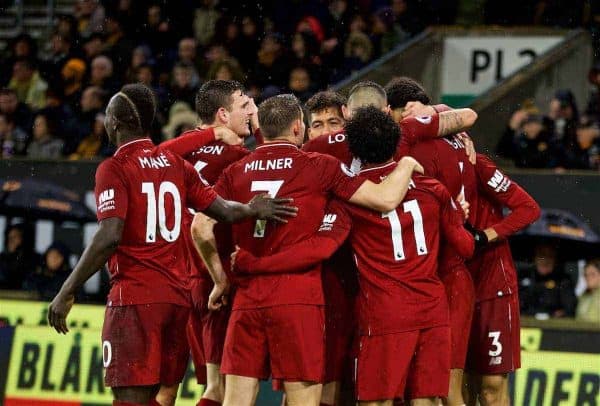 Liverpool finished the 2017/18 season in a Champions League final, and finished 2018 at the top of the table. This doesn't happen unless the club is firing on all cylinders with everyone on the same page.
Who knows where this will take the side in the future?
But when it comes to entertaining football, these tactics, this manager and these players are providing it almost without fail each week.