Liverpool saw off Man United with Jurgen Klopp describing his side's opening to the game as "perfect" as they sent wave after wave of organised chaos in their opponents' direction.
Jose Mourinho usually has a sound tactical plan when he plays Liverpool, often focused on nullifying the press, but Klopp's staggered formation removed any hope his opposing number had of finding a way behind that first sheet of their blanket press.
Beat Roberto Firmino? Here's Naby Keita. Play it long over the high press? Meet Fabinho, Virgil van Dijk, and Dejan Lovren. Play it over the top? Here's our new guy, his name's Alisson.
Mourinho admitted he was tired from just watching Andy Robertson utilise the space down the left afforded to him by Keita's role in the side, and the Portuguese also said that his team couldn't cope with Liverpool's intensity.
"They are fast, intense, aggressive, physical. They play 200 mph with the ball and without the ball," said the United boss.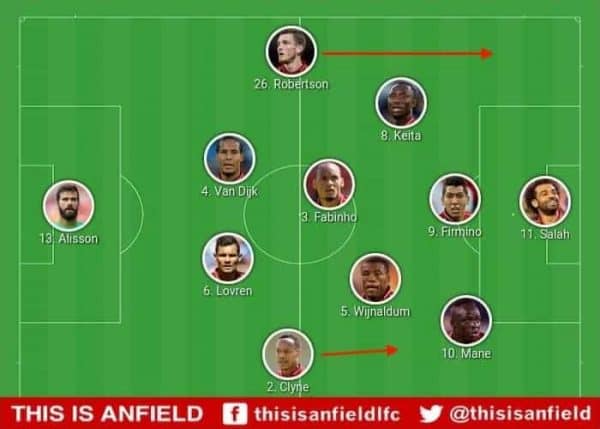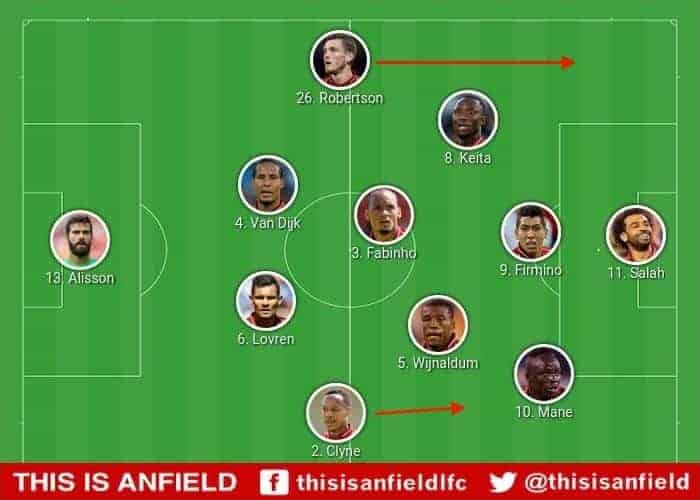 Managers will often say that the formation isn't important, it's what the players do within that shape which matters.
Despite these assertions, clear formations can usually be seen in attack and defence, but Liverpool's setup against Man United was difficult to define without going into the specific roles of certain players who set the shape.
The players who affected this most were Keita and Sadio Mane. Were it not for their differing roles on each side this would have been a standard 4-2-3-1.
The defensive formation was slightly easier to define, and there were often two lines of four with Roberto Firmino and Mohamed Salah pressing where required.
Players would break forward when defending in the opposition half to perform the high press, but on the rare occasion Liverpool were in their own half that formation was set in a 4-4-1-1.
Keita's Role & Lacing A Shoe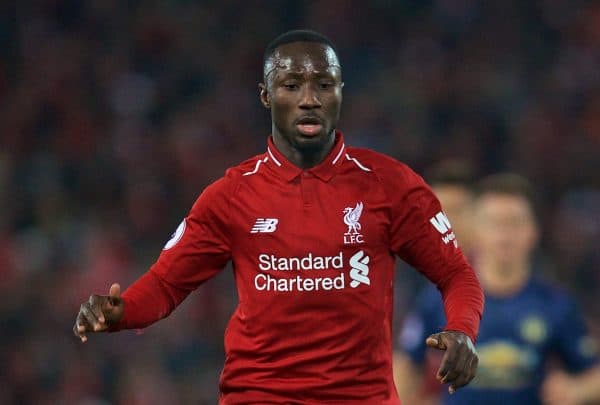 Keita was tucked into midfield, though, and if we were to ignore what Mane, Firmino and Salah were doing in attack, this would be a 4-3-x with a staggered three in midfield.
"We changed a little bit we brought Sadio on the right side and Naby was in the half-space. Man United obviously play rather man orientated, so that's why Robbo had the space and he used that really well.

"Naby played so naturally smart in that half-space, it's not easy."

— Klopp
In front of the centre-backs, the players progressed up the pitch as if lacing a shoe. From Fabinho onwards each player was slightly ahead of the other.
The image below may look disorganised, but each player knew their role, and the roles of others around them.

This was because these roles were very similar to those in the standard 4-3-3 and 4-2-3-1. The attacking formation was probably somewhere between the two, but you can't accurately say it was anything.
Mane's role on the right was somewhere between right-wing forward and right midfielder, while Firmino and Salah buzzed up front with the Egyptian leading the line
What it did do was confuse Man United — a team who Klopp was yet to beat in the Premier League, and one which has frustrated him tactically in the past.
The previous game at Anfield was a 0-0 tactical stalemate, and In last season's 2-1 defeat at Old Trafford Liverpool played a standard 4-3-3 and Jose Mourinho predicted most of what they would do.
This time he may have been expecting something different, but expecting it and dealing with it are two different things.
While Klopp admitted Keita may have had trouble working out who to mark from his position in the half-space, it was even more difficult for Man United to decide who was marking Keita, and also Robertson.
"There are specific jobs to do against specific opponents, you need somebody for the half space, someone between the lines, someone running behind. That's how it is."

— Klopp
Diogo Dalot operated almost as a second right-back in front of Matteo Darmian in the first-half. A banner in the Kop read "Tory Tory Man United," and they were certainly trying to bolster their right wing here, but Dalot was booked and substituted at half time.
Fellaini entered the fray and even he looked lost, wondering where the best area to apply his unique talent was, but never finding it.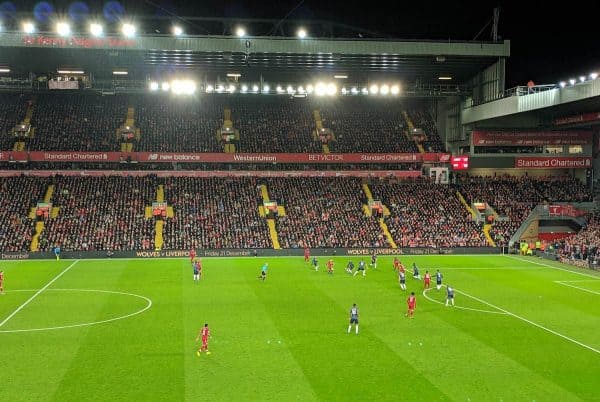 Once Shaqiri joined in there were times when there was no Liverpool player in the right wing zone, as Nathaniel Clyne also tucked inside, letting off a couple of shots of his own.
Midfield Dominance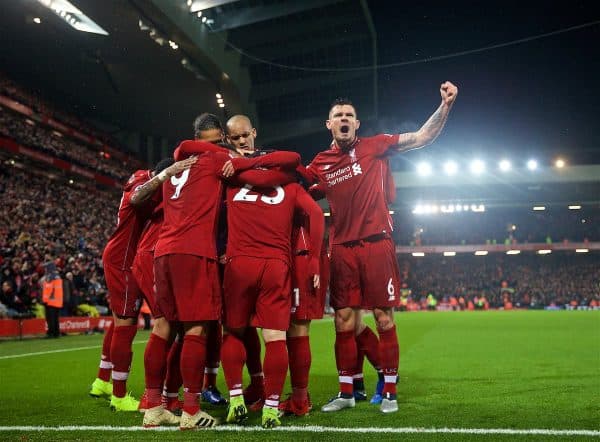 Liverpool's midfield were given plenty of space by Man United's low block, and while Fabinho may have deservedly received plaudits for his outstanding display, it's also worth pointing out Georginio Wijnaldum's impact.
For a player who, in his worst games, can barely be noticed, at his best he can set the tone for a game. His forward passes alone, 39 of them, were more than his total on some occasions.
Here he had more touches than any other player on the pitch with 105, just ahead of Firminho's 101 (!), made four key passes, but more importantly was involved in getting everyone else in the game and making sure he gave them the option to stay in it.
The pass combinations below, from StatsZone shows his involvement.

That here is only one Man United combination in there tells the story of the game. Liverpool dominated them in every area, and United's only real chance came from Alisson's error.
Liverpool were tempted to shoot centrally, and from distance, and they did so quite regularly as shown in the WhoScored graphic below. This may have been one of Mourinho's plans — De Gea will save those all day…

"Shaq is such a wonderful skilled boy that he has to have influence, that's important if we can bring him in the half space and he passed the ball back to the guy who passed him the ball that doesn't make much sense, so he has to turn he has to speed up he has to change the situation, and he did it."

— Klopp
But with so many blockers, blocking 14 of Liverpool's 36 shots, something unpredictable was bound to happen if players made it happen, and in the end that player was Shaqiri.