Liverpool sit top of the Premier League table with a club-record points tally, but Jurgen Klopp's side have spent the sixth-most of any in the English top flight.
The Reds have lost just once so far in the league, that being to closest rivals Man City, and have won 19 and drawn three in their remaining 22 outings.
This is the culmination of three-and-a-half years' hard work from Klopp, his squad and his backroom staff, with the club in great condition both on and off the pitch.
Highlighted in their predicted profit of £100 million and an investment of at least £150 million in new long-term contracts, Liverpool's operation is hugely impressive under Fenway Sports Group.
To prove this further, statistics from Transfermarkt, via Football365, show the Reds to have only the 12th-highest net spend (£142m) of any side in Europe since 2015—the year Klopp arrived.
And remarkably, six other clubs in the English top flight have spent more, including Bournemouth (£151m) and Everton (£189m), who sit firmly in the league's mid-table.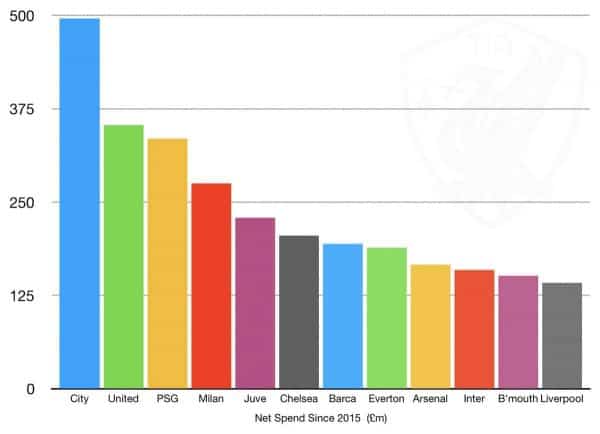 City are, unsurprisingly, top with a net spend of £496 million, and with this just under three-and-a-half times the Reds' outlay, it underlines the progress made at Anfield this season.
It should be noted that this did help bring the Premier League title to Manchester last term, but Liverpool have successfully bridged the gap despite this.
Of course, signings such as Alisson, Virgil van Dijk, Fabinho, Naby Keita, Sadio Mane, Mohamed Salah and Alex Oxlade-Chamberlain did not come on the cheap, but they are offset by sales of the likes of Philippe Coutinho, Raheem Sterling, Christian Benteke, Mamadou Sakho, Dominic Solanke and Jordon Ibe.
In fact, a big reason behind Bournemouth's ridiculous spending comes with their unique relationship with the Reds, having signed Solanke, Ibe and Brad Smith for questionable fees in recent years.
Arsenal (£166m), who are on course to finish below Liverpool for the third consecutive season, Chelsea (£205m) and Man United (£353m) make up the other Premier League clubs to outspend Klopp's side.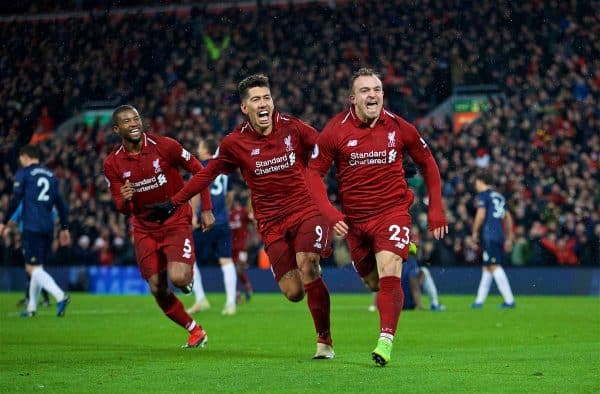 United's approach, shelling out the second-most of any side on the continent to win the Europa League, FA Cup and League Cup but secure just one top-four finish since 2015, is astonishing.
In Europe, that the Reds reached last season's Champions League final despite Inter Milan (£159m), Barcelona (£194m), Juventus (£229m), AC Milan (£275m) and PSG (£335m) spending more shows how well they are performing under Klopp.
It would be remiss to paint Liverpool as anything other than a well-backed European heavyweight, despite their often underdog status.
But these figures prove how Klopp has turned things around on Merseyside, and winning the Premier League this season would compound that.