Alex Oxlade-Chamberlain has delivered a brilliant message on his comeback for Liverpool, insisting his recovery was fuelled by a determination to get even better.
The 25-year-old was named in the matchday squad for the first time in 367 days on Friday night, and came off the bench for the final 17 minutes of the 5-0 win over Huddersfield.
He even almost got his name on the scoresheet after just two minutes, only for Jonas Lossl to spoil what would have been Jurgen Klopp's "Goal of the Season."
But regardless it was a big step in the right direction for Oxlade-Chamberlain, who didn't appear at odds with the intensity of the game and can now look to build in the final weeks of the season.
It is unlikely that Liverpool will see the best of their No. 21 again until the next campaign, but speaking to the Times he expressed his confidence he can reach that despite such a lengthy layoff.
"I don't think I'd become that player [last season]. I just think I was moving in the right direction," he said.
"I was becoming more consistent but it was a short spell [of performance] and to be that [top] player you need a long period.
"Of course [I'm capable of better]. If I didn't feel that, there wouldn't be much point in coming back.
"I've got to believe that's where I can go to. And I'm going to need to do that to get back into this team."
This is great news after Oxlade-Chamberlain's year out, but his comments on the importance of collective success over his own progress are even more encouraging.
"The most important thing is I'd love Liverpool to achieve something really special," he added.
"That comes before me. I've been out long enough not to worry too much about [personal objectives]."
Oxlade-Chamberlain went on the explain how his spell on the sidelines allowed him to witness the pressure on his team-mates from outside of their bubble, and that "you realise how relentless it is."
"You get to hear the noise and everyone wants wins and wins and wins," he said.
"And from the manager I've seen, however well the boys have done at the weekend, he's the same exactly on the Sunday and Monday.
"He keeps demanding from the players. He keeps them there. You can see how he's living it himself, the demands he puts on himself and how that oozes out."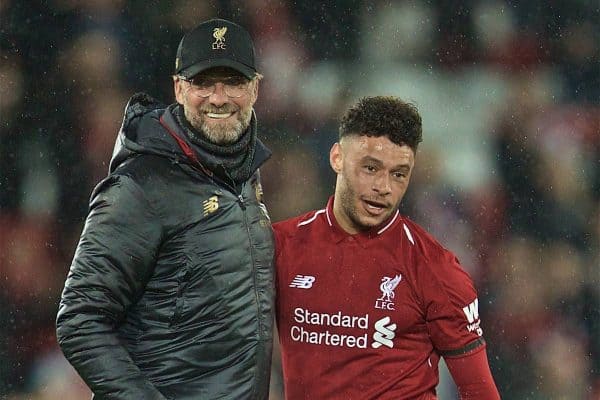 Klopp described Oxlade-Chamberlain as an "outstanding" character after his return at Anfield, and this shines through as he tells the Times he is "lucky to play with these boys."
"It's not nice to miss out but it hasn't been 'bittersweet', more sweet, really, seeing how well the team has done."
It is impossible not to warm to the England international as a person, but the blend of confidence and humility he is showing as he looks to regain his place in the Liverpool side proves his backbone as a player.
There remains a long road ahead, but Oxlade-Chamberlain is clearly convinced he can improve on the excellent displays of last season.