Alisson's debut season for Liverpool has been a resounding success, proving a monumental upgrade to fix a long-standing weakness in the squad.
In the aftermath of the Loris Karius debacle in last year's Champions League final, signing a new first-choice goalkeeper was a necessity for Liverpool to continue revamping the rearguard following Virgil van Dijk's arrival.
The turnaround this year was phenomenal as Alisson stepped up with an outstanding individual performance in the 2-0 victory against Tottenham in Madrid, as Liverpool won No. 6.
Alisson had, of course, featured in the semi-final of last year's competition against Liverpool for Roma, and given the spectacular success of Mohamed Salah since making the same switch he was always going to command a hefty transfer fee.
Liverpool stumped up the £65 million to get the deal over the line, briefly making the Brazilian the world's most-expensive goalkeeper, prior to Chelsea's signing of Kepa Arrizabalaga.
It proved to be a genuinely superb investment, as Alisson became an integral component of the Liverpool back line which conceded the fewest goals in the Premier League (22), earning himself the Golden Glove award for the most clean sheets (21)—breaking Pepe Reina's old record.
A combination of exceptional shot-stopping, anticipating danger, commanding his box and setting up attacks with quick thinking and accurate distribution saw Alisson emerge as arguably the top goalkeeper in the Premier League, and one of the very best across Europe.
Alisson Becker, 2018/19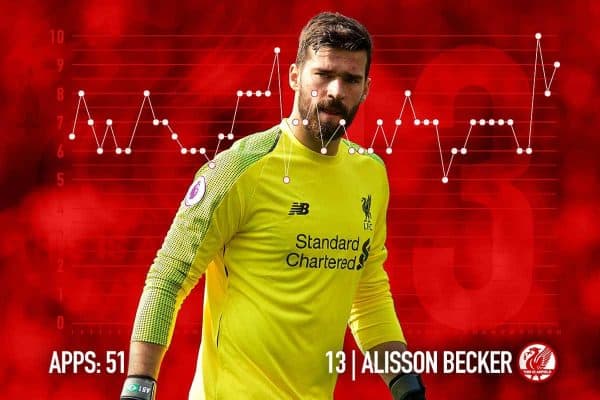 Started: 51 (All competitions)
On as a substitute: 0
Unused sub: 0
Clean sheets: 27
Our Overall Season Rating: 9.5
Average TIA Player Rating: 6.86  (Rank: 9th)
Crucial Saves in Big Moments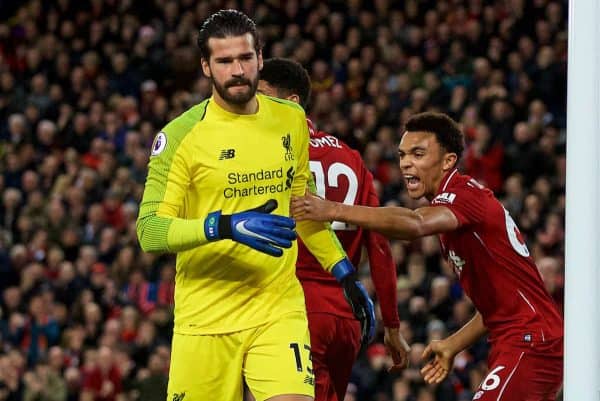 For a long time prior to Alisson's arrival, it felt as though Liverpool's goalkeepers were regularly costing the team points and spreading uncertainty throughout the defence, rather than making match-defining interventions.
Alisson came with a strong reputation from his time in Italy and immediately settled into life in the Premier League.
He imposed a sense of authority and supreme confidence in his own ability which has a knock-on effect on those around him, adding to the vocal leadership of Van Dijk in organising the defence.
His advanced starting position and speed off his line pushes the defence forward and acts as a safety net when balls do come in behind, as Alisson is already there, anticipating and ready to sweep up and deal with any danger that comes his way.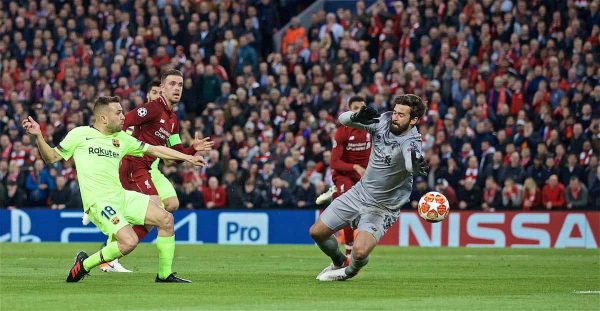 Despite the organisation of Liverpool's defensive unit limiting opponents to relatively few clear-cut opportunities, the Brazilian's exceptional shot-stopping ability made a clear difference throughout the season in countless pivotal moments.
His one-on-one stops on Eden Hazard and Willian when against Chelsea at Stamford Bridge when 1-0 down were outstanding, helping Liverpool stay in the game before Daniel Sturridge's stunning late equaliser snatched a point and maintained an unbeaten start to the domestic campaign.
In the 3-1 away win against Burnley in December, Alisson stretched to make a remarkable fingertip save to deny Ben Mee a late equaliser, before quickly launching the ball upfield to kickstart a counter-attack which led to Xherdan Shaqiri sealing the points.
Although the 0-0 draw against Man United at Old Trafford was a frustrating encounter for Liverpool, it could easily have been a disaster had Alisson not made an inch-perfect intervention to smother Jesse Lingard as he looked to round him and roll the ball into an empty net.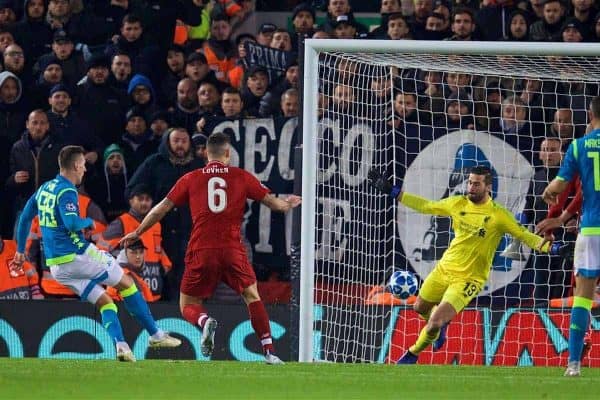 Perhaps most significant in the context of the season as a whole, however, was Alisson's stunning last-minute save from Arkadiusz Milik in the final Champions League group game against Napoli at Anfield.
With Liverpool 1-0 up and needing to preserve their clean sheet in order to progress to the knockout stages, Milik looked almost certain to shatter their hopes from point-blank range.
But Alisson was alive to the situation and flung himself in front of the striker, blocking his shot and sending Liverpool into the last 16.
Had he not made that stop, Liverpool would have ended up in the Europa League and the entire complexion of the season would've been entirely different.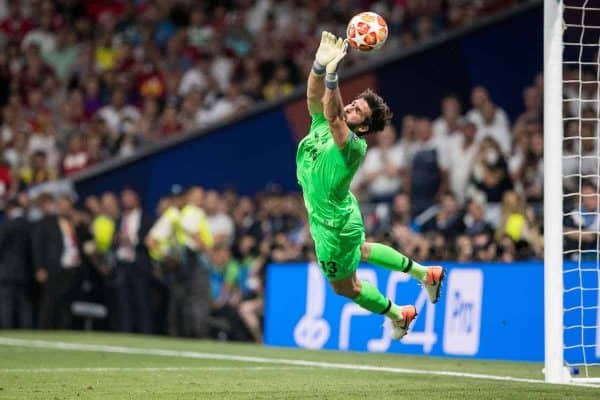 Alisson was also magnificent in the historic 4-0 triumph as Liverpool overcame Barcelona to reach the final for the second year running, before a series of vital saves against Spurs ensured Liverpool kept a clean sheet in the final.
They may have looked relatively straightforward, but such is Alisson's positioning and composure in the highest of pressure situations that he dealt with all of Tottenham's efforts with the minimum of fuss.
An outstanding impact to help Liverpool over the line.
Responding Positively to Setbacks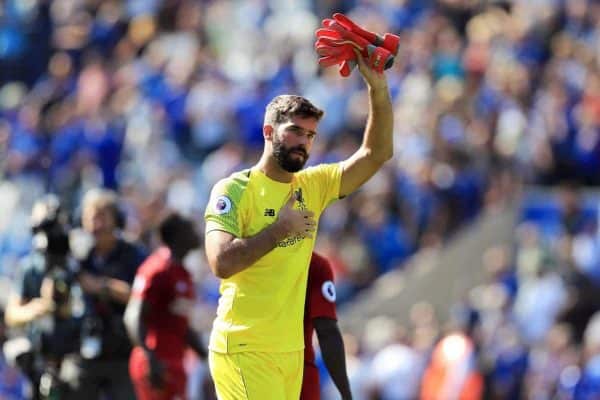 As we've seen in the recent past with Karius and Simon Mignolet, Liverpool's goalkeepers have often crumbled after making an error in any given match, struggling to regain their confidence and looking nervous even when doing the basics.
Alisson, by contrast, has a habit of making difficult saves look completely routine, often to the point where people will hardly acknowledge a fine stop given how he deals with situations so calmly.
There has been the occasional hiccup where he has been a little too cool under pressure, though.
This came most notably in the 2-1 away win against Leicester, when he was dispossessed by Kelechi Iheanacho when trying to execute a Cruyff turn in his own box, leading directly to a goal.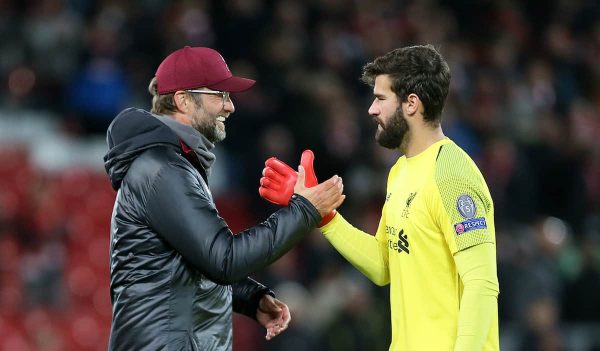 In the 3-1 win against United at Anfield, he spilled a tame Romelu Lukaku cross for Lingard to equalise with one of the visitors' only chances of the entire game, before Shaqiri's second-half brace secured the victory.
Critics may also point towards a moment of indecision against Fulham as Ryan Babel equalised in calamitous fashion after miscommunication between Alisson and Van Dijk, but it would be harsh to pin all the blame on the Brazilian in this scenario.
Crucially, none of these rare mistakes ended up costing Liverpool any points.
And what was most impressive was the way Alisson responded in a positive manner and remained completely unflustered in all these games.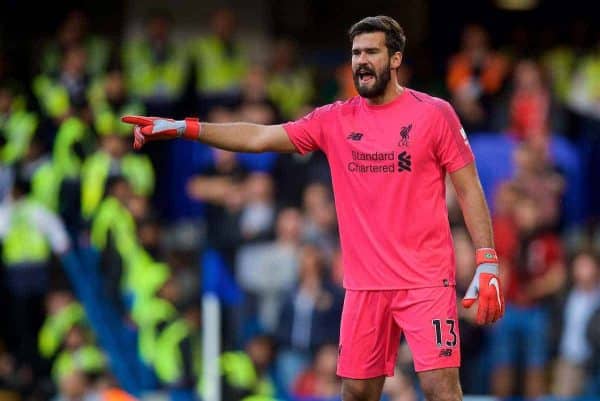 While he learned from his error against Leicester and visibly started taking fewer unnecessary risks in possession, this didn't stop him using the ball intelligently in the right moments, and his quick thinking to move the ball forward is part of what makes him such a special goalkeeper.
Shaqiri's goal against Burnley and Salah's strike against Fulham at Anfield were both started directly by Alisson's sharp distribution from the back.
And Divock Origi's iconic Merseyside derby winner eventually came after Alisson rolled the ball forward to Trent Alexander-Arnold near the halfway line, to gain those extra few yards before launching the ball into the box for the final attack.
Overall, Alisson's errors have been few and far between, and the mark of a top goalkeeper is that when he does have a rare lapse, it never affects his form and he continues to play with the same composure and authority.
The Future Role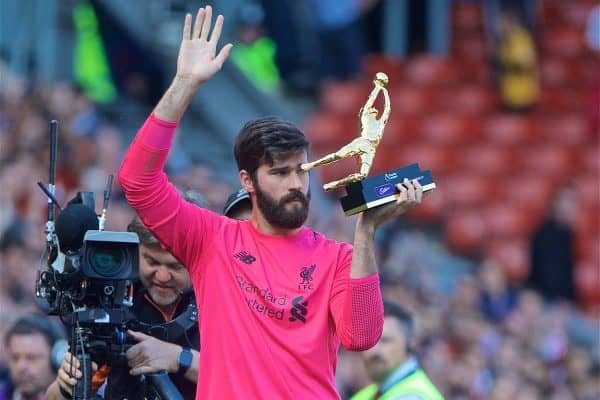 For what seems like the first time in ages, there is no conversation to be had this summer about Liverpool's first-choice goalkeeper heading into next season.
Alisson has already been assigned the No. 1 jersey for the 2019/20 campaign, and at 26 he is still young for a goalkeeper and no doubt has scope to keep on developing at Liverpool, where he will be first choice for many years to come.
Already he can lay claim to being one of the greatest Liverpool goalkeepers, and it's not difficult to imagine him helping the Reds achieve further glory over the coming years.
The only real goalkeeper debate this summer is who takes up the position as his understudy, depending on whether Simon Mignolet remains at the club or decides to move elsewhere in search of regular first-team action.
---
Best moment: His point-blank stoppage time save from Milik against Napoli.
Worst moment: Getting tackled by Iheanacho when attempting a Cruyff turn in his own box.
Role next season: Nailed on No. 1. Starts every Premier League and Champions League game, fitness permitting.