Mohamed Salah couldn't match last season's astonishing 44-goal haul, but he has produced another stellar campaign for Liverpool in 2018/19.
Hitting such remarkable heights in his debut season for Liverpool brought with it a new weight of expectation and pressure on Salah's shoulders after catapulting himself into the global spotlight.
Initially he seemed to struggle to live up to the billing, cutting a frustrated and subdued figure, far from the ice-cool, relaxed goalscorer of the previous campaign.
That didn't last long, however, as Salah quickly found his groove once more and stepped up as the talisman of this Liverpool side, whether from a central No. 9 role or cutting in from the right.
Ending the season as the Premier League Golden Boot winner (joint with Sadio Mane and Pierre-Emerick Aubameyang) for the second season running, and scoring in the Champions League final after less than two minutes, Salah's contributions proved pivotal to an iconic, triumphant season in Liverpool's history.
Mohamed Salah, 2018/19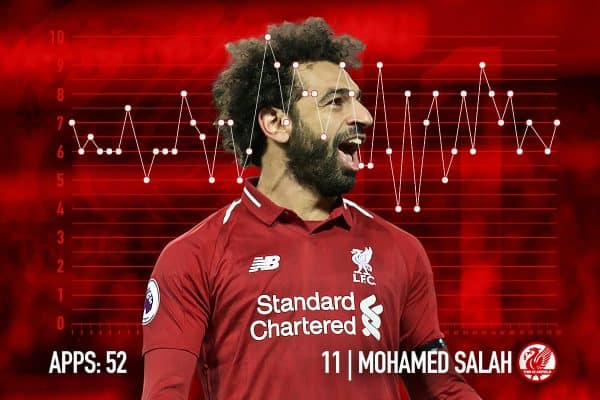 Started: 49 (All competitions)
On as a substitute: 3
Unused sub: 0
Goals: 27
Assists: 10
Our Overall Season Rating: 9
Average TIA Player Rating: 6.79  (Rank: 12th)
Last year's average TIA Player Rating: 7.31 
Bouncing Back from Heartbreak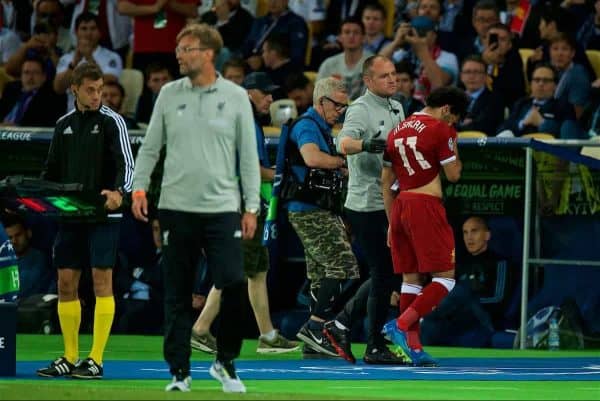 After such a sensational debut campaign at the club, 2017/18 ended in a cruel, nightmarish fashion for Salah as he was forced off injured after just half an hour as Liverpool were beaten in Kyiv.
In desperation to feature for his country at the World Cup, Salah played despite not being anywhere near full fitness as Egypt crashed out disappointingly in the group stage in Russia.
All of this must have taken an enormous emotional toll, while the new season would bring with it the pressure of living up to his reputation as one of the best players on the planet.
Plus all the scrutiny over whether last season was just a miraculous one-off.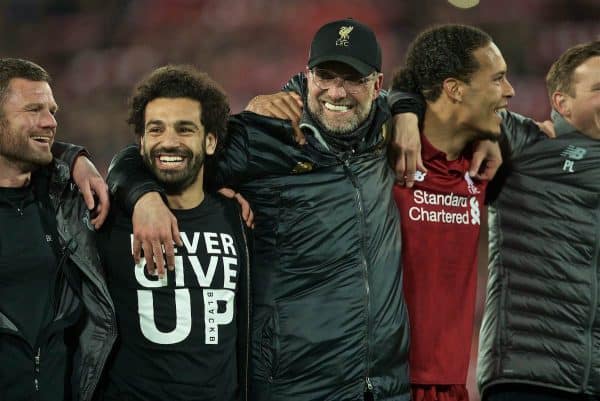 Jurgen Klopp referred to his Liverpool squad as "mentality monsters" after coming from behind to beat Southampton away in April, and Salah may well be one of the biggest among this remarkable group of players.
After enduring a difficult start to 2018/19 in which he scored just three goals in the first 11 games, questions were being asked over whether Salah was happy at the club, and whether he was suffering from 'second-season syndrome'.
In part, that might well have been due to adapting to a new tactical role as the spearhead of Klopp's attack as the central striker in a 4-2-3-1, which at times made it easier for defenders to mark Salah out of games and deny him the space in which to thrive.
He soon adapted to the role, however, and over the course of the season 11 of his 27 goals were the opening goals to put Liverpool 1-0 up.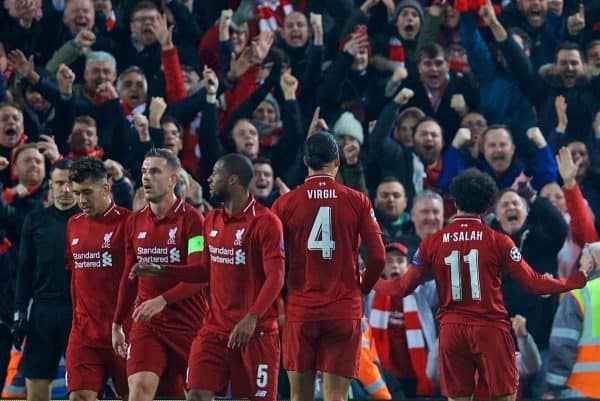 So while he didn't score as many as before, they were often pivotal goals in terms of determining how matches unfolded.
When Liverpool needed to win either 1-0 or by two clear goals against Napoli in the final Champions League group stage game at Anfield in order to progress, it was Salah who bagged the only goal of the contest with a terrific shimmy past Kalidou Koulibaly before a clever finish on his weaker foot from the tightest of angles.
From mid-February to early April, he endured his longest barren spell with no goals in eight appearances, before responding with seven in Liverpool's final 10 games of the season as they finished on 97 points and won the Champions League.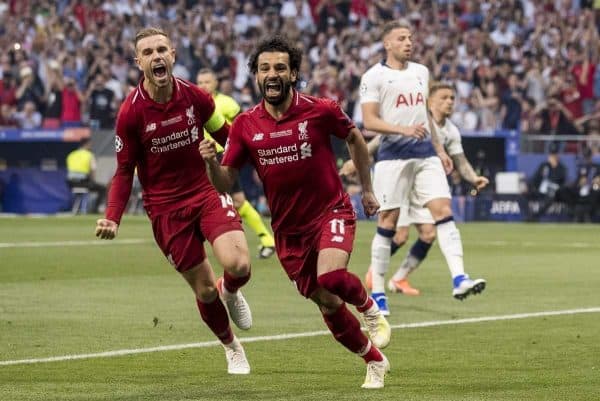 After what happened in Kyiv, for Salah to have the courage and composure to step up and hammer home the penalty so early on against Tottenham in the final was a remarkable show of his mental strength and inner belief.
To see him lift the trophy felt like the sweetest and most cathartic of moments.
Evolving His Game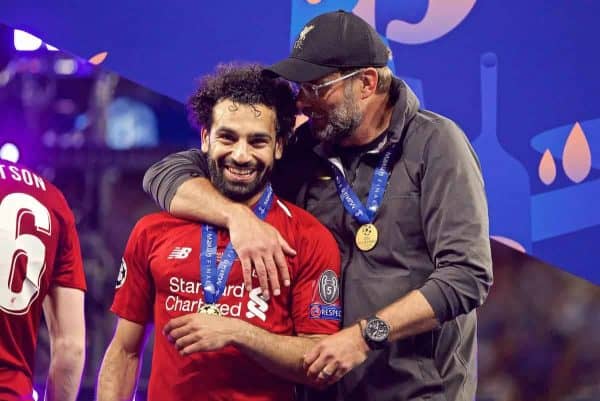 While in 2017/18 Salah proved himself to be a relentless goal machine, breaking the Premier League record for the most goals in a single campaign (32), it was always going to be tough to replicate that this time round.
In his debut season, Salah would often be generally quiet and on the periphery of games before coming to life in the box and scoring at an incredible rate.
But he wasn't consistently involved in games from start to finish.
This season, we've seen Salah develop into a more rounded and consistently influential player for this Liverpool side, adding new facets to his game and taking on a greater level of overall responsibility.
You'll see him dropping deep into midfield at times to pick up the ball and start attacks himself, rather than waiting for others to supply him, while his first touch, linkup play and creativity have seen him take up such an instrumental role in all aspects of Liverpool's attack.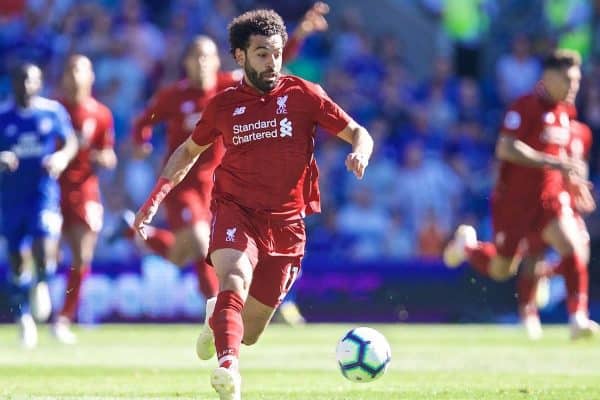 His sublime outside-of-the-boot assist for Sadio Mane to make it 3-1 against Bayern Munich at the Allianz Arena was the perfect example of his exceptional vision and technique as a creative force, as he has proved to be far more than just a ruthless goalscorer.
Having demonstrated his ability to play as a No. 9 as well as cutting in from the right, he has had to evolve his game to adapt to the fact opposition players and managers are now all too aware of his quality and will often base their game-plan around stopping him from getting any time or space on the ball.
On top of his goals and assists, he has also won five penalties by virtue of defenders grappling and pulling him back in order to try and stop him in the box.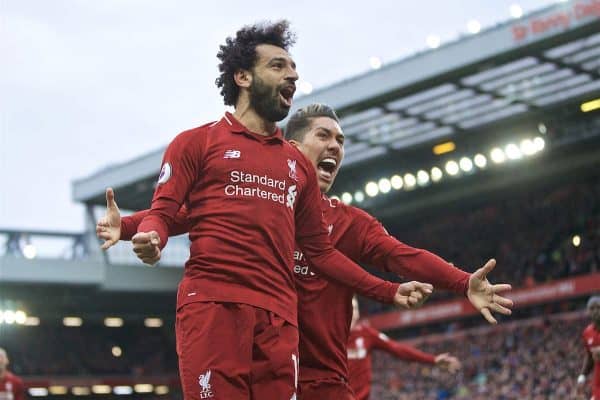 While opposition fans will claim he goes down to easily, the truth is he could easily have had plenty more where he stayed up despite being impeded by defenders.
And with VAR to come into play next season these will no longer go unpunished.
In the pressure situations, he has also converted all five of the penalties he has taken, so when James Milner isn't on the pitch, Salah has been ultra-reliable from the spot as well.
Even if his blast-as-hard-as-you-can technique makes for a nervous watch!
The Future Role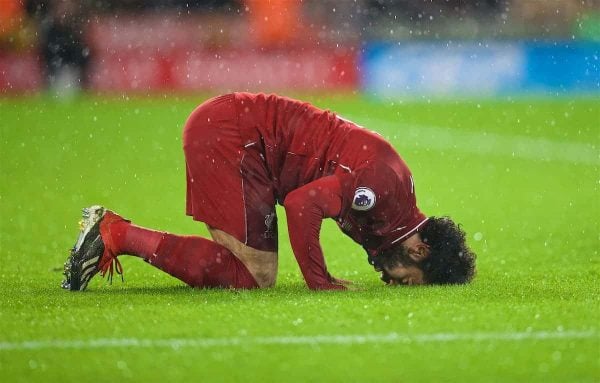 Still only 26, and with 71 goals and 29 assists in his first two seasons at the club, it's scary to think that Salah is most likely only just entering his prime.
He has emphatically shown that 2017/18 was no fluke, and that he is a genuinely world-class footballer who has now written himself into Liverpool folklore after scoring in the Champions League final as Liverpool won No. 6 in Madrid.
The second season is often the most difficult, especially after the bar Salah set for himself.
But having come through it so successfully, it will be a joy to watch how he progresses from here and there is every reason to believe he can strike 30-plus goals again next season.
Having made 104 appearances in two seasons at the club, Salah's durability and fitness has been a major asset.
But it's a major gamble to rely on him being available once more for the entire campaign, so it's important Liverpool add further quality to their attacking options this summer so Klopp has more scope for rotation.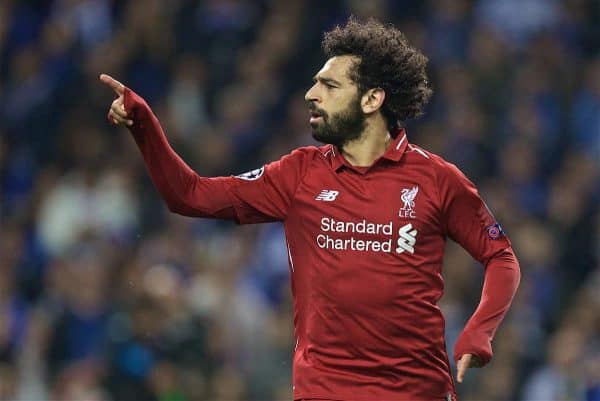 Salah, obviously, will be a nailed-on starter next season.
And if he can continue to perform as he has done since joining nearly two years ago, he will surely soon cement his status as a Liverpool legend (if he isn't one already).
---
Best moment: Scoring the penalty against Spurs inside two minutes to set Liverpool on their way to Champions League glory.
Worst moment: Getting knocked out cold and stretchered off at Newcastle, which thankfully turned out to be less serious than it looked at the time.
Role next season: Nailed-on starter. Talisman once more.