Liverpool were met with an unbelievable reception on their return from their European triumph and fans have been treated with a behind-the-scenes look.
Less than 24-hours after the Reds made history in Madrid, the team were given a hero's welcome by Liverpool fans from near and far.
It was a celebration 14 years in the making, although such a wait does not lie ahead for the next as the European Cup is likely to be the first of many pieces of silverware secured under Jurgen Klopp's tutelage.
The brilliant scenes documented by the club show the players from the moment they embarked on the plane in Madrid to the time hundreds of thousands of Reds greeted them in the streets with Old 'Big Ears' in tow.
From Jordan Henderson escorting the trophy onto the plane to Andy Robertson's croaky voice singing Allez Allez Allez, the players could hardly contain their excitement as they made the return trip to Liverpool.
An iconic four-hour open-top bus tour was to follow as the players soaked in the incredible atmosphere as fans descended into the city and found any vantage point they could to catch sight of the champions of Europe.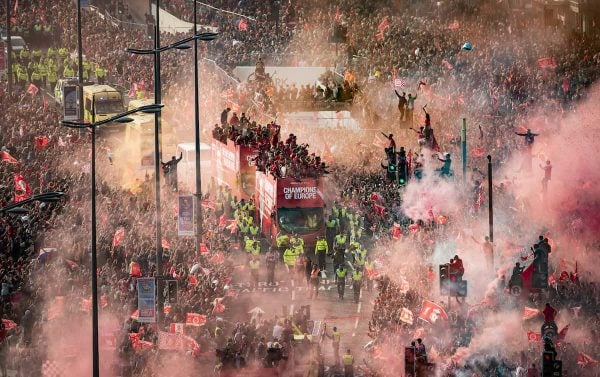 The unbridled joy adorned on the faces of those lining the streets were matched by those of the Liverpool players experiencing one of the club's greatest moments unfold before their eyes.
There were songs a-plenty, scarves in constant motion and even a personal serenade to Robertson from Kopp – who found himself precariously placed at the back of the bus!
Fireworks and flares awaited Liverpool when they turned onto The Strand as the parade neared its end, scenes which will be forever etched in the club's history.
It's an amazing 16-minutes no Red should go without watching as we continue to bask in the glory that is the six time European champions.