Liverpool's three-stop pre-season tour of the United States has come to a close, and here's some things we noticed throughout their stay across the Atlantic.
The Reds spent nine days stateside as part of their preparations for the 2019/20 season which saw them take on Borussia Dortmund, Sevilla and Sporting CP in Indiana, Boston and New York respectively.
As ever, the focus was on preparing for the season ahead which meant multiple training sessions preceded the games, resulting in an uncharacteristic, yet expected, drop in intensity from Jurgen Klopp's men.
Liverpool mightn't have registered a win on US soil but there were signs of gradual improvement, albeit greater strides still need to be made as the days until the start of the new campaign continue to dwindle down.
Here's six things that caught our attention as Liverpool went stateside to continue their pre-season preparations.
Brewster's Confidence Continues to Rise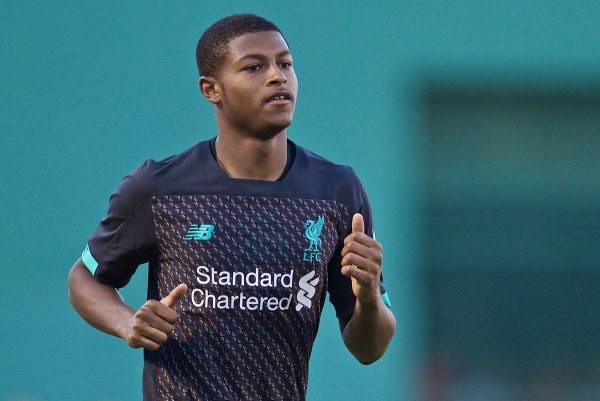 The 19-year-old may have played just 88 out of a possible 270 minutes in America, but he made it abundantly clear that life in the first team does not intimidate him.
Rhian Brewster was the star during the Reds' two domestic friendlies preceding the US tour having notched three goals, and he quickly added another with a confident strike from the spot against Borussia Dortmund.
He thrived against Sevilla having come on for the second half, excelling in one-on-one situations and showcasing exactly why many have tipped him for great things despite not finding himself on the scoresheet.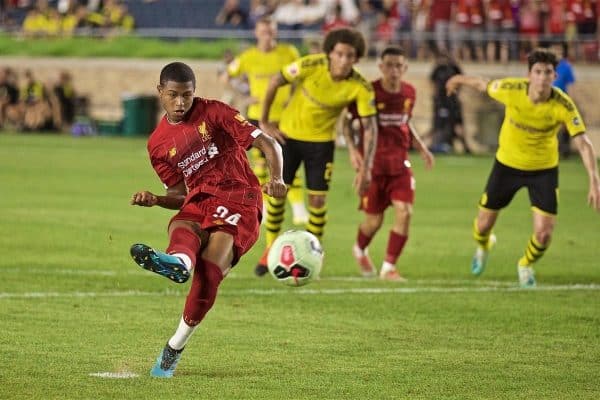 Off the pitch, his presence in Liverpool's hilarious Hip-Hop quiz alongside Alex Oxlade-Chamberlain, Virgil van Dijk and Joe Gomez showcased his character and standing alongside his teammates.
Confidence is key for any forward player and after spending the majority of last season in the medical room it is a welcome sight to see the youngster brimming with self-assurance.
May it continue long into the season.
Wilson and Kent Not the Answer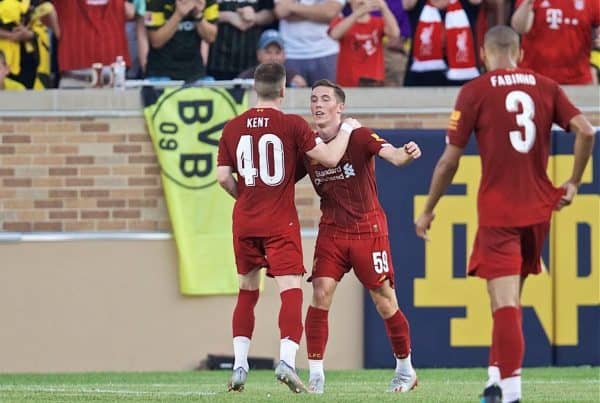 In the absence of Liverpool's prolific attacking trio of Mohamed Salah, Sadio Mane and Roberto Firmino, as well as Xherdan Shaqiri through injury, the opportunity to stake a claim for a spot was presented to both Harry Wilson and Ryan Kent.
The pair both experienced successful loan spells with Derby and Rangers respectively last season, but they've shown they're not at the quality Liverpool need when they are looking to seriously compete across several fronts next term.
Wilson, as expected with his age and experience, is ahead of Kent in the pecking order and while it is only pre-season and there's no way you could expect the moon and stars from them, they have shown they are not the answer.
Proven more so by the fact Gini Wijnaldum shone in place of the pair against Sporting CP.
There's no doubt they've each impressed in patches in the US, but Liverpool need an addition to the attack this summer whose quality isn't such a dramatic drop off from the usual front three.
It Was Hot… Really Hot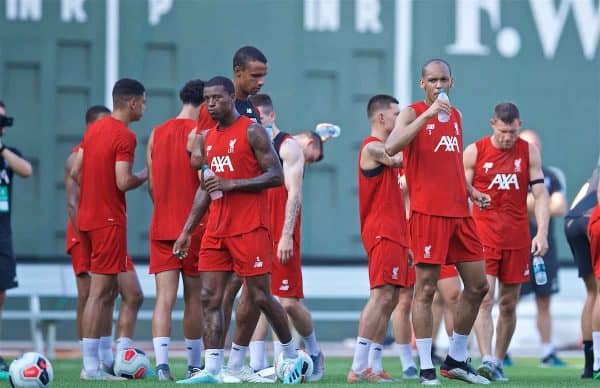 The Reds arrived in both South Bend, Indiana and Boston in the midst of a heatwave which saw the team play and train in stifling temperatures which reached as high as 34 degrees.
The meeting against Sevilla at Fenway Park coincided with Boston's hottest day since 1991 and ensured the players' energy was sapped almost instantly and that they felt the burn in more ways than one.
While the conditions were no doubt testing for the squad throughout their stay across the Atlantic, warm weather training is known to have a multitude of benefits.

Surmising the tour after the final game, Klopp acknowledged that "100 per cent the weather" was the biggest challenge, saying: "I think we hit the two hottest days of the year, pretty much. When we played that was a big challenge and for the sessions as well as the games.
"Pitches are always a challenge in America; they are wonderful stadiums but they are usually not soccer stadiums, so it was a bit tricky."
Muscles are more pliable, meaning the risk of a strain is reduced, while vitamin D can improve muscle strength and speed, and although dehydration and over-training are potential risks, the team will undoubtedly have been managed accordingly.
And although the players might have felt as though they might be close to melting at times, when the freezing winter months in England come around, they might wish for that feeling to return.
Team Comradery on the Up and Up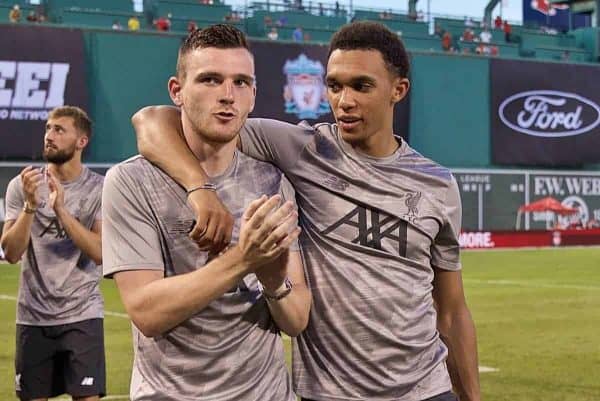 With the nucleus of the side having played alongside one another for a few years now and the shared success of a European Cup, team spirit is rightly as high as it has ever been.
Klopp fosters an environment which centres around unity and togetherness, and the three-stop tour in America again shone the spotlight on the team's cohesion and the genuine enjoyment of being in each other's company.
From Van Dijk ensuring his teammates were lathered in sunscreen to players talking about their delight overseeing Gomez and Oxlade-Chamberlain back in the fold from the off and commending the youngsters for seizing the chance to impress.
There's no better time to be a Red and it is a delight to see the players enjoying and sharing the moment with each other, here's hoping it paves the way for another successful season.
Lallana Still Struggling to Break the Cycle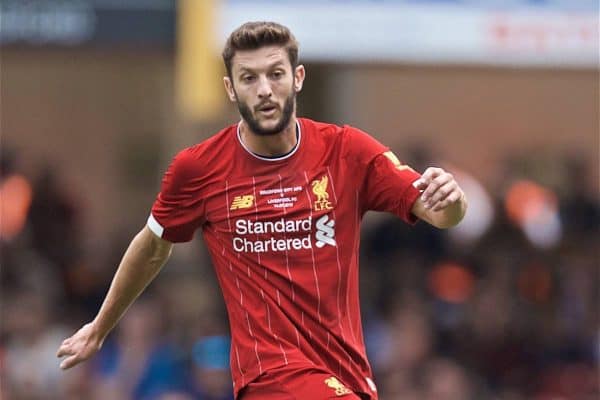 It's become all too predictable, hasn't it?
We've grown accustomed to Adam Lallana being unavailable having watched on as he made a total of just 31 appearances, only nine of which was in the starting XI, across the last two seasons.
His absence means he has been well and truly been bypassed in the pecking order and the fact he played just 14 minutes in America having missed two of the Reds' games with a dead leg has done nothing to help support his case for a more regular role in the matchday squad this coming season.
He did feature in Liverpool's two domestic friendlies this summer playing as the deepest midfielder, but it seems his opportunity to find his feet in the role has largely passed him by.
Admittedly, it was a minor injury and one which the club were no doubt cautious over, but it's hard to see how he will break out of his seemingly never-ending cycle of injuries.
No Need for Alarm, but Reds Need to Improve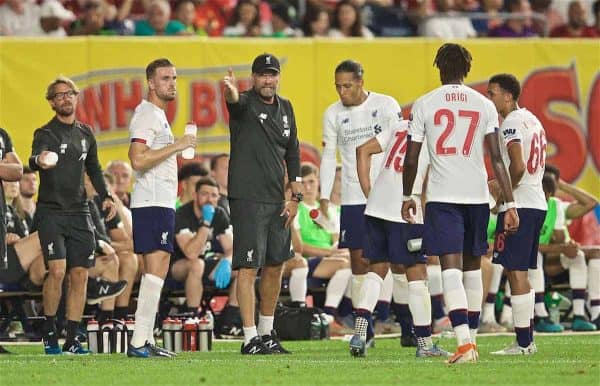 Liverpool took a 28-man strong side across the Atlantic but remained without the likes of Naby Keita, Salah, Mane, Firmino, Shaqri and Alisson due to injury or a post-season break following international commitments.
Their absence coupled with the delayed start from Jordan Henderson, Alexander-Arnold, Robertson, Wijnaldum and Van Dijk ensured there were teething issues across midfield and defence in addition to the lack of firepower in attack.
It made for a mix of sloppy defending across the three games – with seven goals conceded – and further questions to arise as for the need for extra bodies to be acquired in the transfer window.
There should be no alarm bells at this stage but the transition from defence to attack and the team's overall organisation need to be ironed out in the coming weeks.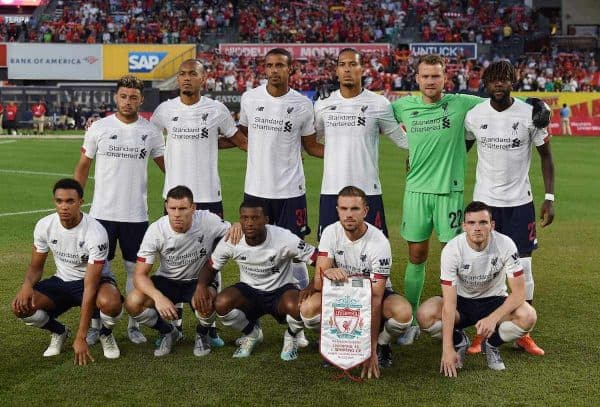 After fielding what was his strongest possible starting XI against Sporting, Klopp is likely to continue in the same vein against Napoli as he looks to establish some rhythm in his side before the rest of his players make their return to training.
Overall, while Liverpool failed to be convincing in any of their games, youngsters continued to be exposed to life in the first team and senior figures were handed valuable minutes on the field.