Liverpool scored two late goals in a seven-minute spell to secure a 2-1 comeback win at Aston Villa, in a game where a number of points of discussion emerged.
Jurgen Klopp's Reds were on the hunt for their tenth Premier League win of the campaign at Villa Park, and while suffering an early fright they clinched it in dramatic fashion at the death.
Trezeguet set the home side off to a flying start midway through the opening term having capitalised on Liverpool's poor marking from a set-piece, establishing a narrow lead which they held on to for 66 minutes.
It was a spell ended by Andy Robertson when he took the Reds back to equal footing with a thunderous header with three minutes of regular time remaining, but Liverpool were not done yet as they once again displayed their fighting spirit with Sadio Mane going on to net the winner in stoppage time.
The win ensures another three valuable points return to Merseyside and presents an opportunity to extend their lead atop of the table when Man City come to town next week.
To breakdown the highs and lows from the encounter and discuss the changing opinions on VAR is This Is Anfield's Joanna Durkan (@JoannaDurkan_) and Matt Ladson (@mattladson), who are joined by David Comerford (@Dave_Comerford).
The good…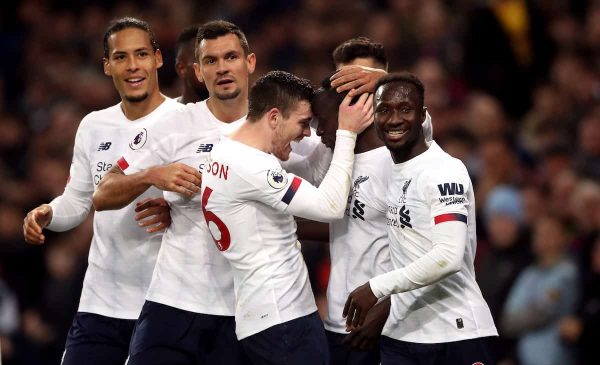 David: The character of this team defies description. I'm increasingly convinced that we've been so successful over the past year not principally because of quality, even if we have it in abundance, but because of our spirit.
Think of the number of times we've managed to dig out a victory after an uninspiring performance. Some might argue it's not sustainable but the way I see it we're on 31 points from a possible 33 without even nudging our capacity.
Honestly, when it ticked to 80 minutes, I was hoping we'd snatch a draw, but it seems the players genuinely still believed they'd win the game.
Look at Robertson's reaction to the equaliser. Absolute focus on snatching the three points. That Mane winner was a potential championship moment. 'Limbs' up and down the country.
So, it's more about praising the team's staggering relentlessness today than picking out individuals.
That said, where would be without those full-backs? The best in the world.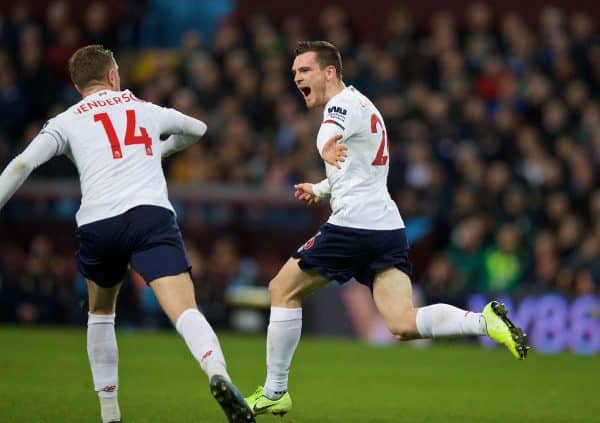 Joanna: While it will be a welcome change not to be forced to summon the comeback kings, it's hard to look beyond the never say die attitude which this side consistently lives up to.
There was plenty of reason for heads to drop as our attacks were either thwarted or fizzled out at every turn, and every side in the league will know no lead is safe against the Reds if there is time remaining on the clock.
Like David, I was simply desperate for us to get at least a draw and when Robbo snatched the equaliser I have never felt so much relief and pain – the latter because I smashed my hand into my slanted ceiling with some serious force, but it was totally worth it.
I can't say a lot of play prior to those wonderfully crazy final moments was up to scratch but now we have a great opportunity to extend our lead over City to nine-points.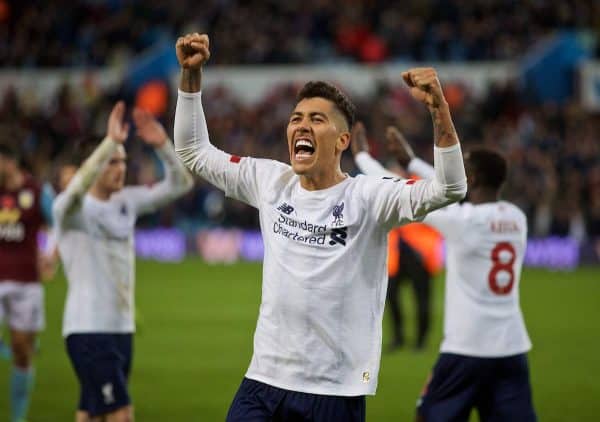 Matt: I think David makes a spot on point about the spirit in the squad – and we need to remember that when we're bemoaning a perceived lack of depth in the squad. This is exactly why Klopp always prefers a smaller squad.
It was nice to be back at Villa Park, a great stadium to visit, a 'proper' English football ground. Brilliant day out and even with mad train issues on the way back up, the Reds were in full voice, entertaining/scaring the locals.
The bad…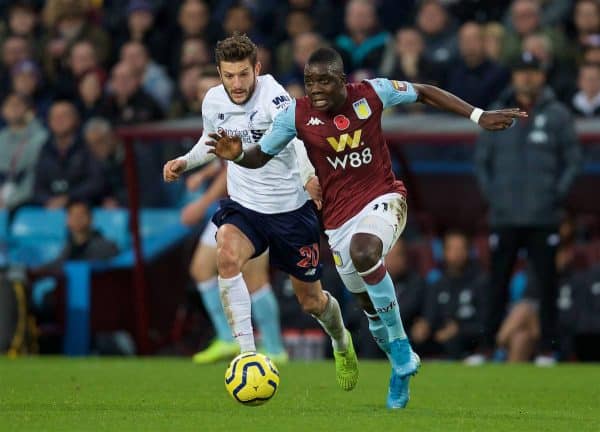 David: A few of the white shirts struggled in all honesty.
Adam Lallana isn't a defensive midfielder, certainly not at Premier League level. I'd much rather Klopp use Wijnaldum as a No. 6 if Fabinho isn't playing.
The front three were also majorly off the boil, ballooning shots into the upper tier. Extra credit to Mane I suppose for delivering late on after one of his poorest displays in recent memory.
Each of the three has been excellent at points, but I'm not sure we've had many games recently where they've all been on song. Next Sunday would be the ideal time to break that trend.
On the lack of clean sheets, it's frustrating but in my eyes, they're luxuries if you're still winning games.
It's a shame we're not chasing last season's defensive benchmark, but I'm hopeful that when we finally get Alisson, Trent, Matip, Virgil and Robbo settled into a run of games our record will significantly improve.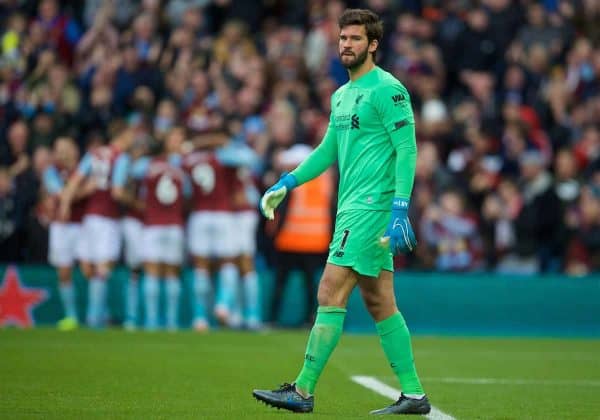 Joanna: While not in the least surprising, it was disappointing to hear Villa fans singing 'sign-on' without a moment of hesitation – it just beggars belief at this point, especially in the current climate, that people think that's okay.
On the game itself, the first-half we were poor to say the least and it's yet another example of our struggles on the road this season. With the exception of Man United, we have come away unscathed but it's something which certainly needs improving as we cannot be consistently be caught on our heels.
While I certainly support the decision to not have risked Fabinho, I'm of similar mind that Lallana is not the man for the No. 6 role in his absence – in League Cup and even FA Cup games I'm all for it, but if Gini is available then he should slot into the role.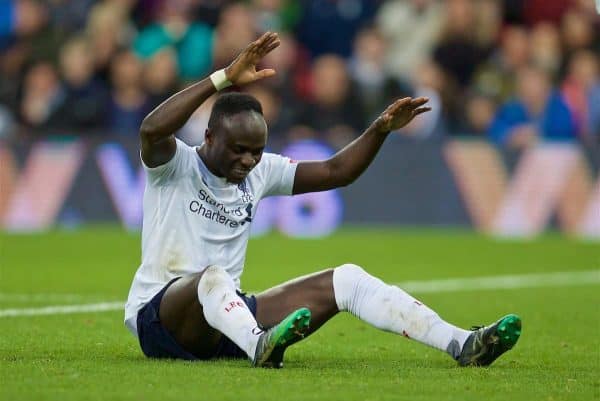 Matt: I think we can all agree with David on that Gini as the backup No.6 is the best option. Interesting though that Klopp is utilising the full squad… there's a reason for it.
Salah is becoming a concern for me. Obviously he's still carrying this ankle issue, but he has been poor for a long time in my opinion.
I'd quite like to see Salah on the bench vs. Genk, rested somewhat, then come on for the final 20 and get some confidence against tired legs when I'd expect us to be leading anyway.
Villa's fans created a good atmosphere, but some proper bad ones too. The usual vermin songs aimed at Scousers, I didn't realise Birmingham was the capital of financial riches.
And with VAR emerging as a key talking point once more, have your views changed on the system from before the start of the season to now?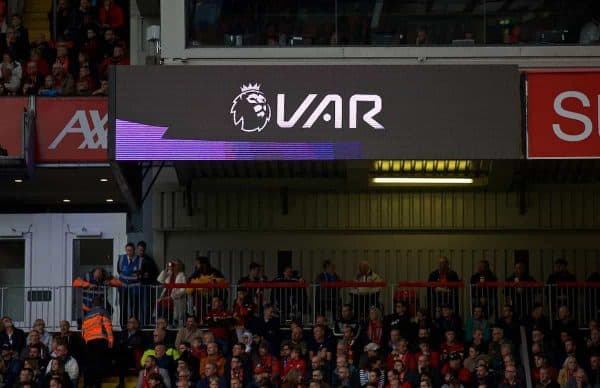 David: I'd say that I remain in favour of the presence of the technology in principle, but the implementation has been farcical.
Someone made the argument on social media that the Firmino goal would have stood had the linesman called it onside, and rather worryingly I'd have to agree.
What we have a systemic problem with refereeing in this country. And they seem to be part of this closed union, always sticking up for their colleagues as a goalkeeper would do.
You can't 'fix' that issue but you can mitigate against it by promoting the use of pitch-side monitors and scrapping 'clear and obvious'.
There's no way VAR is abandoned, so it's best to keep the criticism constructive. I'm hopeful big progress is made in the near future and that, for now, it's a case of swings and roundabouts.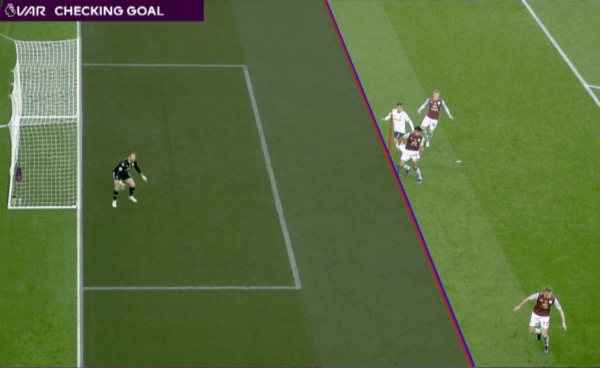 Joanna: I was and still am a supporter of its application but I feel there are far too many inconsistencies and varying degrees of leniency and thresholds.
Most weeks something arises which is wrong to the detriment of a team and ensures from one week to the next that a different emphasis is placed on certain calls, where recently it has been on challenges in the box where the bar was initially too high, now it's arguably gone the other direction.
It's why I was against it for subjective decisions and supported its use for offside as it is considered a more black and white process.
But the call against Firmino with his 'armpit' deemed to be placing him in an offside position is something else and the entire process hardly seems accurate with such a small margin to work with.
It ultimately comes down to the people who operate it not VAR as a concept in itself, and Premier League referees have hardly been at the forefront of the game and this is certainly not changing that view.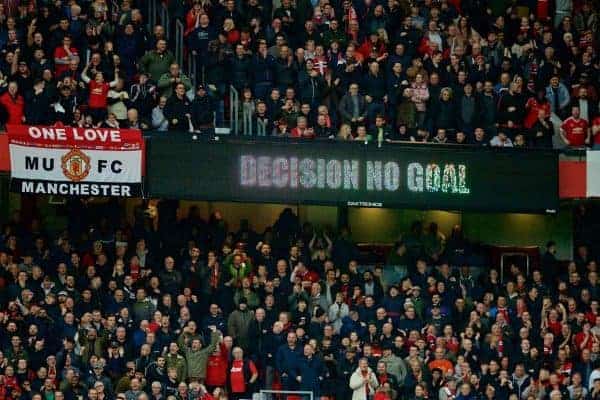 Matt: Again, David has hit the nail on the head there.
I was an advocate of video technology in some form, but this installation has been absolutely farcical. It's a complete and utter mess.
For me, I still insist the best way would be to have teams allowed two appeals per game. It puts the players in control, would reduce the amount of instances, and teams wouldn't appeal these absolutely fractional decisions where the human eye cannot even see it.
There's been so many VAR calls this season already where had it been via appeal, there's no way the opponent would've appealed it. That's their decision, you can't complain.
That wouldn't solve things like the Firmino offside though, which is bad for both the fact the linesman flagged (when he's supposed to leave to VAR if not clear now) and then that the VAR seemingly altered the lines until he got the 'correct' decision.
Mane made too much of the contact in the box, for me that's no penalty but also no booking.
And then there's the handball, which Klopp rightly pointed out post-match that had they not won, we'd be seriously pointing to now. It's a stonewall penalty under the current laws.