A win in 2023 is finally under Liverpool's belt, as too is a place in the fourth round of the FA Cup. A sign of the times is that neither felt certain before kickoff on Tuesday.
The defeat at Brighton was only the tip of the iceberg for the Reds but it laid bare what needed to change and at Wolves, we saw a spark and bite that reaped its rewards.
Jurgen Klopp made eight changes, injected fresh legs and got the desired result, one small step back in the right direction.
Here, Joanna Durkan (@JoannaDurkan_) is joined by Elli (@LFCZA) and (@OGBCollins) to discuss that winning feeling, the impressive Stefan Bajcetic and our midfield choices for Chelsea's visit.
There were a lot of things to like about that performance, we needed that after the weekend, didn't we?

OWEN: Didn't we just! Not just after the weekend, but pretty much since the World Cup to be honest.
It wasn't perhaps the sumptuous feast we've been spoilt by under Klopp, or even Michelin-starred cuisine, but to continue the culinary metaphor this was hopefully a nice palate cleanser that leaves us ready for the next course; a bit of a reset, a refocus, and a reminder that there are reasons to be cheerful.
JOANNA: We really did! That winning feeling, there's nothing quite like it and I'm delighted we've experienced it for the first time in 2023!
As you say, Owen, it wasn't quite the feast we've enjoyed previously but after you feel you've been starved, it tasted just as sweet. I just had to continue the culinary talk…
But we should've known the night wouldn't be left on a sour note after the events in the BBC studio, that was hilarious. But my question is, how did they let it go on for so long?! They'll have been cursing they had no ad breaks. If you're not sure what I'm talking about, take a look here.

ELLI: There's nothing like a win to cure the blues of defeat, is there? It was something to build on and something we needed desperately.
OWEN: Can I also mention, we scored first (!!!).
Not having to chase the game as we so often have this season just made everything more enjoyable too: 37-year-old Milner outrunning 21-year-old Ait-Nouri, Tsimikas tangling with Traore, Kelleher proving a point between the sticks (no disrespect to Ali but if he'd started the original tie, we wouldn't even have been playing the replay) and Thiago just being Thiago.
Particular shout out to the travelling Kop, too, who were in full and fantastic voice throughout, particularly with so many renditions of the Diogo Jota song to wind up the home fans!
JOANNA: I'm glad you mentioned Thiago, Owen. He's an utter joy to watch. He's been our standout midfielder this season and he became all the more effective with legs around him, take note please, Jurgen!
Elliott and Bajcetic showed what they're capable of, what did you make of their performances?


OWEN: Elliott was absolutely superb, for the entire 90 minutes; his rocket of a goal was obviously the highlight but his headed clearance right at the death, in his own six-yard box, was a nice distillation of his work rate and commitment.
It's absolutely absurd that some of the Twitter twats have written him off already when actually he's only going to get better and better – his Wolves showing proved that.
ELLI: You're right Owen, Elliott was superb.
He has been getting unnecessary criticism because of the way our overall midfield has performed. But much of it is the way he has been deployed as opposed to his own skill level and effort. Also, one to show up some of the older players.

OWEN: As for Bajcetic, I must confess I thought he had one of the sloppier performances I've seen him give, particularly in the first half, which really just illustrates how high expectations already are for him.
It was still a remarkably confident performance for such a young lad, even if there were a fair few mishit passes peppered about. He got better though and had a much more assured second half, one recovery tackle against Matheus Nunes early on setting the tone. He's got far to go, but he'll go far.
JOANNA: It's interesting you say that Owen. I agree that there were some misplaced passes early on, but what I really liked was his desire to try and remedy that straight away.
He was quick off his line, ready to push Wolves back. That aggressiveness and influence on the contest is something we haven't seen consistently in midfield from all our midfielders.
I found myself marvelling at his composure and then reminding myself that he's only 18. You can see Thiago has taken him under his wing, those no-look passes and shrugging of the shoulder. Confidence is no issue.
ELLI: Exactly that, Joanna, Bajcetic doesn't let the occasion get to him. He works his socks off and is outplaying the more seasoned professionals (no names mentioned!).
The pressing, intensity and effort was obvious, can we call this a stepping stone in the right direction or is it too premature?

OWEN: It's definitely a step in the right direction, as you could see there were several players out to prove a point, determined to show that recent results were an aberration and not a 'new normal' we should get used to.
Harvey, as I say, led from the front, but at the back, Konate and Gomez also played with a steel that was a step up from what we've seen lately.
The pressing was better than it's been for a while and stymied Wolves from the off, including totally befuddling Jose Sa on a few occasions, and I thought Cody Gakpo played his part in it well, despite a fairly anonymous showing overall.
Let's not get carried away though: Wolves offered little, and the big test will be when our first-choice XI is back on the pitch to see if they can match the effort of our second string.
Whilst Fabinho and Salah looked composed enough during their cameos, we're going to need to see a few more performances like this one from our first team before we can truly put this bleak midwinter behind us.

ELLI: It's a stepping stone. On display in this match was a midfield hungry to win the ball back and fight for possession. We have missed that tremendously due to various reasons which will probably sound a bit controversial.
I liked Klopp's comments about loyalty to players before the game because I think he has (finally) seen the light.
JOANNA: It's a small step and as you've both mentioned, one in the right direction – for a change!
When things are tough, as a fan, all you want to see is the effort to put it right, but in too many games the body language has been poor and as though there is no fight left.
The team that played at Wolves showed that's not the case. If the 'first-choice' starters aren't cutting it, there are others who can step up and as you say, Elli, Klopp says he's not 'too loyal', so those decisions should not prove difficult.
Back-to-back wins sound great so please Liverpool, get it done.
The midfield functioned well at Wolves, who do you want to see in the three vs. Chelsea?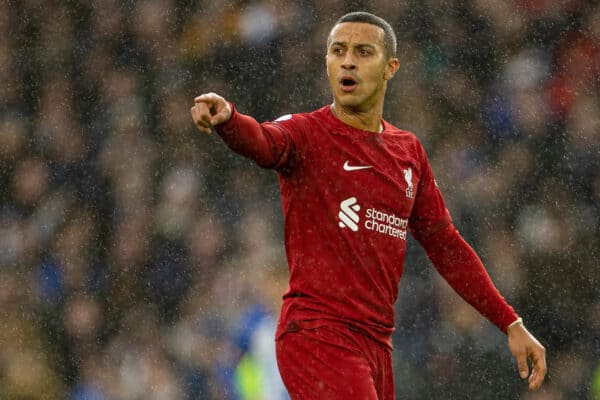 ELLI: Simple for me. Thiago, Fabinho and Bajcetic.
OWEN: I've gone for 2/3 of your midfield, Elli.
Nearly everything great that the team did involved Thiago, so for me, he's non-negotiable.
Is he the future? Pushing 32, probably not, but he's got a lot left in him yet. As I said, Fabinho looked decent enough in the twilight of the game, but by that point, the early intensity had dropped off enough that it wasn't really the most arduous quarter of an hour for him.
The win was – or at least, needs to be – a flag-in-the-ground moment. A reminder of who we are, what we do, and what we're capable of. It will be a shot across the bows of the #KloppOut brigade (a cesspool too moronic for words) but also of the malaise that seems to have set in at Kirby.
We can't afford to not build on this and immediately return to the lethargy we've seen too much of already this season, so I'd retain the same midfield against a Chelsea side going through yet another identity crisis of their own, and give Naby, Bajcetic and Thiago another chance to show us that there's light at the end of the tunnel.
Let's just hope it lasts longer than the Molineux floodlights…

JOANNA: Interesting selections, guys.
For me, I'm thinking Naby Keita has done more than enough to get his first Premier League start since the final day of last season. He's fit now and warrants a place.
Thiago is the other certainty but I am concerned that we're pushing him too much, he's played 572 of the 630 minutes since the restart after the World Cup. Injury gods, please be kind!
And while I'd absolutely love to see Bajcetic given another shot, I'd still go for Fabinho in the final spot.