Jurgen Klopp provided the latest injury update, which included good news for Diogo Jota but bad news for Thiago. And he also explained the importance of two days off ahead of the Merseyside derby.
Here are the five key points from Klopp's pre-match press conference…
Jota 'in contention'
Diogo Jota has not featured for Liverpool since October but he is the "closest" of the Reds' injured players in line to return.
"I think he is in contention for the squad [vs. Everton], but we have to wait a little bit," the manager confirmed. As for Roberto Firmino, "we have to see how it looks" and for "Virgil, I don't think is that close."
But concerns for Thiago
After 10 starts in a row, Thiago has emerged as a serious doubt for Monday's derby after missing training with a hip issue.
"Thiago has some problems," Klopp confirmed. "His hip flexor, something like this. That's it pretty much. He wasn't able to train."
Just when things were looking up on the injury front!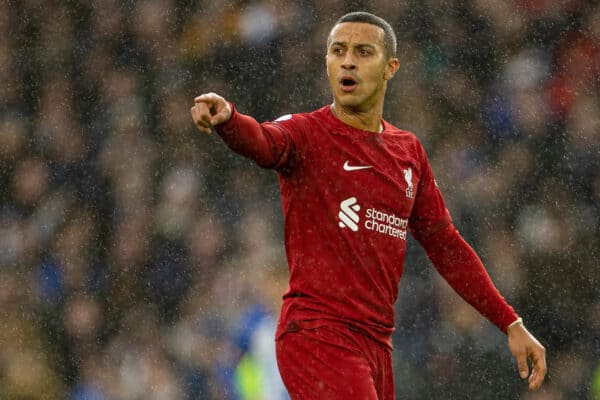 A comment on Man City, boss?
The big news this week has been the charges against Man City, totalling more than 100 breaches of financial rules, an unprecedented situation that reporters wanted Klopp's comment on.
He wasn't eager to open that can of worms, though.
"Absolutely nothing to say about it!"
Why give the squad two days off?
The team were given days off on Monday and Tuesday after the defeat to Wolves, a decision that "made a lot of sense" so as "not to see each other for two days" after speaking in detail about the defeat at Molineux.
"It wouldn't have been helpful, it would've been bad, caused a lot of injuries," Klopp said of the issues had there not been any days off. "And it was helpful."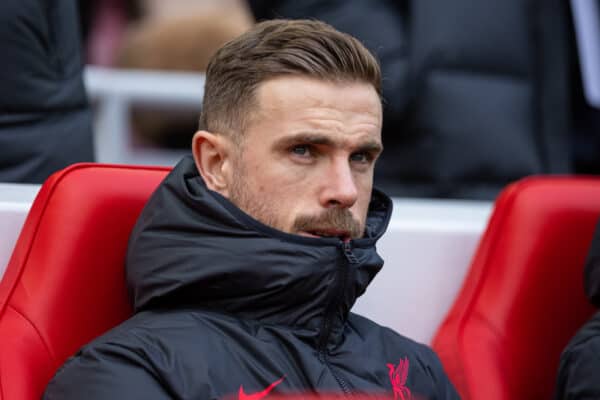 Henderson "is not our problem"
Jordan Henderson has played 91 games since last season and has started from the bench in the last three, but the manager stressed the importance of his captain and was not eager to make this a "Jordan Henderson story."
"Hendo is not our problem, never was and never will be," Klopp said.
"I don't understand why we talk about one player. We don't have to make a Jordan Henderson story. This is a team story."