The findings of the official inquiry into the disturbing events at last season's Champions League final were leaked hours before Monday's Merseyside derby, with Liverpool "hugely disappointed" by the way in which the report was made public.
The panel tasked with investigating the chaotic scenes at the Stade de France prior to the final last June, which saw fans trapped in confined spaces and supporters attacked with tear gas, have held UEFA accountable.
The final report has yet to be published but it has been leaked to various media outlets ahead of its publication.
A Liverpool statement in response to the news has criticised UEFA for the way in which supporters have been made aware of the report.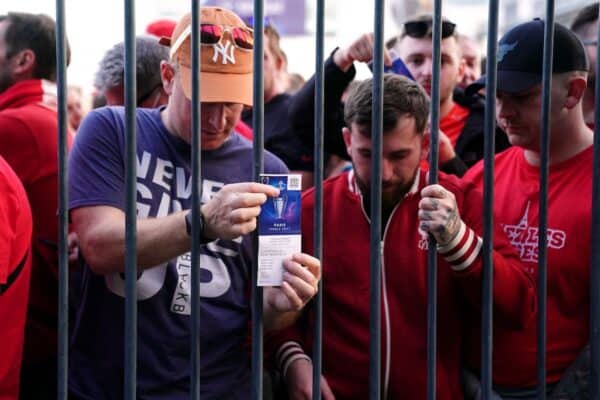 "It's hugely disappointing that a report of such significance, such importance to football supporters' lives and future safety, should be leaked and published in this way.

"It's been over eight months of work by the independent panel and it is only right and proper to publish the contents of the report to our supporters appropriately.

"We will await to receive a copy of the report and digest it thoroughly before making any further comment."
According to Merseyside journalist Dan Austin, UEFA leaked the report to a news outlet just hours before Liverpool's Premier League encounter with Everton on Monday evening.
My understanding sf that UEFA has leaked this report, which is immensely critical of them, to another news outlet. Three hours before a Merseyside derby.

That suggests to me they are trying to brush this under the carpet as best they can. Don't let them.

— Daniel Austin (@_Dan_Austin) February 13, 2023
By all accounts, this looks to be an attempt to bury a report which finds that UEFA bears "primary responsibility" for the failures in Paris, and plenty of fans had their say:
The fact that the report on the awful events in Paris at the Champions League final was leaked before the club or supporter groups got sight of it shows just how much respect there is for fans.

None. https://t.co/abJeFiK3m7

— Jim Boardman (@JimBoardman) February 13, 2023
Nice of UEFA to absolutely bury this a few hours before the Merseyside derby and on the week Champions League returns so they can have it make as few headlines as possible.

Pretty incredible summary of the 2022 #UCL final chaos https://t.co/arZ6RJFgAc

— Kyle Bonn (@the_bonnfire) February 13, 2023
Leaked by @UEFA to try and brush it under the carpet, just hours before the Merseyside derby. Proper scummy behaviour. #LIVEVE https://t.co/JYKKZDprDm

— Matt Sibson (@MattSibson) February 13, 2023
Do not let them forget. Do not let UEFA get away from this. UEFA leaked this intentionally ahead of Merseyside' derby. This is horrible behaviour from UEFA. https://t.co/OWNJsuJvZ7

— LFC Discord (@LFCdiscord) February 13, 2023
It is, indeed, a miracle nobody lost their life in Paris last May. Yet it has altered the lives of many. The findings of the "independent report" should lead to the removal of figures in high positions. This is not an experience everyone can simply learn and move on from.

— Simon Hughes (@Simon_Hughes__) February 13, 2023
The reason French authorities & UEFA delegates were unable to shift the blame for their shortcomings, was the prolific use of social media by Liverpool & Real Madrid fans, plus exceptional reporting from the likes of @SkyKaveh @draper_rob @_Dan_Austin @Simon_Hughes__ @david_conn

— Chris Williams (@Chris78Williams) February 13, 2023
The inquiry states that "it is remarkable that no one lost their life. All the stakeholders interviewed by the panel have agreed that this situation was a near-miss: a term used when an event almost turns into a mass fatality catastrophe."
The panel of experts to investigate the horrific events included politicians, academics and lawyers, and they identified Liverpool fans' experience of the Hillsborough disaster led to a greater awareness of the danger and helped save lives.