Liverpool's putrid performance in their 3-0 defeat to Wolves was lambasted by the watching media, as things go from bad to worse.
The Reds were appalling at Molineux on Saturday afternoon, succumbing to a deserved loss and looking completely out of sorts.
Jurgen Kloppp's men started terribly and never recovered, and their top-four chances now look even bleaker than before.
Here's how the media reacted to Liverpool's latest show of ineptitude.
An unfathomably poor display was dissected…

Goal's Neil Jones admitted that the Reds are getting even worse:
"The Reds' nightmare season shows no sign of turning around after they were battered 3-0 on a miserable afternoon at Molineux

"Hard to fathom, even harder to stomach, as far as Liverpool fans are concerned.

"The Reds' decline continues, and is getting more remarkable by the week. This 3-0 defeat at Wolves marked a new low, in a season full of them.

"Already out of both domestic cups, Jurgen Klopp's side can surely forget about finishing in the Premier League's top four come May.

"This, their seventh league defeat of the campaign, leaves them 10th, and significantly closer to the bottom of the table than they are the top."
This Is Anfield's Mark Delgado was similarly at a loss:
"After less than a quarter of an hour, the points were basically wrapped up, the Reds two goals down and incapable of defending against the most rudimentary of buildups: a hoisted pass into the channel and a set-piece.

"Klopp fumed on the sidelines after the second went in – to Henderson and James Milner, for some reason, rather than his actual coaches – but this is nothing new this term and he cannot have been surprised.

"We, as fans, certainly aren't.

"Second to deliveries, second to second balls and absolutely nowhere at all if your name is Joel Matip, other than where he shouldn't have been.

"There was no cohesion, no organisation, very little fight and even less goal threat in a desperate first 45 minutes."

The Guardian's Nick Ames admitted the pressure is growing on Klopp:
"Ruben Neves had just put Wolves three up and their supporters were entitled to crow as they wished.

"The away dugout was as good a target as any: Jurgen Klopp was hardly going to answer back and 'you're getting sacked in the morning', a taunt as old as time but stinging nonetheless, chorused down in his direction.

"Their prediction will not come true but that will be the only positive Klopp can muster.

"This is now a crisis and there will be no easy way out for Liverpool, who simply let this game happen to them and were two goals behind before they discovered even the ghost of any fluency.

"Thudding defeats at Brentford, Brighton and Molineux might all be excused in isolation but when they occur in the space of five weeks, with nine goals conceded and one scored, the pattern is inescapable."
Sam Wallace of the Telegraph feels this is a new low for Liverpool:
"The worst part about it for Jurgen Klopp was that his Liverpool team were never really in it, certainly not once Joel Matip had scored an early own goal that even then, in the sixth minute, felt in keeping with the way the game was going.

"This is the Liverpool of 2023 – reactive to events, and ever less able to handle the setbacks, of which there have been plenty.

"Since their brief rally after Christmas, Klopp's team have lost away at Brentford, Brighton and now Wolverhampton Wanderers.

"Just a single point from their last four games – at home to a Chelsea side even less certain of their identity than Klopp's team.

"The old intensity has disappeared and in its absence Liverpool are eminently beatable.

"It has been an epic fall for a team that were the runners-up in the Premier League and the Champions League last season, as well as FA Cup and League Cup holders.

"A squad that for periods of last season felt like they could win it all. Now they would take a win against anyone."
It was a bad day for many Liverpool players, particularly Matip…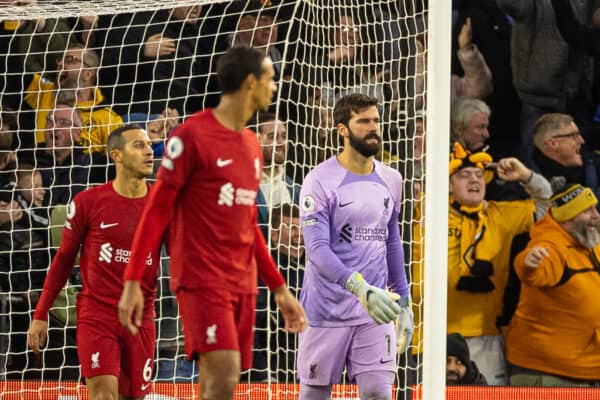 Jones was hugely unimpressed by the 31-year-old's performance:
"Talk about setting the tone for a match. At kick off here, Naby Keita rolled the ball back to Matip, and the rest of the Liverpool team pushed up, en masse, into the Wolves half.

"The aim, one presumes, was for Matip to ping a diagonal deep into enemy territory, allowing his team-mates to fight for the first and second ball. Instead, the Reds centre-back made an awful connection, skewing his pass straight to a Wolves man.

"In an instant, Liverpool were on the back foot, and by the time they'd come to their senses, they were 2-0 down.

"Matip scored the first of those goals, inexplicably failing to react to a ball played into the penalty area and then deflecting Hwang Hee-Chan's cut back in off the far post.

[…]

"Virgil van Dijk's return cannot come soon enough."
Delgado was another who had to focus on Matip's woeful display:
"The No. 32 is in the most horrible form of his Anfield career, but even so this first half was wildly poor.

"Matip first didn't anticipate the ball behind him down the right channel, then opted to do absolutely nothing with it, bizarrely stepping off Hwang Hee-chan as the forward brought the ball down.

"Just to compound matters, he then followed the runner late and got his feet in a muddle, deflecting the cutback straight into the net.

"If an element of misfortune could be applied to the goal, none could be when he almost cost a third before the half-hour mark."
On Twitter, Liverpool legend Jamie Carragher slated the centre-back pairing of Matip and Joe Gomez:
It's not too difficult to play Centre Back next to the leader of the back four, judge CB's when they have to lead themselves.

Shambolic #LFC

— Jamie Carragher (@Carra23) February 4, 2023
Meanwhile, Josh O'Brien of the Mirror felt the midfield unit was a mess:
"The January transfer window came and went without a midfielder coming in and the Reds paid the price against a Wolves side with two fantastic central midfield options in Ruben Neves and Matheus Nunes.

"The aforementioned duo enjoyed a much better afternoon than their Liverpool counterparts, working in perfect tandem with attacking team-mates.

"Meanwhile, Naby Keita and Thiago Alcantara hardly covered themselves in glory and contributed poorly to the defensive effort, leaving the likes of Matip and Joe Gomez exposed on a number of occasions early on.

"The fact Neves was able to waltz up the middle of the pitch and calmly add Wolves' third without any real intervention from any Liverpool midfielders or defenders sums their problems up."