That sweet smell of victory, it hits different after so long without one in the Premier League. But the wait is over thanks to a 2-0 derby win, and it left fans with plenty to take in.
The relief from Jurgen Klopp was palpable after the full-time whistle on Monday evening after a victory that saw the Liverpool of old come to the fore.
Two goals, a clean sheet and players returning from injury, the match ticked plenty of boxes and we saw a couple of Reds stir the pot in the process, just what we like to see, especially against Everton.
After a much-needed victory, there was plenty for fans to soak in – namely Darwin Nunez and Andy Robertson doing what they do best.
What's the score, Darwin?
File this under things you love to see!
Darwin nunez telling the Everton players what the score is ?????? pic.twitter.com/RIyP7gzNbE

— nooonez (@UruguayanScouse) February 13, 2023
13 seconds of delight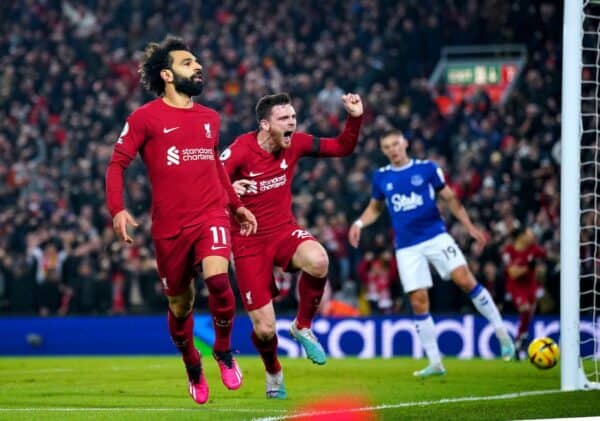 Everton hit the post at one end and just 13 seconds later Salah had the ball in the net at the other, Jordan Pickford going walkabout in the process!
It's not Divock Origi level but as derby moments go, this was right up there.
In the pantheon of extremely funny Liverpool goals in the derby, Everton hitting the post at 0-0 and then picking the ball out of their own net about 10 seconds later has got to be right up there.

— Daniel Austin (@_Dan_Austin) February 13, 2023
No Derby goal will ever, ever be as funny as Origi's in 2018

BUT

Everton hitting the post then being 1-0 down about 10 seconds later as their goalie runs off to get a hot dog is so objectively Everton in a Derby ?

— Ste Hoare (@stehoare) February 14, 2023
There were just 13 seconds between James Tarkowski hitting the post & Mohamed Salah converting at the other end of the pitch.

Salah's now been directly involved in 100 Premier League goals for Liverpool at Anfield (71 goals, 29 assists). ??

— Opta Analyst (@OptaAnalyst) February 13, 2023
Robbo has the last laugh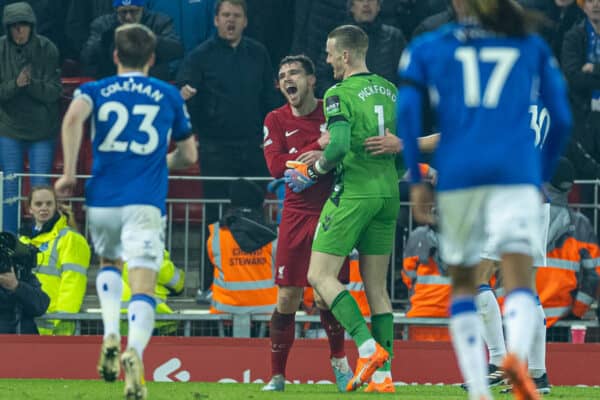 We've not seen enough of Andy Robertson's snide so far this season, but he made sure to give us a healthy dose in the final moments of the match, riling up Pickford and the Blues.
The Scot chose to just laugh after Pickford gave him a shove for kicking the ball away instead of retaliating and that made it all the better, all the while players ran over to throw their weight around.
You've got to love Robbo.
nahhh man i fucking love Robbo ?? pic.twitter.com/YOG2OwaGGp

— ???™? (@joepearce_) February 14, 2023
We're all Robbo. pic.twitter.com/nvV5ToZ1mI

— Anfield Edition (@AnfieldEdition) February 13, 2023
If @andrewrobertso5 didn't play for us… I'd hate the little shithouse..
but he does..
and I FUCKING LOVE HIM!

Andy Robbo is a red..
is a red..
is a red..
Andy Robbo is a red..
He hates Blue Shites!! pic.twitter.com/kN1cYa5SXO

— Jen ?? (@liverbirdjen) February 14, 2023
My god I'd hate Andy Robbo if he played for a rival ?

— Henry Jackson (@HenryJackson87) February 13, 2023
Oh Everton, we're all laughing at you.
How is he only 18?!

Salah was not overstating when he said Stefan Bajcetic has been "our best player" since he became a more permanent fixture in the XI, playing with confidence and composure beyond his years.
You don't want to ever put too much pressure on the shoulders of a youngster but Bajcetic makes it easy to forget he's just 18, what a talent:
Not enough if being said about bajcetic doing this to onana… the violation mate pic.twitter.com/o84c4i9Vd1

— Daniel Reppion (@DanielReppion) February 14, 2023
What a player Stefan Bajcetic is. Someone needs to check his birth cert. Doesn't play like a teenager

— Sponge (@monkeysponge) February 13, 2023
Me, when I find out who convinced Bajcetic to join Liverpool pic.twitter.com/2fIi2st48o

— Sam McGuire (@SamMcGuire90) February 14, 2023
Thiago and Bajcetic in training pic.twitter.com/1ZdIkc9li5

— Dinesh Kumar (@DHardayal) February 14, 2023
Stefan Baj?eti? was boss. 18 years old. They clearly thought he could be got at and tried to rattle him, he rose above it and played his game. Just wish he'd took that one on at the end instead of passing. Plenty more to come.

— Gareth Roberts (@robbohuyton) February 13, 2023
Will Ferrell here? I know him!

Am I going to apologise for the Elf reference? Absolutely not.
The return of the fist pumps
We've waited far too long for Jurgen's fist pumps, something we now all know not to take for granted!
Not seen a Jürgen fist ?? pump for a while ? pic.twitter.com/SdApbePK9O

— Red Leader Davinalan-Vos Klopp (@Davina51026186) February 13, 2023
Those Klopp fist pumps hit different. You can tell how much this meant. ??

— Samuel (@SamueILFC) February 13, 2023
Well played Redmen !!! Fully deserved ??????

Longed for those Klopp fist pumps ?? pic.twitter.com/lZk8INc0HO

— ZAGKAG (@ZAGKAG1811) February 13, 2023
The release that Klopp had with those fist pumps. Forza Jurgen Klopp ? https://t.co/ZrH3JYwMAr

— Joel Dunn-Wilson (@JDunnWilson) February 13, 2023
Let's not make the wait for the next set quite so long!