With growing speculation over Mason Mount leaving Chelsea this summer and Liverpool heavily linked, where might the midfielder fit in at Anfield?
Liverpool are said to be in "pole position" to sign Mount, with the Chelsea man unable to agree a new contract, with reports suggesting a £50 million price tag.
The Reds are not the only side interested in the 24-year-old, of course, and there is still a chance he signs an extended deal with his boyhood club.
But as Liverpool push ahead with plans for a midfield rebuild that could also include Jude Bellingham and Matheus Nunes, Mount's name has got many supporters talking.
So, should he arrive, what would he bring to Liverpool?
Thinking between the boxes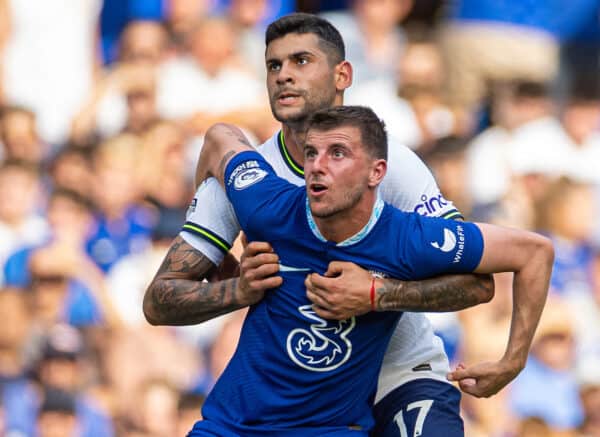 Mount is an exceptional technical and athletic talent, his great intensity and intelligence off the ball matched by top quality in possession.
Breaking through at Chelsea under Frank Lampard in 2019/20, Mount was part of an attacking 4-3-3 formation not dissimilar to Jurgen Klopp's at Liverpool; pressing from the front and building attacks through wide areas.
Typically deployed as one of two midfield No. 8s, Mount performed very similarly to the title-winning iteration of Gini Wijnaldum.
This piece from Smarterscout shows him popping up in wide areas despite playing as a central midfielder, often linking play with wide players and dropping in to defend the space behind attacking full-backs.
Mount's proficiency in this 'between the boxes' role also shows up in his data from that season.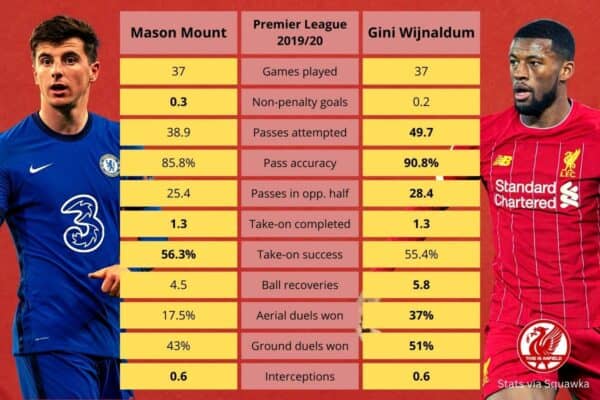 (* Statistics via Squawka, measured per 90 minutes)
But what does this look like in practice?
In this example from a 0-0 draw with Brighton in 2020/21, Mount is up against an aggressive high press – something Liverpool have often struggled with this season.
As Reece James receives the ball, Brighton are pushed right up, boxing the ball into a small area close to the goal.
Mount drops in to offer his team-mate a route out, but crucially, he's also already scanning up the pitch to see where he can play the ball once he receives it.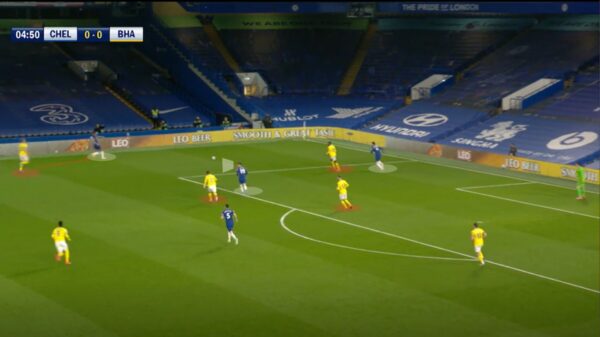 When he does, he's able to play an accurate ball over the top under pressure.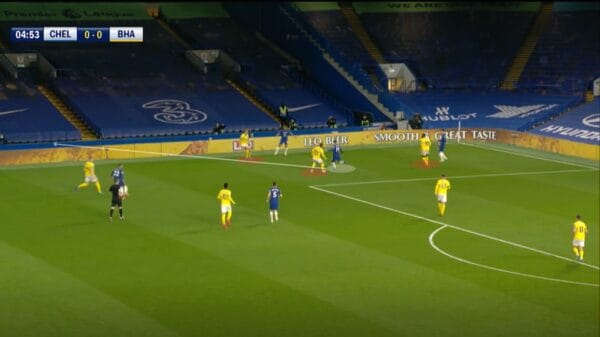 This evades the high press and gives Chelsea a chance to transition forward.
Mount is also adept at shielding the ball with his body and dribbling his way into space, much like Wijnaldum.
During the goalless draw with Leeds in 2021, the Blues were struggling to play through a Marcelo Bielsa-drilled press.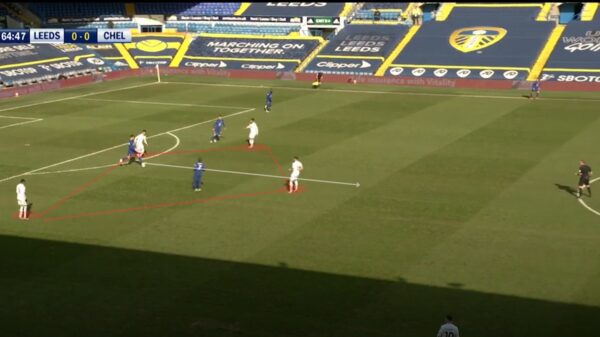 Mount drops in to give an out-ball, attracting the attention of Luke Ayling. But the Chelsea man uses his body well to roll Ayling, receive on the half-turn and carry the ball into space.
He then attempts a creative through ball – it's slightly overhit, but his individual skill turns defence to attack rapidly.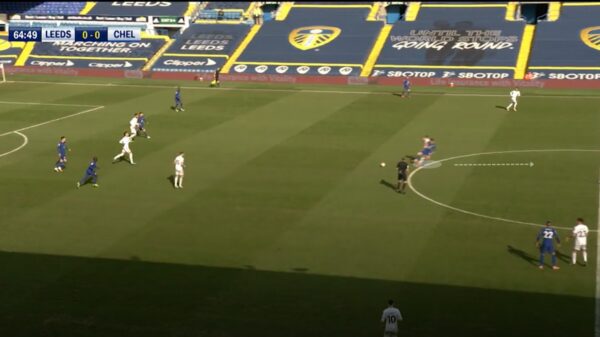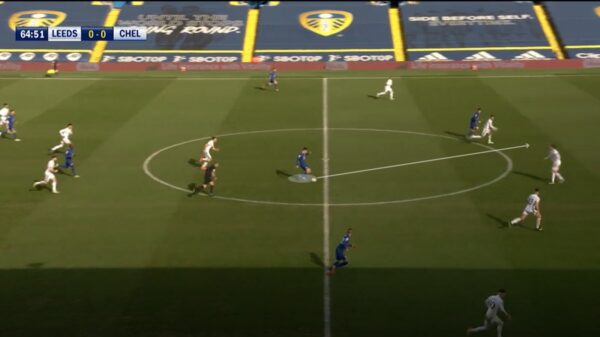 Transitional Gini-us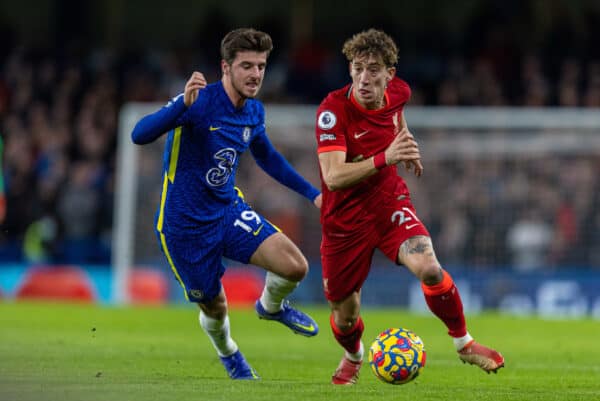 Liverpool's struggles against attacking transitions this season have been discussed a lot.
The 7-0 thrashing of Man United showed how the new generation could look, but often this season the Reds have struggled to build their own direct attacks, as shown by their timid buildup play in the loss to Bournemouth.
Mount is excellent not just in deep buildup but also turning defence into attack, especially with quick runners in front of him.
In the 2021 Champions League final, Man City also looked to press high, with Eduoard Mendy forced to go long to Ben Chilwell.
The left-back finds Mount in the left half-space, and he again uses his upper body well to resist the challenge, allowing Chelsea's attacking players time to break forwards.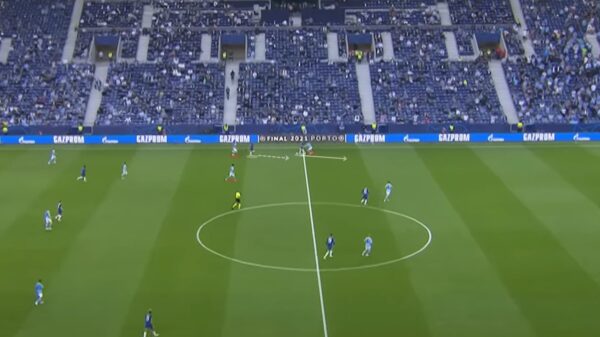 Once Chilwell has overlapped, Mount uses a clever piece of skill to play him in.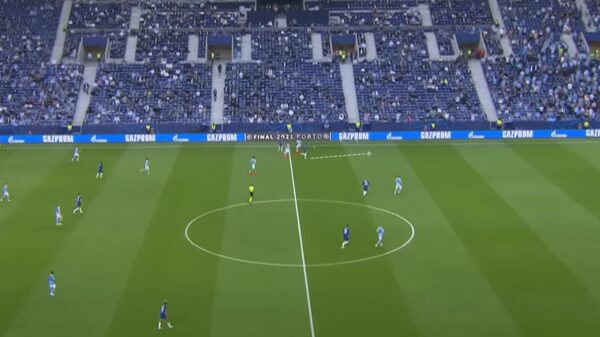 Later, the exact same tactic led to the decisive moment of the game.
After Mendy and Chilwell link once more, Mount receives again – this time with space to turn, he plays a delightful through ball to set up Havertz's winning goal.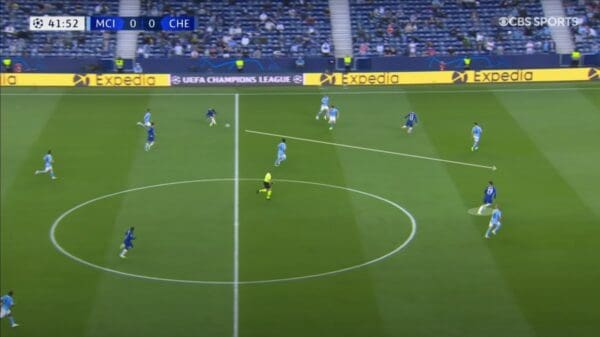 Despite the likes of Timo Werner and Romelu Lukaku misfiring in front of him, Mount has still recorded 37 assists for Chelsea so far.
The prospect of him supplying Mo Salah, Darwin Nunez and Co. is therefore tantalising.
Liverpool do already have talented creators in midfield such as Thiago and Harvey Elliott, but Mount matches ingenuity with physicality; working tirelessly off the ball to help his side defend transitions and soak up pressure.
This is often cited by Gareth Southgate when asked why Mount is preferred to more popular options in attacking midfield.
Creativity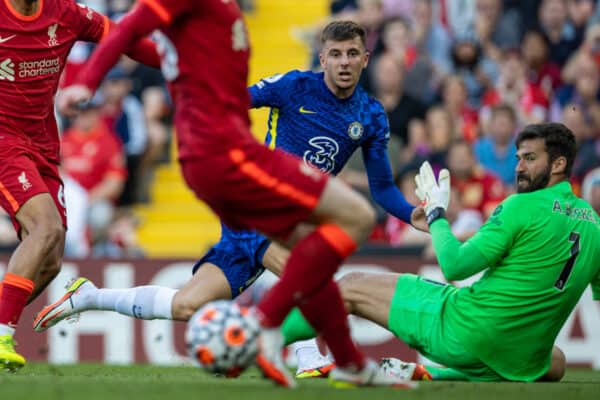 While very capable in a more understated midfield role, Mount is also a highly creative player with a tangible end product.
Last season, he logged a career-best 13 goals and 16 assists in 53 appearances; a goal involvement once every 1.83 matches, or one every 130.4 minutes.
He also generated 4.53 'shot creating actions' (passes, dribbles and fouls drawn before a shot) per 90 – for context, Salah generated 4.59 and Trent Alexander-Arnold 5.05.
Moulded in Lampard's image at Derby and Chelsea, Mount is adept at 'crashing' the box to finish off attacks, as well as scoring solo goals from range – such as his winner at Anfield in 2020/21.
He's also used his excellent range of passing and crossing on set-pieces at Chelsea, which would reduce Liverpool's dependence on Alexander-Arnold for dead-ball deliveries.
Tactical flexibility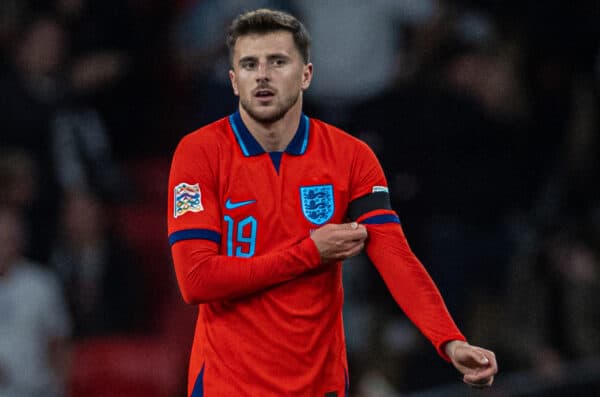 These assets – technical ability, work rate and creativity – are all applicable across a variety of roles.
Mount has therefore been an staple under several managers at his club as well as Southgate's England.
Despite being just 24, Mount has already played many systems and operated as a No. 8, a No. 10 and a left winger.
This tactical flexibility is invaluable for a manager changing systems within games.
For example, before Diogo Jota arrived in 2020, Liverpool had two options up front: Roberto Firmino, a specialist false nine, and Divock Origi, a classic No. 9.
Jota's ability to play both of these roles, as well as off the left, allowed Klopp to vary his setup – for example, switching to 4-4-2 against Man City in January 2021.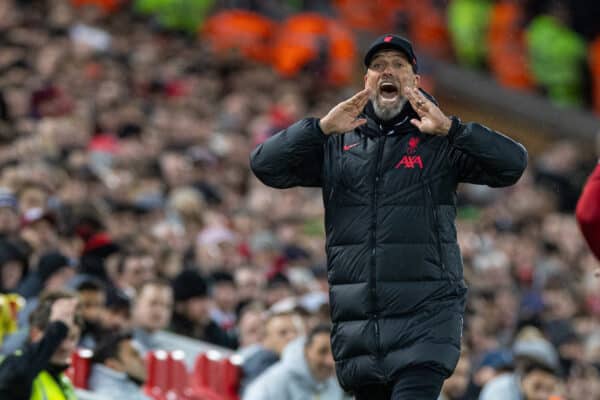 When a manager changes system mid-game, a substitution or two is usually the catalyst – bringing on a player with a different skillset to shift the approach.
But doing this well relies on having players with excellent game intelligence already on the pitch, who can slot seamlessly into a new role.
Mount is one of the best in the Premier League at this.
Anonymity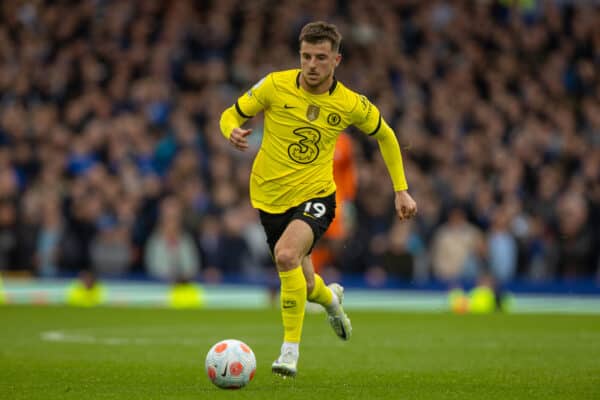 The Wijnaldum comparison also extends to Mount's flaws. The England midfielder can go missing in games, struggling to exert his brand of understated influence.
The current campaign is a testament to this, with just three goals and six assists in 32 games so far in all competitions.
In the recent dismal defeat to bottom-placed Southampton, Mount touched the ball just 20 times in his 63 minutes, completing only half of his 12 attempted passes.
Of course, he is playing in a deeply unsettled Chelsea squad undergoing a difficult transitional season.
He also featured heavily in last season's dual cup runs, losing twice to Liverpool in the League Cup and FA Cup finals, as well as a Champions League quarter-final run.
His 53 appearances came immediately after a key role in England's run to the Euro 2020 final, while he also went to Qatar for the mid-season World Cup.
It's no surprise that key players for the three sides who played the most football last season – Liverpool, Chelsea, Man City – have all performed somewhere below their best.
Mounting a comeback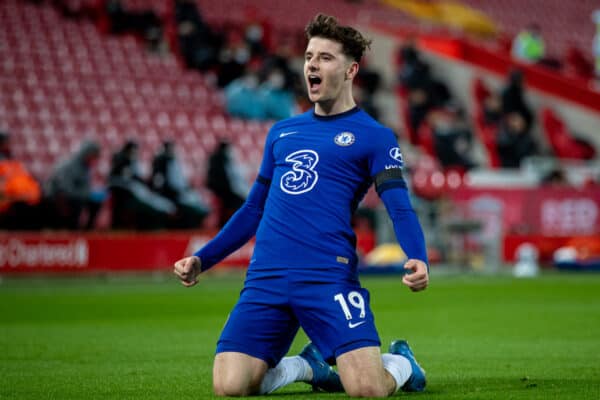 Whether in the blue of Chelsea or the red of Liverpool, expect Mount to be a resurgent force after a summer's rest and a full pre-season.
While adding just one player is unlikely to transform Liverpool's struggling midfield, plans appear to be in place for three new arrivals as Naby Keita, Alex Oxlade-Chamberlain and Arthur, among others, leave.
Bellingham remains the priority, and there is an understandable emphasis on the Dortmund youngster.
But there's certainly a place for Mount, too, if the deal can be done.