Nobody saw Liverpool's ruthless treatment of Man United coming, but they should have done, writes Steven Scragg.
So, a record-breaking day it was at Anfield on Sunday, as the Reds ran in seven goals against a shell-shocked Man United side whose exaggerated sense of self-importance has soared of late.
Everything about it was a joy to behold.
I really fancied us going into this one. Stood on Flagpole Corner prior to the game there were no shortage of furrowed brows from many of those with who I chatted to, arriving as they did with an ultimately unnecessary sense of foreboding.
At least amid what surrounded me, I seemed to be in a minority of the upbeat, but I wasn't alone, as Alan too proclaimed victory would be ours, both of us agreeing that we were far more likely to make heavy weather out of the trip to Bournemouth next weekend.
A proactive-looking Liverpool lineup just added to the positive pre-match vibes for me.
The hints were there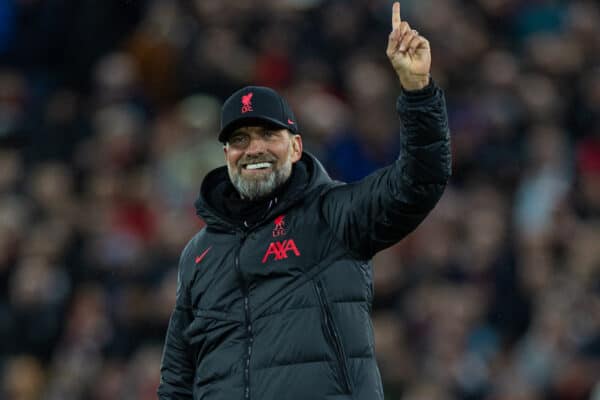 Here was a chance for Jurgen Klopp's team to prove a point or two, not just to those on the outside looking in on the Anfield bubble, but to themselves too.
Our capitulation against Real Madrid aside, in terms of the Premier League, our fortunes had steadily improved in the build-up to the visit of Erik ten Hag and his League Cup-winning players.
Four successive clean sheets in the league, five from the last six, over a month since we last conceded a goal in domestic football, all added to by snapshot images of attacking brilliance against Everton, Newcastle, and Wolves.
After our latest win prior to our date with United, I'd suggested we just needed to throw the stabilisers aside. It was all a matter of trusting ourselves to be the team we know we can be. Beat the demons in the head and we will defeat all comers on the pitch.
Liverpool were never going to cure their 2022/23 ills overnight – and we may not yet prove to be fully over them given our first three fixtures beyond the international break will pit us against Man City, Chelsea, and Arsenal – which was always going to mean any return to form would be by stealth rather than being marked by a defined lightbulb moment.
We tend to sleepwalk into our periodical ruts, and then we meander out of them, cultivating ourselves an almost imperceptible foundation to build upon.

I'm sure to many supporters and detractors alike at 4.30pm on Sunday afternoon, that Liverpool didn't feel like a team whose last four league games read: W3, D1, L0; GF6 GA0, PTS 10.
What we do is we sneak in unannounced before having our opponents over in the most spectacular manner imaginable. Even those who are meant to be our own lack basic observational skills.
A week ago, Danny Murphy was musing on national television that he just didn't see where we would find a clean sheet from, on a day when we had kept a clean sheet.
Within this subtle rejuvenation, there have been signposts here and there.

We missed Darwin Nunez when he was absent, to make a mockery of the external narrative that surrounds him, Mo Salah had begun to look more Mo than he has for a while – despite him having reached the 20-goal mark yet again by the first day of March – while with Cody Gakpo sitting on the bench against Wolves we laboured for longer than we needed to.
Gradually, Fabinho has been a midfielder reborn, energised by both the presence and the challenge of Stefan Bajcetic; Jordan Henderson has reacquainted himself with those higher gears he has; and after a bit of a breather of late, Harvey Elliott has reminded us of his talents.
In defence, Virgil van Dijk and Ibrahima Konate have been reunited, while Trent Alexander-Arnold and Andy Robertson are returning to their destructive and disruptive best, this quartet supplemented by an Alisson who has looked increasingly more commanding the more often he wears all-black.
Show them the way to go home

Essentially, going into Sunday's game the nation was too busy ball-watching to notice us make our run to perfection, the demise of Klopp's Liverpool having been greatly embellished. United arrived as a team seeking a new owner, and at least they found one on the pitch.
Being written off is nothing new for Liverpool; even back in the great days of Bill Shankly, Bob Paisley, Joe Fagan, and Kenny Dalglish we would have our temporary downturns, with the empire said to be crumbling.
"Merseyslide" the back pages and double-page spreads would proclaim, only for whichever talking heads of the era to be made to eat their words.
Football simply rinses and repeats itself and it was all here to see on Sunday as we ruthlessly picked United apart, belittling their trumpeted resurgence, something else that would be regularly floated throughout the 1980s in the most prayed-for manner by a Manc leaning press pack.

Even here, within a 7-0 (seven) demolition job, we have been sold a first-half narrative of a United domination that never really occurred.
They carved themselves three chances, from which only one of them was truly of concern, yet Liverpool had all the significant space and a couple of opportunities of their own.
Gakpo had a dress rehearsal of the opening goal he would eventually score blocked, while Nunez had a goal-bound chance diverted for a corner.
Each player a hero, and Robertson was the key. He set the tempo, he made the killer pass for that opening goal and he was in full sh*thouse mode. We don't lose on days when he morphs into the Tasmanian Devil.

For a second half that was sheer art, the entire 11 in red had the essence of Robertson about them. The fun was back, and via a brace each for Gakpo, Nunez, and Salah, it was fittingly Bobby Firmino who put the top hat on proceedings with the glorious seventh.
By then, there were very few United fans left in the ground to witness the last rites being read to their team. Most of them were already halfway back down East Lancs Road.