A disappointed Jurgen Klopp faced the media after seeing his side exit the Champions League to Real Madrid for the fourth time in six seasons.
Here are five key points from the manager's post-Real Madrid press conference…
The reason for Darwin's substitution

Eyebrows were raised when Darwin Nunez was removed from the action shortly after the hour mark, but Klopp explained his thought process in his post-match comments.
"Darwin looked like he was not on the absolute top level as well and then we need to defend that side as well because conceding a goal is not helpful in that situation.
"Yeah, we can change there, that's why we did it. We wanted to mix it a little bit, that's true."
"We didn't show a special performance"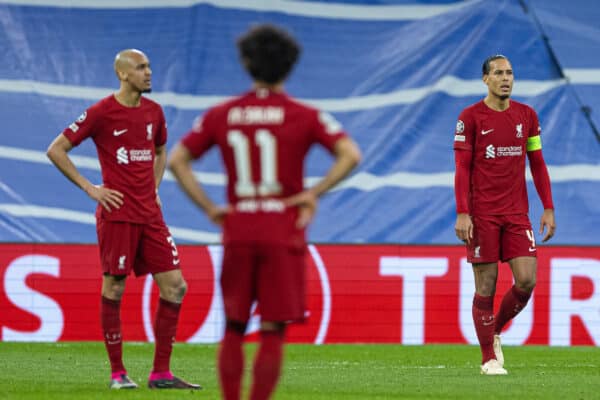 The manager was fully aware of the size of the job at hand going into the fixture, but admitted that Liverpool's showing fell a long way short of what was required.
"We needed a special performance but we did not show a special performance tonight," said the boss.
"It was a good performance in moments, but Real Madrid were the team in control for most of the game. They had the better chances, Ali had to make two sensational saves and that's the reason.
"If you want to get through you have to be outstanding, if you want to win the game you need to be really good. Madrid were the better team and that's why the right team went through."
On YNWA at full time

Jurgen Klopp was full of praise for Real Madrid after You'll Never Walk Alone was played through the stadium speakers shortly after the final whistle.
"People told me, my staff told me after the game. It is a really nice gesture. We are two heavyweights who meet each other quite frequently in international football.
"I think it is clear we respect each other a lot and whoever did it, whoever was doing something like that, [made] a really nice gesture, I have to say."
The importance of the top four race

The push for a top four place is now the only thing Liverpool can hope to salvage from a disappointing 2022/23 campaign and the manager discussed the significance of Champions League football next season.
"Our job is to squeeze absolutely everything out of this season what is possible.
"It's a strange one. Our recent two games, obviously a sensational performance against Manchester United, which is a real good football team.
"It is clear, we want to be top four, but if we can do that, we will decide on the pitch [and] not here in the press conference."
A word on VAR

It was ultimately irrelevant in the grand scheme of things, but it was an interesting night for VAR after a bizarre handball review in the dying seconds prolonged an inevitable end to proceedings.
"I am now not in the perfect mood to discuss general football issues but these two games now, last night, if the whole world agrees it's not a penalty, and two guys think it is a penalty, then something is wrong.
"Everybody, again, with a football brain thought it was not a penalty. I arrived there and talking to Carlo and he said, 'It's not a penalty, it's deflected.' I know but he was still sent to the screen, so there is something not 100 per cent right."