Monday brought a new report on James Milner's talks over a new contract with Liverpool, though the reality of the situation is less concerning.
The Athletic's David Ornstein has reported that the club are "yet to open contract talks" with Milner, whose current deal is up this summer.
That, he writes, is "despite Jurgen Klopp's eagerness to secure the player's services for another year."
Milner is said to be "keen to carry on playing and ideally to commit to Liverpool for a ninth season," but it is stressed that there has been "no movement" since Klopp's comments on the situation in January.
Two months ago, the manager said: "We have different plans for Milly, but Milly wants to keep playing."
But while Ornstein's report looks to raise concern over the No. 7 departing on a free transfer, the reality is that nothing has changed with Milner.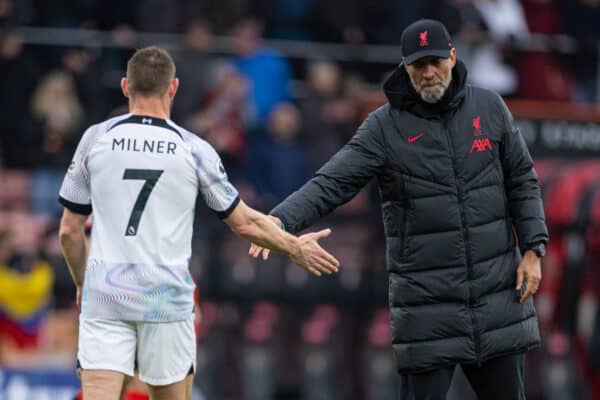 At 37, the midfielder is in a unique position when it comes to extending his career, particularly as he is seen as a player who can still contribute at the top level.
With that brings a relaxed approach to talks over his future, which was also the case a year ago, when Milner put any speculation aside to focus on matters on the pitch.
Milner eventually signed a new contract on reduced terms on June 6 – nine days after the final game of the campaign and less than a month before his deal was due to expire.
The decision was only made a week prior, following the FA Cup and Carabao Cup trophy parade around Liverpool, convincing the player he should stay.
A similar outlook is almost certain to be taken this time around, as despite there only being weeks left on his current terms there is no urgency over an extension.
Instead, Milner is likely to be focusing his energies on a vital top-four push in the remaining 12 games before resuming talks.
This latest report only serves to highlight a situation which is unchanged, which was also the case when Ornstein described Liverpool as "increasingly unlikely" to sign Jude Bellingham last week.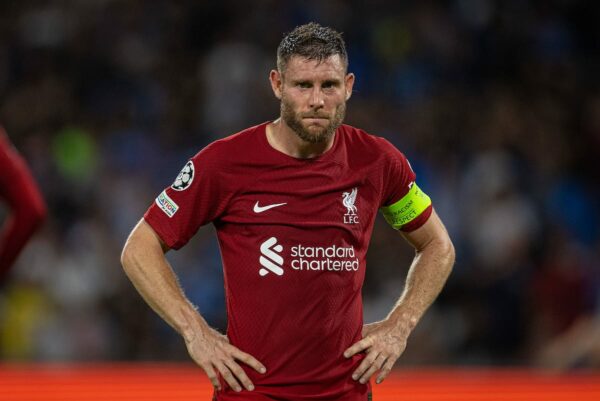 The Athletic correspondent noted that the Reds' financial situation could put them at odds with rivals Man City and Real Madrid, but that was always set to be the case.
Perhaps the only difference between now and this time last year is Klopp's admission that there are "different plans" for Milner at Liverpool.
That could, in fact, contradict the suggestion of the manager pushing for another year with his vice-captain in the squad, as those "different plans" appeared to conflict with the belief that Milner "wants to keep playing."
Whether Liverpool's offer would involve a coaching role alongside bit-part duties on the pitch – and whether the veteran would accept that – remains to be seen.