Set for completion this summer, Liverpool's redeveloped Anfield Road stand has come on plenty since our last update.
With a new capacity crowd of 61,015, Anfield's atmosphere could play a huge part in elevating Liverpool back to the lofty heights reached under Jurgen Klopp until this season.
The redevelopment of the Anfield Road end will add an extra 7,000 seats to the ground and sizeably boost the supporters cheering the Reds on.
It has been over 18 months since work began on the project but it is nearing completion with every day that passes, with the opening scheduled for the start of next season.
External glasswork is now being fitted on the outside, while brickwork has started to be added to make the design more aesthetically pleasing and in symmetry with the Main Stand.
The concourses are also beginning to take shape. Their layouts are similar to those in the Main Stand and should provide panoramic views from the large windows.


Work on the new roof continues before the existing structure is removed in the summer, with the truss alone weighing an astonishing 300 tonnes.
Last month, a group of local schoolchildren became the first to sit in the new stand, as the first seats were installed in the upper tier.
As part of the club's plans, a new section for young adults will be created.
Of the 7,000 new seats, just 1,000 are to be for new season ticket holders, while 3,000 are 'general admission' and 1,800 for hospitality. It is unclear how the rest will be allocated.


The stand will also house away supporters, as well as a fan zone area on the ground floor concourse for families to enjoy.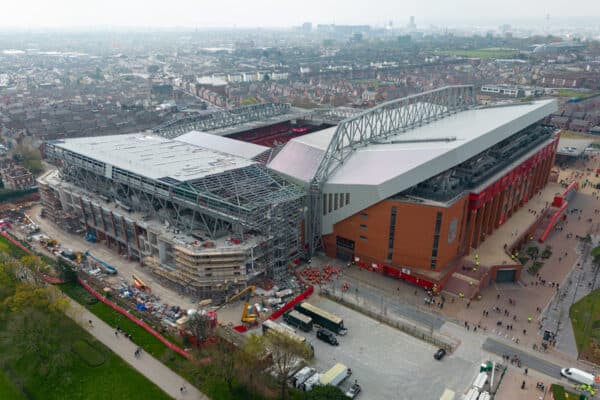 We cannot wait until it is finished!