It was no surprise to see Jurgen Klopp's press conference dominated by the events between himself and Paul Tierney, with a ban looming for the Liverpool manager.
With one headline after another focused on Klopp's actions and comments after the win over Tottenham, the manager fielded a number of questions on the topic when he fronted the press on Tuesday.
He spoke for more than seven minutes on the topic, in total, here is his every word.
Are you able to clarify what was said between the two of you & thoughts on what you said post-match?
"The whole situation shouldn't have happened at all. That's how it is. It was out of emotion, out of anger in that moment, not a very good leader for the things you do. That's why I celebrated the way I celebrated.
"There was the situation with the foul on Mo – no foul, but in my view [it was], it was directly in front of my eyes. I saw it was no foul [on Davies] he whistled it anyway, free-kick [then] another free-kick, then the goal, and a minute later we score. That's usually a moment you should just be happy that you could score a goal.
"Unfortunately, I was still kind of angry. It led to the way I celebrated. I didn't say anything wrong, I was shouting 'without you!', which didn't make a lot of sense. But it was all. I couldn't really get close to the fourth official, the turn in his direction was already not right. I didn't want to get close to him, not at all. Then I felt my muscle. That's it pretty much.
"We scored, then Paul Tierney came over to me. I didn't expect at all a red card. I know I had a red card not too long ago, but because I didn't feel that [would have been] right. I expected a yellow card and he said to me 'for me, it's a red card, but because of [the fourth official, it's a yellow]'. That's what I understood, it was loud in the stadium.
ICYMI: Klopp hurt his hamstring celebrating Jota's winner ? pic.twitter.com/eiVHtcfwQ8

— Sky Sports Premier League (@SkySportsPL) April 30, 2023
"He showed me a yellow card, smiled in my face, that's it. Red card, for what? Game goes on, final whistle, we go inside, tried to calm down, didn't work out properly, go into all the interviews and then I said what I said.
"The things which were made of what Paul Tierney said to me, I didn't say. Everyone knows what I said because you can find it out. I said, 'what he said to me was not OK'. I thought it was not OK, because it wasn't a red card in my view. Then the things happened. I understand, I opened the box with that. It was not intentional but I opened it.
"Then your colleague stepped into it and wanted me to carry on. He said all these words like 'it was inappropriate' – I don't know what kind of words he used – but I stopped it there. Maybe I should have said in that moment, 'he said to me it was a red card and I didn't think it was a red card'. But from that moment on I realised I opened a box I didn't want to open and stopped talking. That's one of the things that happened.
"The things I said, how I felt in that moment about Paul Tierney whistling our games, I'm very sure he's not doing it intentionally, but we have a history and I can't deny that. I'm not a resentful person, not at all. I think it's a waste of time, I've had to get over so many things in my life and I got over them.
"But obviously, these kinds of things which happened in the past, in decisive games for us – if we were involved or not – happened. It didn't happen intentionally but it's still there. That's the feeling, nothing else. That's what I said. I know, obviously, the refs were really angry about what I said and go now for it. I heard I was lying and stuff like this. I never did. I did a lot of things that day, but I didn't lie.
"I shouldn't have said a couple of things but lying was not involved in that. That's pretty much the situation."
Has there been, or will there be, a conversation with Tierney or Howard Webb?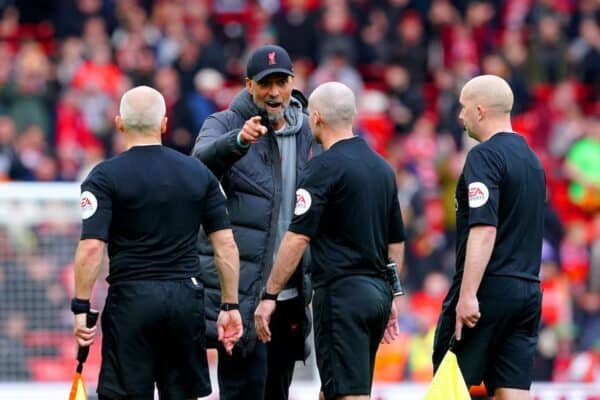 "I don't know [if there will be a conversation with Tierney]. It's not in my hands what's going on now.
"We won a game 4-3 in a very spectacular manner and the only headlines we had I created, I really regret that. It's absolutely not necessary, not how it should be. I gave you all the opportunity, not your fault, to write everything – everyone had a say about it – that's ok.
"But I have no clue what's happening now. We expect any kind of reaction because everybody tells us something will come. But we haven't heard anything yet from either the FA, from the refs or anybody else."
If there is to be a punishment, will you fight it or accept it?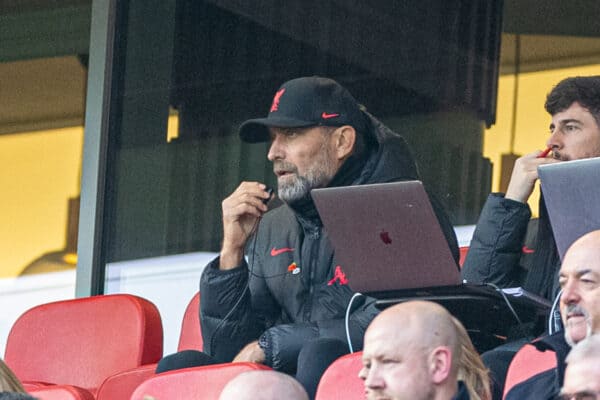 "I don't know. To be honest, with all the things [said about it] I probably have to expect a punishment.
"I think the refs think that I questioned their integrity, in the moment when I'm calm sitting here, I don't do. Of course not.
"In that moment I just described my feelings. Funnily enough, the red card I received against City was pretty much the same spot, the same player – Mo Salah involved.
"There [vs. City] Bernardo Silva clear foul, everybody in the stadium probably thought that's a foul but no we don't whistle it, carry on.
"Now everyone in the stadium thought that's no foul [on Davies], but now we whistle it. What's that? You see it properly, if it's on the other side I don't see it – it's not that each situation in a game I am in the tree and go mad.
"So, I cannot say anything about it. We have to wait for what they come back with."