Jurgen Klopp has all but confirmed James Milner's departure from Liverpool as Brighton circle the 37-year-old ahead of his free-agent status.
Milner is in his eighth and final season at Liverpool, with the midfielder to move on despite Klopp's desire to keep the veteran in his ranks for another year.
In recent days, Milner has been strongly linked with a move to Brighton with Sky Sports' Melissa Reddy one of a number of reporters to state that a deal is "all but done."
With the impending departure in the news, the manager was asked about Milner and even interest in Brighton's Alexis Mac Allister ahead of his side's meeting with Brentford.
"Milly, I can say over the last few months I had really good conversations with him," Klopp said.
"He knows how highly I value him, he's an incredible part of the team and I would have loved to work together with him even longer.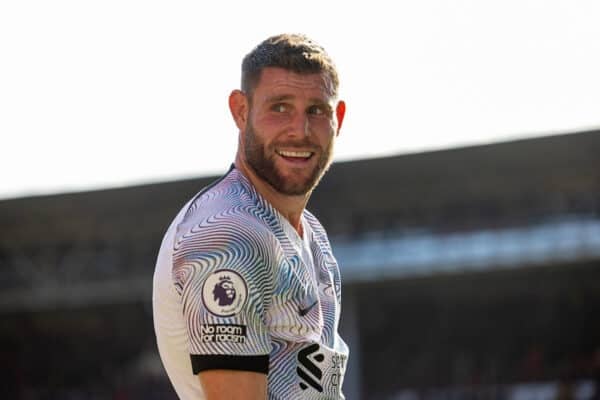 "But the exact outcome of his decision, I think Milly will say that – I don't know if it happened yet or not.
"Nothing else to say from me. Nothing in the last seven-and-a-half years would have happened without James Milner."
It is all but confirmation from Klopp regarding Milner's future, and the boss is clearly anticipating a public announcement from the 37-year-old.
Liverpool's meeting with Brentford is the penultimate home game and with the last chance to bid farewell against Aston Villa on May 20, we can expect confirmation sooner rather than later.
And as for the cheeky attempt to get Klopp to divulge on transfers, in particular Mac Allister, he batted it away as he always does.
He said: "All the other transfer things, you will be the first to be informed if something happens."
Reports linking the Reds with Mac Allister have intensified over the last few days and fans gushed over the midfielder after his match-winning penalty for Brighton on Thursday.