Jurgen Klopp admitted that his side have not been "good enough" to qualify for next season's Champions League but insisted that he is pleased with the "exciting" recent progress.
Liverpool's draw at home to Aston Villa in the final Anfield outing of 2022/23 all but ended the side's hopes of a top-four finish in the Premier League.
It has been a turbulent campaign for the Reds but seven successive wins prior to Saturday's clash gave fans renewed hope they could yet see Champions League football for a seventh year in a row.
Speaking after the game, Klopp confessed that his team haven't reached the standards required to compete in Europe's elite club competition, but he did indicate that he was encouraged by the run his players put together.
"I think the whole season is rather a season where we qualify for Europa League than for Champions League. We were for too long not good enough or ourselves," the boss told reporters post-match.
"I think we made it pretty exciting. I didn't think that was possible seven weeks ago, the boys did really well in that period."
It was an emotional afternoon at Anfield as four senior players said their goodbyes to the home supporters.
Roberto Firmino, James Milner, Naby Keita and Alex Oxlade-Chamberlain were each given guards of honour after the final whistle ahead of their upcoming summer departures.
Firmino was given an especially warm reception by the Kop after a new mural dedicated to the Brazilian was unveiled prior to kickoff.
Klopp expressed his delight towards the gesture and discussed the manner in which the supporters have stuck by the team despite falling short of expectations this season.
"I think our people enjoyed it as well, you could see today they are not angry with us, they are looking forward to a new Premier League season and Europa League season. So do I. I know we have still a game to play," he continued.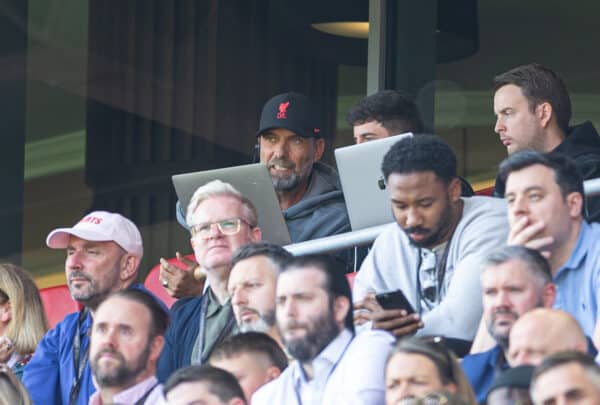 "What the people did anyway, like the mural for Bobby Firmino, I don't know when I was the last time that touched.
"Yesterday we drove to the stadium because we leave our cars here and then you pass that and it's not finished yet, it was in the middle of something, and you think, 'Wow'.
"How often these people do the right things in the right moment is absolutely insane. It was a big, big gesture and Bobby was really [touched]. It's a big gesture, I have to say, really big."