Despite widespread claims to the contrary in Portugal and Uruguay, Liverpool sources have downplayed reports of interest in Manuel Ugarte.
In recent weeks, Sporting CP defensive midfielder Ugarte emerged as one of the most talked-about names on Merseyside ahead of the transfer window.
The 22-year-old is expected to leave Lisbon this summer, with his agent, Jorge Chijane, even telling O Jogo that it was "almost certain that he won't stay."
His claims were tied to interest from Liverpool, and though Chijane insisted they were "not the only club" pursuing his client, it was suggested that a flight had already been booked to England.
This led to Sporting cancelling a meeting over Ugarte's future this week, according to Correio da Manha, with the club said to be furious over Chijane's comments.
Either way, GOAL's Neil Jones reported on Friday night that the player is "not a target," with sources at Liverpool insisting he was not "on the club's agenda."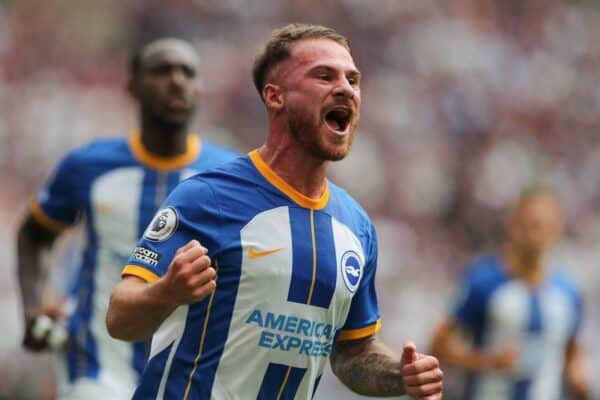 On Twitter, Jones added that three players who are "very much on the agenda" are Alexis Mac Allister, Mason Mount and Ryan Gravenberch.
The trio have been widely linked with moves to Liverpool by credible sources on Merseyside, with Mac Allister appearing to be the priority target.
No movement will be made on Brighton's No. 10, however, until the end of the season, while decisions will still need to be made over Mount and Gravenberch.
Bayern Munich are insistent that Gravenberch is not for sale, but the suggestions are that the Dutchman himself would be eager to join Liverpool.
Gravenberch has only started five games this season and only one of a possible nine games under Thomas Tuchel.
A change of manager at Chelsea, with Mauricio Pochettino expected to take over in the summer, could have an impact on Mount's future.
Mount is heading into the final year of his contract and is seeking parity with some of the club's highest earners – with Reece James earning £250,000 a week – reflective of his status in the squad.
According to the Evening Standard's Nizaar Kinsella, while Pochettino has made it clear the 24-year-old would be a "key part of his rebuild," he is no closer to agreeing a new deal.
"Talks with co-owner Todd Boehly showed no sign of a breakthrough," Kinsella reported, and though he "wants to stay" and the club "want to keep him," if there is no resolution he will be sold this summer.
Despite interest from Arsenal and Newcastle, Liverpool are "seen as favourites to sign him should he leave Chelsea at the end of the season."