There can be no shying away from the fact that 2022/23 was not Liverpool's season, but that is not to say there were not little moments we could savour.
We can all agree that 2022/23 will not go down in the history books as one we would ever wish to relive, it was simply a slog of a season.
There was to be no silverware, sorry to the Community Shield, and no Champions League qualification – the two non-negotiables when previewing the season last August.
Yet, there have been highs among the lows and they are the ones we want to relive with some of our favourite photos of the season.
In no particular order, here are 10 of our top photos from 2022/23.
Trent crowns the King

As they say, a picture is worth a thousand words and this one does all the talking for itself.
All hail the King!
Brothers in arms

A bittersweet final day gave one last chance to say goodbye to Bobby and celebrate his 111th and final Liverpool goal.
It is sad to know we will not have another chance to do so, unless one day he plays for the Liverpool Legends, which has already been hinted at.
A rising star

A season-ending injury brought a premature end to a breakout campaign for Stefan Bajcetic, who made 19 appearances, and at one point in time was the Reds' most in-form player.
Expectation has started to grow but he is still a talent to be nurtured, let's hope he can take part in the full pre-season and continue on his impressive trajectory.
It's how many?!

Surely you know the exact match and scoreline from the image alone? After all, who could forget any moment or occasion where you put seven unanswered goals beyond Man United?
Even the cameraman loves it.
Farewell to a legend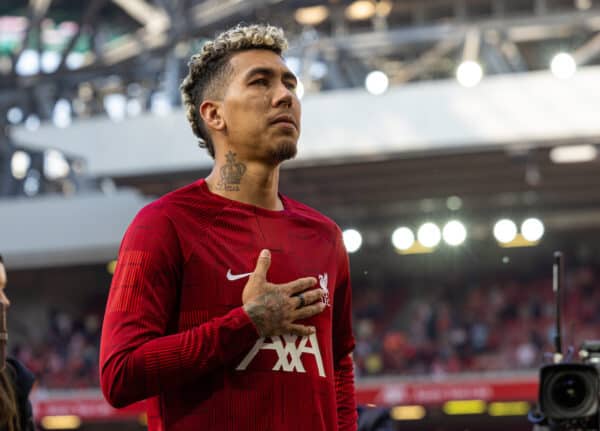 This is not because we like seeing Bobby in tears, far from it, it is, instead, a reflection of how much the club means to the Brazilian and vice-versa.
How did eight years fly by so fast?
'The best in the world his name is Bobby Firmino'
Diaz shows what it means

Talk about a face full of pure emotion, it just oozed off Luis Diaz after he scored his first goal since returning from a long-term injury against Tottenham.
It was a brilliant moment and that he could share it with Anfield made it all the more special.
Not how you start that's important, but how you finish

An injury that Liverpool staff had "never seen before" kept Curtis Jones sidelined for much of the season, but he came to life with 11 consecutive appearances in the XI – which included three goals.
We were particularly fans of his brace at Leicester and his celebration, a bright spot to come out of an otherwise troubling season.
Dutch air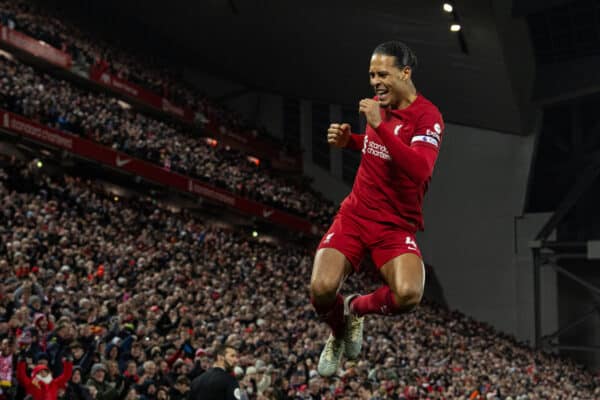 Like many of his team-mates, this was not a campaign to shout about from the rooftops but we did see moments of old from Virgil van Dijk and we hope to see more of his celebrations – especially now that Bobby is gone.
Three goals equals his tally from last season, let's hope next season sees him come close to his best tally in a Liverpool shirt (six).
A little bit of chaos

We could not leave you without an injection of chaos. Throwing it back to the Community Shield triumph when all appeared well in Liverpool's world and Darwin Nunez was on the scoresheet.
It has been an up-and-down season for the No. 27
Jurgen's fist pumps

Jurgen Klopp's fist pumps were not as regular as we have come to know, so when they did come out throughout the season you knew it meant something.
This one, after the 2-0 win over Everton, was particularly brilliant. Look at the passion.
Here's to seeing Jurgen's fist pumps more often next season!