Fabinho has reflected on the "simple" decision he made to join Liverpool five years ago, citing Jurgen Klopp's influence as a key factor in the move.
The midfielder signed for the Reds just days after the side suffered a 3-1 defeat to Real Madrid in the Champions League final in Kiev.
It took around £43.7 million to prize the Brazilian away from an impressive Monaco side, with Liverpool going on to win the Premier League and Champions League in his first two seasons at the club.
In remeniscing recently about his 2018 arrival, Fabinho revealed that he rejected the chance to sign for another English club in favour of the opportunity to play under Klopp.
"Liverpool weren't the only club that made an offer that summer. There was another team in England I could've chosen," Fabinho wrote for The Players' Tribune.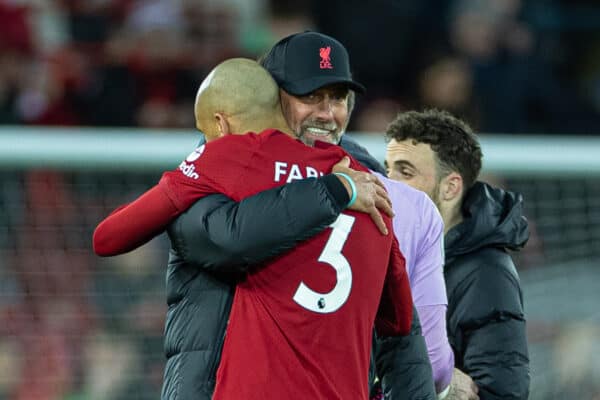 "But it's simple really: after you speak to Jurgen Klopp, you don't want to hear anything from anyone else. It's like, 'OK, thank you, I'm coming to Liverpool!'"
The 29-year-old has since gone on to make 219 appearances in all competitions for the Reds, notching 11 goals and nine assists from a deep-lying midfield role.
2022/23 was a difficult campaign both individually and collectively, with Fabinho wrestling with form as the Reds dropped out of the Premier League's top four for the first time since 2016.

The season did have a positive ending as the Reds won seven straight games to carry some much-needed momentum into the summer, with Fabinho's performances also improving.
He continued by acknowledging the power of Liverpool's supporters and the impact that they can have on the players during big moments.
"Don't get me wrong, I've always loved the fans. But honestly, before Liverpool if you'd have asked me if they make much of a difference on the pitch, I would've said no," Fabinho explained.

"Now, after what I've lived here? Playing at Anfield, you see the difference. You feel it."
The piece offers a fascinating insight into the process behind Fabinho's move to Merseyside, as well as some of the experiences he has lived since pulling on a red shirt for the first time.
The Brazilian's current contract runs until the summer of 2026, having signed an extension prior to the 2021/22 campaign.
He will be hoping to add to his already impressive medal collection in the coming years, having lifted every major trophy available to him with Liverpool.