Like so many players in the squad, Ibrahima Konate had his ups and downs in 2022/23 – though performance-wise, the centre-back has certainly been among Liverpool's better options.
The France international has looked at home in the lineup practically since he walked through the door, though it's fair to say there have been a few errors and stumbles along the way too.
That isn't an enormous surprise considering both the team's high-risk approach to games and the No.5's own youthfulness, which is easy to forget at times, but the payoff for his greater volume of big performances is very high indeed.
He's one of the first names on the teamsheet for most fans, though it could be questioned whether that is always down to his own ability or the fall-off from potential challengers for that spot in the team.

Even so, Konate is basically a big component of the team's plans for the present and the future and he has already had more than one match-winning display for Jurgen Klopp's team.
We're still left wanting slightly more from a player who can certainly be so good he's among Europe's best.
But not having yet fulfilled his enormous potential is a million miles from being the most pressing issue of the season – and this year was, overall, a step forward in his evolution as a player.
Ibrahima Konate, 2022/23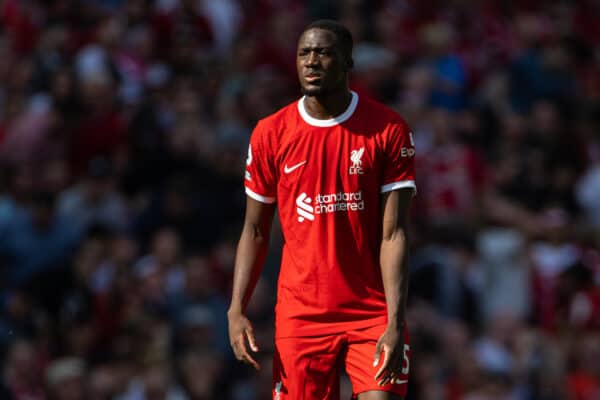 Started: 23 (All competitions)
On as a substitute: 1
Unused sub: 7
Goals: 0
Assists: 0
Overall Season Rating: 7
Adding to the issues or fonder by absence?

The first half of the campaign for Konate was an unfortunately familiar one from his perspective: absent too often, sidelined with injury, watching on and unable to aid the team.
On the one hand, him not being in the team during that period means he escapes most of the worst criticism of the team, who were largely diabolical for a period, especially defensively.
On the other, he naturally could have aided the Reds being not quite so bad, or having alternatives, pushing competition for places or, who knows, perhaps having a run of form to simply firefight and plug all the many, many gaps that were left.
But he wasn't available.
Between the opening league game of the season and the opening league game of 2023, Ibou was on the pitch for 111 Premier League minutes. He started just once.
Notably – or not, you decide – Liverpool won that match he started, and also won both the Champions League group games he was available for.

But he still headed off to the World Cup with just 280 minutes of action to his name; a woefully low tally for a supposed first-choice centre-back.
Still, he certainly showed his worth on those infrequent occasions when he was around – and did so again in Qatar for France.
There, he played in all three group stage games with two starts, then played magnificently in the semi-final, too – before a late cameo in the final itself.
No glory, ultimately, but certainly a great example of what he's capable of in short spells.
From a Liverpool perspective, it was great to see him back to fitness and contributing with big performances, but tinged with frustration that he hadn't been able to do so from August until that point.
A fine fit for a tactical wrinkle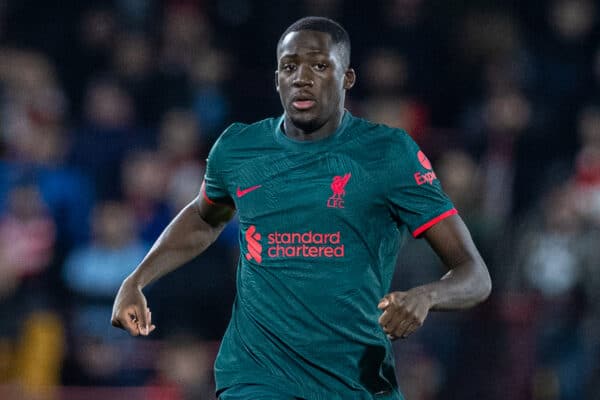 An extra week or two absence after reaching the final meant Ibou didn't return to the lineup until January 2, but that only coincided with the worst performances of the season from the team as a whole: 3-0 to Brentford, 3-0 to Brighton.
Another short, enforced absence meant Konate actually missed the start of what was the new-look Liverpool, so his return to the team – home to Wolves in March and just his fifth league start of the campaign – was his first taste of a decidedly different job.
The biggest knock-on effects of Trent Alexander-Arnold's altered role is felt by the defenders on either side of Virgil van Dijk – normally the right-centre-back and the left-back, now perhaps simply the side defenders in a three in possession.
Konate still has all of his usual jobs to do when in defensive phases, but additionally when the Reds have the ball, he's required to filter wider to take possession in the channel, sprint that side as cover when teams counter down their left wing and often be all the way over to the byline, an old-fashioned right-back by position.
Pleasingly, he has every attribute to do this varied and extensive role.

Konate's speed across the ground has already proven vital, but also his willingness to be super-aggressive in the tackle, relentless in attacking forwards as they receive play and his all-round physical dominance make him extremely difficult to bypass – especially when trying to run onto longer balls in the channels.
Add in the general aerial play and defensive awareness in a more normal central spot, and he remains an exceptionally talented young defender with plenty of room to get better.
Part of the reason for the Reds' improvement in results over the last few weeks of the season was definitely down to his ability to take on board and boss his new approach in the team.
However, there's definitely a lot of work to do to provide him with the necessary organisation and protection in front of him.
Leader of the back line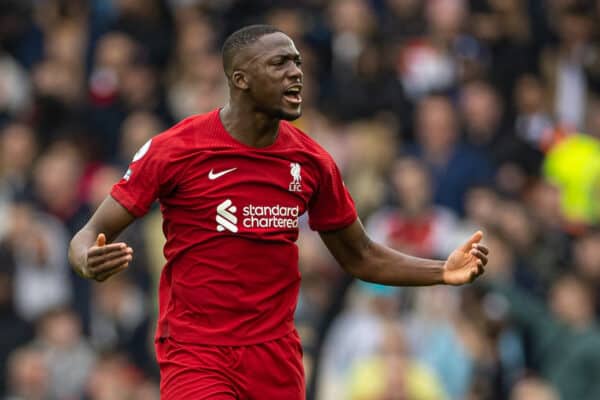 It shouldn't really be too much of a question over what happens next for Konate.
His age, ceiling and current physical and technical prowess all make him a standout candidate to play a leading role in the latest rebuild for Klopp.
There have been tentative early-summer rumours of players who would fit or replace the Konate role, such as Jules Kounde, but given the level of investment needed elsewhere it would be astonishing to see a right-sided centre-back brought in to challenge Ibou.
With Van Dijk not having shown the consistent world-class level he's capable of this year either, there's definitely a case to be made that Konate, if he stays fit, can go on to establish himself as the most important defender in the team going forward.
There are still aspects of his game to improve – resilience, playing out from the back consistently and concentration in keeping the line are all up there – but he has so many tools to work with, it's hard to see anything but a long-term success.
---
Best moment: Performance against Leicester was maybe his best of the campaign and showed his importance as a covering player down our right defensive channel.
Worst moment: Back-to-back outings against Brentford and Brighton were dismal straight after his injury.
Role next season: First-team starter.