The sole January addition to the squad didn't come in the position most people expected, but Cody Gakpo was an intriguing signing who could bring extremely strong long-term benefits to Liverpool.
We've already seen flashes of what Gakpo can do, but even before he signed for the Reds he was making waves that supporters couldn't help but be aware of.
The Dutch youngster had an incredible half-season with former club PSV, scoring nine times and assisting 12 in 14 Eredivisie games – plus another three goals in the Europa League group stage – to win himself a World Cup spot with the Netherlands. And not just any spot, but a crucial and starting role.
Louis van Gaal made Gakpo the go-to attacker and goal threat for the Oranje and he responded superbly, scoring three times in the group stage to fuel early – and overly optimistic, as it turned out – hopes that they might go deep into the competition.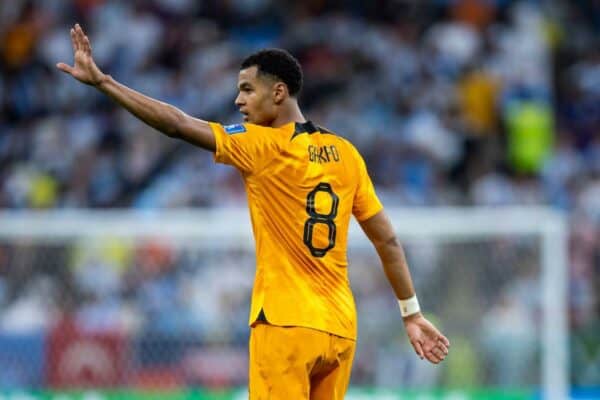 A quarter-final exit on penalties to the eventual champions meant the first short break of his campaign and a chance to assess his next move – which turned out to be to Anfield, just 19 days after his journey in Qatar ended.
A £35 million fee seemed to fit the mould of the Reds' recent approach: a dynamic player with high potential at a very reasonable fee, not cheap but far from breaking the bank and which could, in time, look a steal.
Five months is not enough to judge fully, but is certainly enough time to form an early assessment of how the Dutchman has fared, what more he can bring and whether he was the right move at the right time.
Cody Gakpo, 2022/23

Started: 22 (All competitions)
On as a substitute: 4
Unused sub: 0
Goals: 7
Assists: 2
Overall Season Rating: 7.25
January arrival and a surprising start

A club-record centre-forward at the club, left-winger Luis Diaz injured, left-sided versatile forward Diogo Jota injured, left-sided forward Gakpo signed.
There was only one spot for him to slot straight into the line-up, right? Or left, rather.
But no. Jurgen Klopp put him straight into the centre of the attack, shifted Darwin Nunez left on a more regular basis and started the Roberto Firmino-fication of Gakpo with immediate effect.
In truth, it left the attack looking ill-fitting and badly balanced for a period, but whether that was to do with Gakpo trying to slot in or more the fact that the Reds were simply playing atrociously was very difficult to say.
There were a quick few signs of his link play with one or two teammates looking nice, but the attack as a whole hasn't had terrific cohesion for most of the season in terms of combinations with each other and rotation of positions during build-up play.

Gakpo flitted between anonymous and effective in different matches, with little consistency as to why. Wolves and Everton, for example, were closely matched in the table at the time we faced them in back-to-back games – 17th and 18th respectively – yet he was utterly missing in defeat to the former and a goalscorer in a win over the latter.
Again, it pointed towards more of the team dysfunction than Gakpo's own failings or qualities.
Of the latter, aside from getting into shooting positions, one of his big traits as the season went on was that ability to take the ball on the half turn and surge 20 metres or more, taking play away from rivals and either committing defences, winning free-kicks or finding a pass at the end. Get that last trait right more often and he'll surely be a double-figures contender for assists.
Liverpool must have been an extremely difficult team to slip into, especially when compared with the freedom, fluidity and consistency of what came before.
Clear signs of progress yet still more to come

All told, Gakpo is on a goal every three appearances in the Premier League: seven in 21 so far. That becomes either less impressive (seven in 26 games in all competitions) or more impressive (a goal or assist every 147 league minutes) depending on how you view such numbers.
It's far from poor, yet also not relentlessly clinical in the way of, for example, Man City's new No. 9 – or what was hoped from the one the Reds signed last summer to provide similar strike rate returns.
Instead, we appear to have another forward who can contribute enormously to build-up play, whose off-the-ball work is an improvement, whose intelligence is a primary trait and who can additionally find the net on a semi-regular basis.
Gakpo certainly seems a good fit for the new system in terms of dropping out of the front line and allowing diagonal runners to fill the void higher up, but there's also something to be said for wanting to see more from him.
For starters, there's his prowess in front of goal to consider: good, but only when Liverpool are already good.

Gakpo scored in six different games in his half-season, but only twice scored the game's opening (and often vital) goal. He scored seven in total, but they were rarely difference-making strikes: remove all his goals and Liverpool only amass three points fewer.
Two against Man United were memorable and well-timed, either side of the break, but that match and performance was a good example of him shining in a functioning team: we would have battered them any way that day, and while it's not to say he played no role elsewhere in the build-up and pressing and so on, they were still ultimately two goals which provided layers of gloss, not points.
The next big step for Gakpo to take has to be to seize matches and moments more often, to become a player who the team can look to when things aren't already going well, when games need a leader and a shift in momentum.
He hasn't, so far, been capable of being that player for Liverpool – though again, it's very early to offer sweeping assessments. What's clear is that as a centre-forward in a team that want major trophies, he'll need to become it.
A go-to man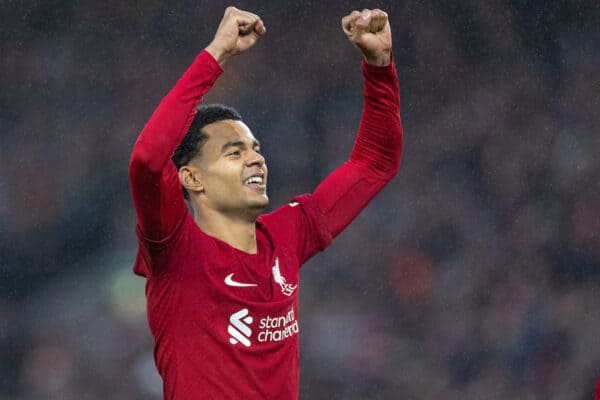 It appears fairly clear that Gakpo will be Klopp's go-to man in the middle of the attack, though his movement and versatility are likely to mean Gakpo will play a variety of roles.
The Dutchman has played a much deeper role in midfield a couple of times now too, which could be an in-game tactical shift for the Reds as much as a starting position for him, and there's every reason to think he'll be involved in almost every game one way or another, fitness permitting.
More goalscoring chances, more chance provision for his teammates and a better understanding, in general, should be par for the course after a pre-season and with a better midfield base behind them – Gakpo might well be one of the biggest beneficiaries if the Reds start to dominate matches more and more again.
---
Best moment: The first and third goals in a club record win over our biggest rivals at Anfield.
Worst moment: His league debut for us was a stinker, losing 3-0 at Brighton where he had 25 touches, completed ten passes and had no shots on target. Welcome to our mid-season nightmare.
Role next season: Regular starter.