The influx of players to Saudi Arabia continues at pace, but one player was left thinking his club had signed Mohamed Salah, only it was not Liverpool's No. 11.
The Saudi Pro League continues to lure players their way, Ruben Neves and N'Golo Kante are the latest from the Premier League while Cristiano Ronaldo and Karim Benzema have also made the move.
The lucrative wages are an obvious pull for any player, whether close to retirement or not, and it is changing the landscape of football as we know it.
Salah has, of course, been linked and there is an eagerness to "start working" on his signing, but they are prepared to wait for his time with Liverpool to reach its natural conclusion.
But that has not stopped one Al-Adalah player falling into the trap of thinking his club had signed Mohamed Salah. Well, they did, just not Liverpool's.
The Saudi club announced the signing of Mohamed Salah earlier in the week, but this Salah is a 22-year-old left-back that bears no resemblance to the Egyptian, aside from his name.
?????? ?????????? ???????
????? ???????????? ??????????

???????? ????? ?

??#??????? pic.twitter.com/5IMDpgIubr

— ????? ??????????? ??????? (@aladalahclub) June 18, 2023
You could forgive Edson, former Fluminese and Gremio midfielder, for getting confused.
He told ESPN Brasil: "Regarding Salah, I thought it was Liverpool's. It turned out not to be, I was hoping that was it.
"Arab football is growing a lot every year and if Salah went there, it wouldn't be something out of this world."
And that is the concern, that it is not out of the realm of possibility.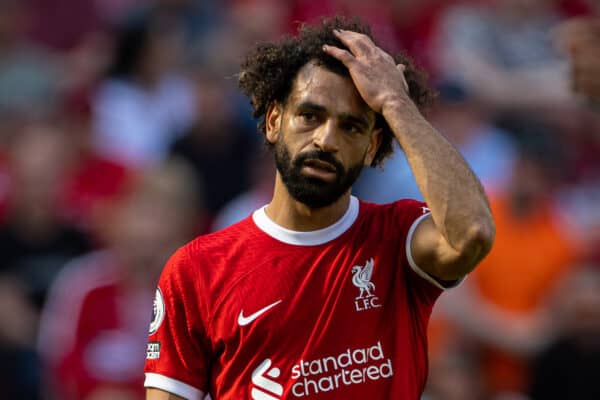 Salah is contracted at Anfield until 2025 and has not shied away from his desire to continue breaking records and lifting silverware with Liverpool, but a lucrative offer could test his resolve.
For now, the only important thing is the Mohamed Salah signing announcement in the Saudi Pro League has nothing to do with Liverpool's record-breaking winger.