With Jordan Henderson heading for the Liverpool exit door Aaron Cutler asks whether there is a good way to leave the Reds?
Is there a good way to leave Liverpool? That's a question some former players and an outgoing captain will have asked themselves.
When you represent a sporting institution of such stature, it's nearly always considered the pinnacle of a career. With a handful of exceptions, those departing Anfield are moving down the footballing pyramid.
To do so is to accept defeat and pure ego means few do so of their own accord.
The upshot of that of course is the club typically hold all the power. If you're deemed surplus to requirements you're effectively forced out, be it amicably or unceremoniously.
Either way a failure to live up to expectations means few tears are shed.
But what of those with bigger reputations who considered the grass (or money) greener? Recent history suggests the leaving of Liverpool is far harder for these individuals, particularly if they want to do so with their legacies intact.
Take note Jordan Henderson.
Steve McManaman

There is a real argument that Steve McManaman is the most underrated – or rather underappreciated – Liverpool player of the last 30 years.
That is due in large part to the manner of his departure.
The first high profile Bosman transfer, his decision to swap Merseyside for Madrid left a bad taste.
However, if you look at the situation rationally you can at least contextualise his exit.
'El Macca' claims the club dithered on the offer of a contract extension having previously agreed a to sell him behind his back (to Barcelona, the summer before).
Having starred for his hometown team for nine years, with precious little to show for it, he felt it time to taste Champions League football. The sad passing of his mother also influenced his decision to seek pastures new.
Unlike their strip, Real Madrid aren't exactly whiter than white. They are however Real Madrid, one of few sides with a genuine claim to be 'bigger' than Liverpool.
In playing out the final year of his contract McManaman may have felt he was doing the honourable thing. Sadly for him, stage managing his exit in that way alienated a section of the support.
An impressive trophy haul and enhanced reputation on the European stage vindicated his move but he's never quite rekindled his relationship with The Kop.
Michael Owen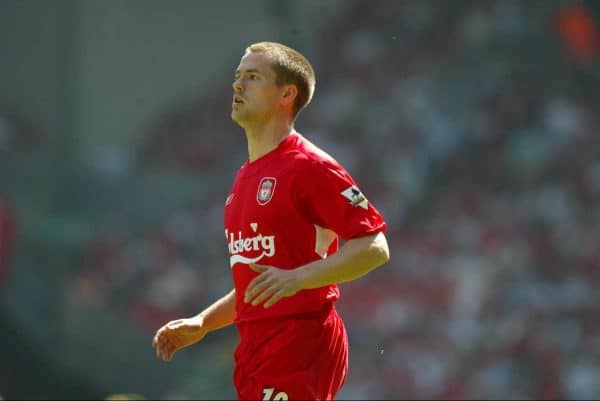 Michael Owen must surely lament his Liverpool exit.
He tells a tale of driving to the airport en route to Madrid having sought assurances he could 'Do a Rushy' and return if he didn't settle at Real within 12 months. You could argue that in itself shows a disrespect for the club who had nurtured his talent since the age of 10.
Like McManaman, he had run down his deal, giving the Reds scant reward for a Ballon d'Or winner. This served to confirm suspicions Owen was single-minded to the point at which he had a respect for, as opposed to a deep love of, Liverpool.
As fate would have it, he did indeed try to plot a route back but only after his old club had gone onto scoop the biggest prize in the game. With all avenues blocked, he torched his legacy by joining a certain team down the East Lancs Road.
That decision may have been influenced by the frosty reception he received on his first visit back to Anfield with a Newcastle side he too felt he was above. Owen can be marked down as another terrible leaving of Liverpool.
Xabi Alonso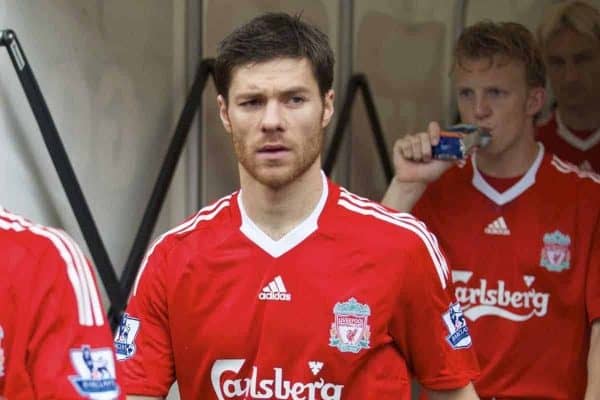 Xabi Alonso may well be the only big-name Liverpool player to force through a move at the peak of his powers yet remain universally respected and/or loved.
And make no mistake, he did force through a move.
The Spaniard oozed class on and off the pitch, winning the hearts of supporters from the off. This was never more obvious than when Rafa Benitez sought to sell him in the summer of 2008 to fund a move for Gareth Barry. This dismayed fans who left the manager in no doubt to who they considered to be the better player.
Both pieces of business fell through, meaning Alonso remained at Anfield for another season where he was instrumental in a title-charge.
Yet you never sensed bridges were mended between player and manager, meaning interest from Spanish giants was always going to hard to resist. So it proved, with Alonso handing in a transfer request to facilitate a move to the Bernabeau (again).
That is an extreme action that would ordinarily spark the end of any love affair with The Kop. Luckily for Xabi, most accepted he'd been badly treated the previous year and regrettably accepted his decision. A rare case of leaving Liverpool and maintaining your standing.
Javier Mascherano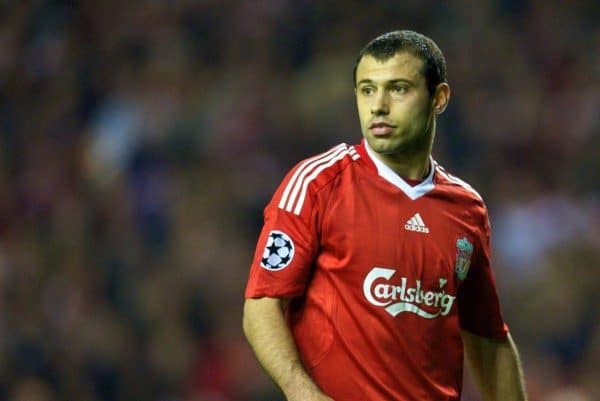 The Alonso situation is unique, particularly when compared with the exit of his former teammate Javier Mascherano.
When Liverpool manager Roy Hodgson (dark days, my friends) confirmed the Argentine had submitted his own transfer request a fair number turned on the man they'd christened 'Monster'.
Unlike Alonso, Mascherano was unable to control the narrative.
The club let it be known he 'refused to play' when absent from a team sheet to face Man City in August 2010.
For his part, Masch admits he regrets the manner of his departure but insists he was lied to by the club who had promised to accept bids in the region of £20 million.
So desperate was he to leave Liverpool he reportedly took a pay cut when joining Barcelona.
Various interviews, including one basking in the Champions League final defeat of Man United, have gone some way to restore his reputation but his was a messy and damaging exit.
Fernando Torres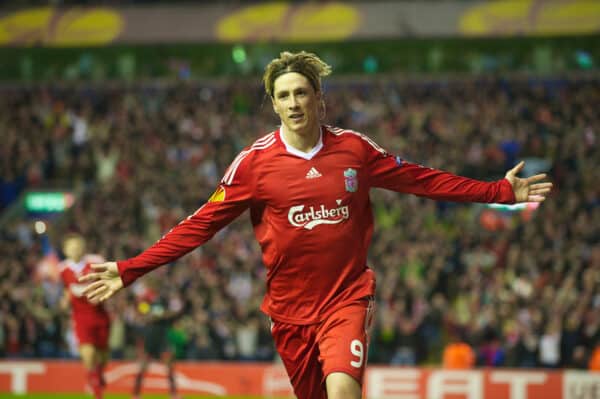 The darling of The Kop, Fernando Torres is a case study for how to ruin a Liverpool legacy.
Following three magical years in which he became a firm fans favourite, he turned his back on his adoring public to join a side that were (and are) the complete antithesis of LFC.
He did so first by downing tools. Jamie Carragher claimed there were games when his teammates knew he wasn't in the mood.
Having ran (or rather jogged) with a permanent sulk etched on his face for six months, the Spaniard then handed in a transfer request in January 2011. This came just days after Liverpool legend Kenny Dalglish had become manager.
When a protracted move to Chelsea was finally sanctioned it came courtesy of a record fee but that wasn't enough to compensate supporters who felt betrayed.
Torres was never loved at Chelsea like he was at Liverpool. Neither was he able to hit the same heights, or anywhere near them for that matter.
Trophies duly followed but as a bit-part player.
Luis Suarez

Luis Suarez's final season at Anfield was so brilliant it served to right the wrongs of the previous summer. To an extent.
However, tt shouldn't be forgotten that the enigmatic Uruguayan deployed some rather unsavoury tactics in a bid to force a move through to Arsenal of all teams.
A pathetic newspaper interview pleading for a move, followed by a spell training in the reserves, added a sense of inevitability to proceedings.
The North Londoners insulting bid of £40m+£1 riled Liverpool to such an extent however we played hardball, retaining the player out of sheer principle.
The re-integration of Suarez kickstarted a breathless campaign that would see the Reds come closer than ever to ending their wait for a Premier League title.
Unlike Torres, the Uruguayan dusted himself down and put his body on the line for the club. That appeased many who waved him off with best wishes the following summer when a £67 million move to Barcelona was agreed.
Even so, Suarez was making damn sure that move happened. A second biting incident in as many years was questioned as being his way of making his position at Liverpool untenable. In the eyes of many, the club were suddenly compelled to sell him.
Our standing in European football was such at the time that many supporters became fanboys as Suarez tore it up at Barca. He was afforded a rapturous reception in a pre-season friendly between the sides at Wembley. On reflection that was as strange as it was generous.
Raheem Sterling

Few would dispute Raheem Sterling's decision to leave Liverpool was the correct one. His trophy haul proves as much.
Yet he did so in such circumstances that it harmed his reputation beyond repair. Rightly or wrongly, there is a perception of the England winger as being money-hungry and disruptive. That stems from summer 2015.
An ill-fated BBC interview in the midst of a contract stand-off set the ball rolling, before an infamous picture of him smirking on the bench at Stoke as Liverpool succumbed to a 6-1 hammering.
Then came numerous leaks to the press about an 'irreparable' relationship with manager Brendan Rodgers.
Alongside his agent Aidy Ward, Sterling pulled every trick in the book to force Liverpool's hand and bulldoze his way out of the club.
He's reminded annually of those tactics as he returns to L4 to incur the wrath of those who once cheered him, usually in the wake of a defeat.
Philippe Coutinho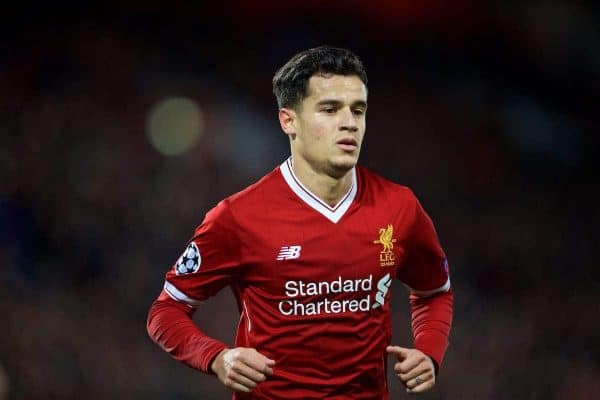 So hellbent was Philippe Coutinho on forcing his way out of Anfield he invented a back problem. He then handed in a transfer request minutes after the club released a statement saying he was not for sale.
This was followed by leaks he'd fallen out with manager Jurgen Klopp, the same man covering for him in press conferences and excusing that phantom injury.
As a final resort he pulled Liverpool's senior players into a meeting room and asked them to help him engineer an exit.
You've got to hand it to the fella, he worked hard for that move.
Once John Henry had vowed not to sell the Brazilian in the summer of 2017 his attempts were always going to be in vain. We all suspected however that was delaying the inevitable.
When he eventually got his 'dream' move to Barcelona it ironically marked the beginning of a career nightmare.
Quickly discarded, loaned and then sold he now finds himself on the bench at Aston Villa. A footnote in Liverpool's history, he's best remembered as the man who paid for Virgil van Dijk and Allison.
Jordan Henderson

There is a definite correlation between a successful team and a happy camp.
It's been five years since Coutinho forced his way out of Liverpool, the last high-profile player to do so at their own instigation. In that time the club have swept the board for major honours. That's no coincidence.
Yet the summer of 2023 undoubtedly marks a crossroads of sorts.
We've already seen the exits of James Milner, Naby Keita, Alex Oxlade-Chamberlain and Roberto Firmino. They left with different Liverpool legacies, but you felt all would have been retained had the club truly wanted to keep them.
Jordan Henderson is the outlier.
While there is a general acceptance the club captain's gametime would have been managed heading into the new season, there appeared to be no plans to lose him. That was until an eye-watering contract offer turned his head.
His looming exit is different to the aforementioned ones. A 33-year-old Henderson does not compare to a 27-year-old Alonso entering his prime.
It is, however, another example of how difficult it is to leave the club at your own behest, without damaging your reputation.
That Henderson's Liverpool career should end in this manner though is frankly sad.
This is a player that has given everything to the cause, battling through some dark times to emerge as a true leader that has silenced the majority if not all of his critics.
He should and will be remembered as the captain that lifted that maiden Premier League trophy, along with all the other pots that have defined Jurgen Klopp's first great Liverpool side.
But those images will now fade out to ones of him shaking hands with Steven Gerrard in a Saudi outpost, former captains that have exchanged top-level football for top-level wages.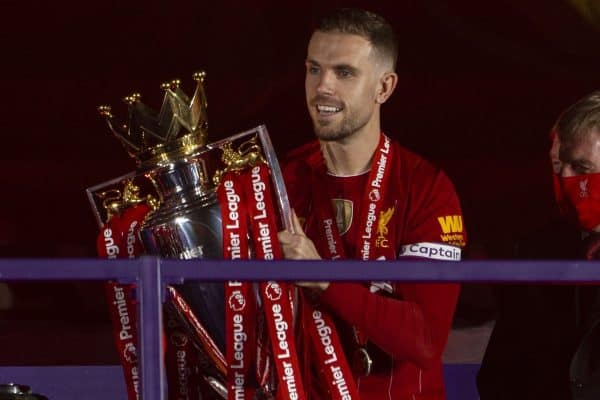 The fact a man of such principle has chosen this next step is galling.
For Henderson has transcended the Liverpool captaincy, becoming a 'captain of captains' in the fight for equality and fairness.
Having spearheaded the #PlayersTogether initiative for the NHS at the height of the pandemic, he has been outspoken in his support for LGBT organisations. Liverpool's own LGBT supporters group, Kop Outs, are on record as saying his intervention was 'an immensely important moment which touched a chord with all Reds fans'.
However he spins it, Henderson's decision to move to a nation where those same groups face severe repression is appalling. It paints him as a hypocrite and undoes much of the good work he's carried out.
If he is willing to exchange principles for pound signs he deserves all the criticism coming his way.
Those defending him by citing Firmino's decision to head to the same league forget which one went out of his way to make a difference. Or so we thought.
Talk abounds of life-changing contracts but this is a man who already earns between £7 million and £10 million annually. His children and their children aren't going to struggle either way.
It seems even the righteous can be bought in a sportswashing operation…
The leaving of Liverpool is never easy for those who agitate for the move themselves. I'd argue it's almost impossible to do so with your reputation intact.
We've seen all kinds of antics and histrionics from those looking to force the issue in the Premier League era.
Ironically, it's the player considered to be football's Mr. Nice Guy who looks set to leave in the most undignified manner of them all.
That is a sad way to end a brilliant Liverpool career and a sad indictment of a beautiful game turned ugly.