"We're going to miss you, a lot" – that's the overriding message from Liverpool players as Jordan Henderson's former teammates paid tribute to their departing captain .
After Jurgen Klopp's message for his captain, the LFC squad also gave theirs via a video released by the club shortly after Henderson's move was finally confirmed on Thursday.
"We've been through many things, we're going to miss you, I'm going to miss you," says Virgil van Dijk – the man expected to replace Henderson as Liverpool captain.
"We're going to miss you a lot," says Mo Salah, his teammate for the last six years.
But the most emotional player is Trent Alexander-Arnold, who looks close to tears.
"Everybody in this team is going to miss you," Trent says.
"I hear the word 'captain' and automatically you're the person that springs to mind. So thank you for everything, skip."
Henderson leaves Anfield after 12 years of service during which he lifted every major club honour available to him as captain.
It ends an incredible journey which began when Kenny Dalglish brought him to the club in 2011, with Henderson later taking over as captain from Steven Gerrard in 2015.
Jurgen Klopp's arrival just a couple of months after the armband changed hands was where it all truly started, with Liverpool capturing the Champions League, Premier League, FA Cup, League Cup, Super Cup and Club World Cup under his stewardship.
Upon his departure, the teammates he will leave behind had some emotional but kind words to say for their skipper in a video from the club.

Alexander-Arnold, looking visibly upset and having already thanked the captain in a social media post on Thursday, expressed further gratitude by saying: "You were probably the player who welcomed me and helped me feel at home and at ease around other players and around the whole squad."
Van Dijk also looked emotional as he said his goodbyes and recounted the discussions the two had held prior to the defender's arrival: "[You] convinced me why I should join your team, so that was very helpful and a big part of why I wanted to come."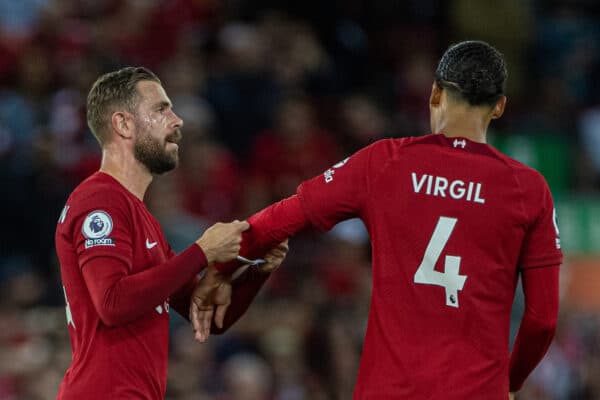 Andy Robertson had some poetic words to say about the void that will be left by the captain, insisting that those who remain will ensure the club continues to push in the right direction: "What you've left behind is a massive hole but it's one that we'll try and put together again because that's the way you would have done it."
The video also includes tributes from Alisson, Curtis Jones and many more as the players offered glowing words about Henderson's time at Liverpool.
It is clear that he will be missed by his peers and others within the squad will be required to step up from a leadership standpoint with Henderson and James Milner no longer at the club.
Anfield is going to look very different from next season!