With new claims Mohamed Salah could be heading to Saudi Arabia this summer, his close friend Dejan Lovren is the latest to dismiss speculation.
It is now three years since Lovren left Liverpool, but there are still few who can consider themselves closer to Salah within football.
Therefore, the 34-year-old centre-back is in a comfortable position to debunk rumours of the Egyptian heading to Saudi Arabia before the transfer window closes.
• UPDATE: Liverpool insist Mo Salah not for sale amid Saudi transfer interest
Salah's agent, Ramy Abbas Issa, has already shut down claims of a switch to Al-Ittihad, of course, but that hasn't stopped new rumours on Thursday.
Al-Riyadiah, the same publication that produced the initial reports of a £60 million move, claim that Liverpool have now "accepted informal discussions" over a deal.
That is "due to the large financial offer submitted," with the club's willingness to accept an offer having "made [Salah] consider the Saudi offer very seriously."
Another newspaper, Al Yaum, added that "surprising developments" had taken place, with Abbas supposedly demanding his client become the "most expensive player in the history of transfers in the Saudi league."
— Dejan Lovren (@Dejan06Lovren) August 24, 2023
Al-Ittihad's interest may be genuine, but claims he's off are far from it – as Lovren point out on Twitter.
In response to a post detailing the reports on Salah's proposed deal to join Fabinho at Al-Ittihad, the Croatian replied with a 'stop lying' gif.
Short but sweet. At least it saved the winger's agent a job this time around.
Unfortunately, that won't stop speculation over Salah's future, particularly as The Athletic's David Ornstein has confirmed Al-Ittihad hold an interest.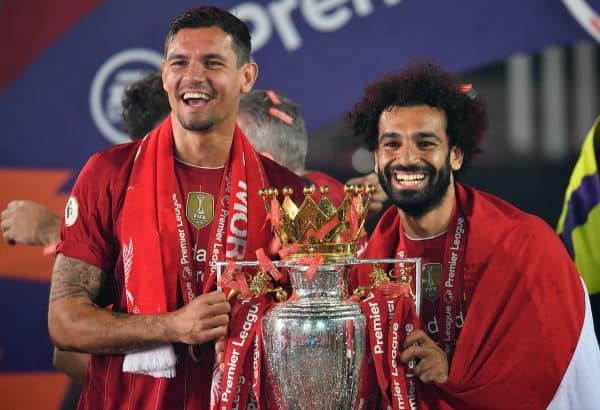 There will still be conversations in pubs, with those adamant that Liverpool's fifth-highest goalscorer of all time is upping sticks and heading to the Middle East because they read it on the Echo's live blog.
The player is committed to Anfield, with a contract running to 2025 – which, as Abbas pointed out earlier this month, he wouldn't have signed if he was considering leaving.
Perhaps the timing of these new reports is the most interesting part.
As Liverpool prepare to face Newcastle – a club owned, like Al-Ittihad, by the Saudi royal family – reports in Saudi Arabia look to unsettle one of the Reds' most important players.