Dominik Szoboszlai handed out six shirts to joyous Hungary fans following his latest international appearance for his country.
The midfielder led his national side to a friendly 1-1 draw against the Czech Republic over the weekend, following on from a crucial 2-1 victory over Serbia three days earlier in Euro 2024 qualifying.
Having already become a Kop favourite for his early showings in a Liverpool shirt, Szoboszlai is clearly also a popular figure among Hungary supporters.
As is often the case these days, fans naturally clamoured for the 22-year-old's Hungary jersey after the spoils were shared with the Czech Republic in Sunday's clash.
In order to put as many smiles on faces as possible, Szoboszlai passed six shirts to young supporters after the final whistle to acknowledge their ongoing support.
Speaking to M4 Sport after the game, the Hungary skipper admitted that the extent of love he is shown feels "strange" but was pleased he "was able to make them happy" with his performance and post-match gesture.
"It's strange, but it feels very good that 80 per cent of the people are wearing Szoboszlai or Liverpool shirts," he explained.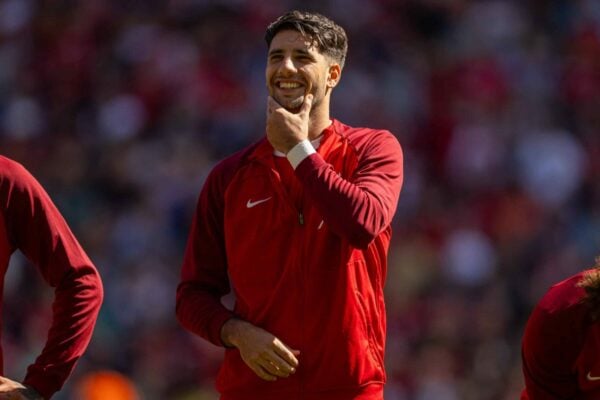 "As a small child, I went to the national team matches in the same way and I dreamed that one day they would look at me in the same way as I looked at any player back then, so I'm glad that I was able to make them happy.
"That's why I brought as many jerseys as I could and went round and handed out five or six more jerseys. It's sad when you can only give out one after a game and you see the sad faces afterwards. I hope I was able to make six people happy now."
Despite still only being 22, Szoboszlai looks to be widely adored by his national side's supporters having now amassed 34 caps and seven goals for his country.

Hungary boss Marco Rossi, who handed Szoboszlai the armband last year, described the transfer to Liverpool as moving into a "different dimension" and he looks to be showing signs of that already.
He has made an electric start to life at Anfield, with his early strike against Aston Villa the unquestionable highlight so far.
The midfielder will be hoping he can continue to make an impact in the weeks to come having already made his £60 million fee look a relative snip in today's market.