You can scarcely believe that it was eight years ago Jurgen Klopp was named manager of Liverpool, in that time he has delivered some of the highest of highs for us Reds.
It was October 8, 2015 when the trajectory of Liverpool FC changed course, with a charismatic German by the name of Jurgen Norbert Klopp responsible for the new direction.
Four hundred and forty-three matches, six major trophies, countless fist pumps and a lifetime of memories made – and still yet to make!
What an eight years it has been, and to celebrate it was only right that we look at eight of the very best under his tutelage.
Starting with Klopp's best…
Fist pumps…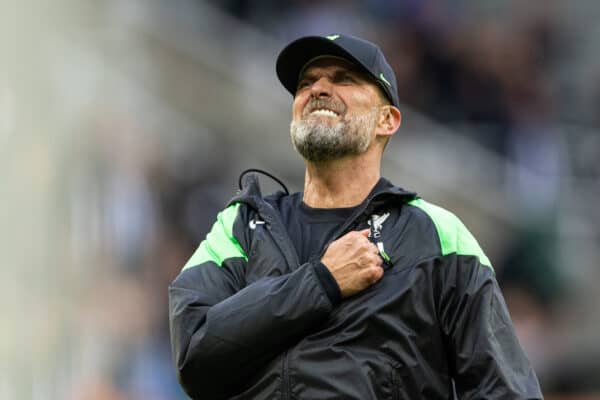 They have become a hallmark of a Liverpool victory, whether in relief, euphoria or pure adrenaline, Klopp's passion always finds a way to show itself.
His celebrations on the pitch are a regular sight and we love them each and every time.
From ones that mean everything…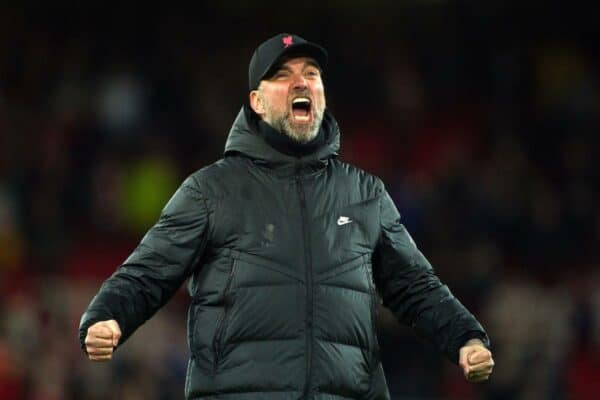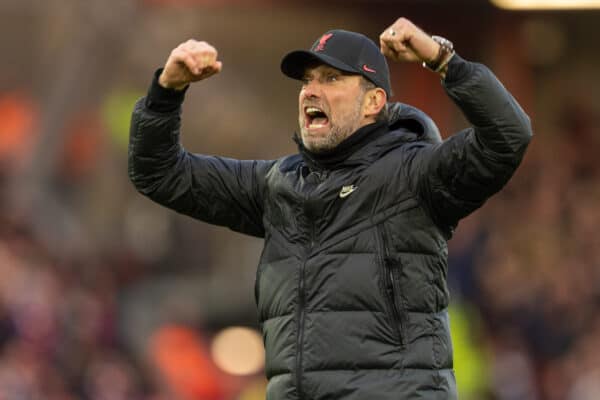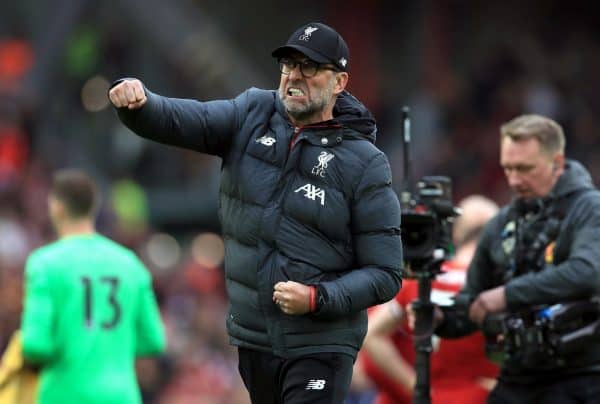 To ones with silverware…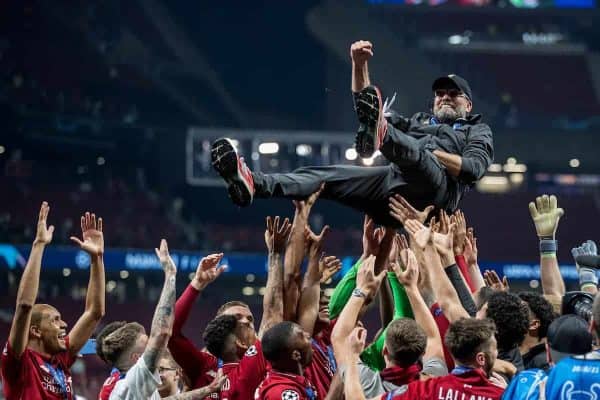 What a manager.
European night…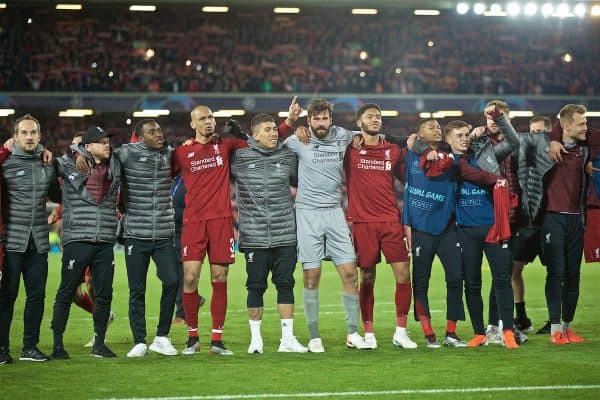 There are no if, buts or maybes about this one. Liverpool 4. Barcelona 0.
There will never be a day when seeing clips, footage or a replay will ever grow old, it is a performance and result that will stand the test of time.
Liverpool had nothing to lose but everything to gain and in 90 minutes, they epitomised everything Klopp wanted his Reds side to be: gritty, relentless, savvy and opportunistic – among other traits.
It one of those matches where you know exactly where you were when you watched it – for those lucky to be at Anfield, they will see few better.
"We score, Liverpool need FIVE – and we're going to get at least one… agreed?" The famous words from Barcelona's Twitter account, the delete button would've never looked so tantalising.
As Klopp said of his team, "These boys are f***ing mentality giants."
Comeback…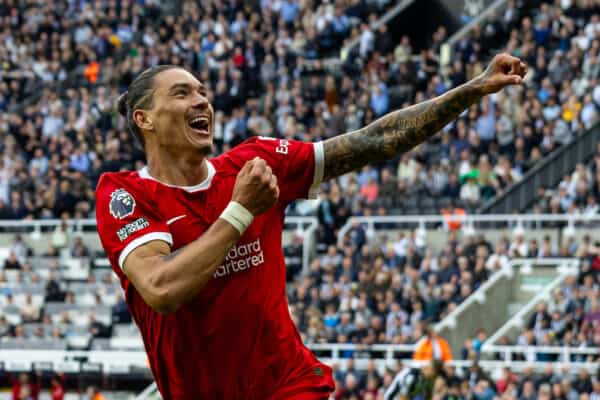 Another box the Barcelona match could have ticked and, while recency bias may be in play, there must be a word for the comeback at Newcastle.
Klopp even said "it was much more difficult than the Barcelona game" as the Reds were away from home, down to 10 men and were still 1-0 behind when the clock struck 80 minutes.
Then Darwin Nunez happened and it instantly became "something to tell the grandkids."
The emotion, the circumstances and who we were playing, it had everything – if only we could bottle up those feelings, it is why football is so very special.
Trophy…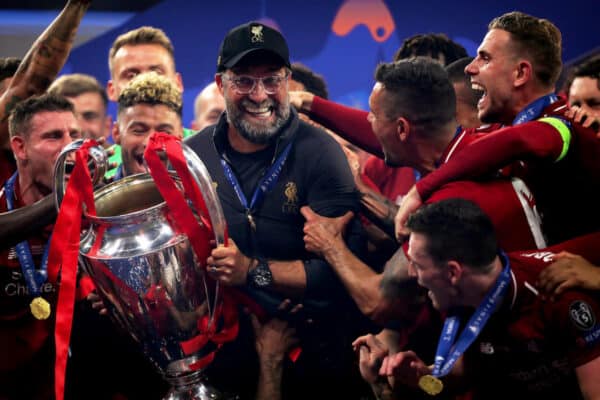 You could argue for any one of the pieces of silverware lifted by Klopp and his team over the years, but there will always be something special about the very first.
After falling short in the final the previous season, the Reds wasted little time in atoning their defeat – the final itself mightn't have been the best match, but that night in Madrid will always be held on a pedestal.
That Ol' Big Ears was the first trophy under Klopp is so very special and so in tune with the history and heritage of the club – he was always destined to be one of the greats.
There is never a bad time to watch highlights and dozens of clips to relive this night in Madrid, it was simply the best.
'Let's talk about six, baby'.
Quote…

The manager is never short on brilliant words, he has an incredible ability to say the right thing at the right time, even when he continues to make clear that English is not his first language.
On his very first day he set the precedent for what we could come to expect with "the normal one" and that "we have to change, from doubters to believers— now."
Those two quotes are certainly a couple of his very best, but that night against Barcelona elicited another we will not forget in a hurry:
"I said to the boys, 'I think it's impossible but because it's you we have a chance.'

"And we believed in this chance…I don't know how the boys did it. These boys are f***ing mentality giants, it's unbelievable."
Hugs…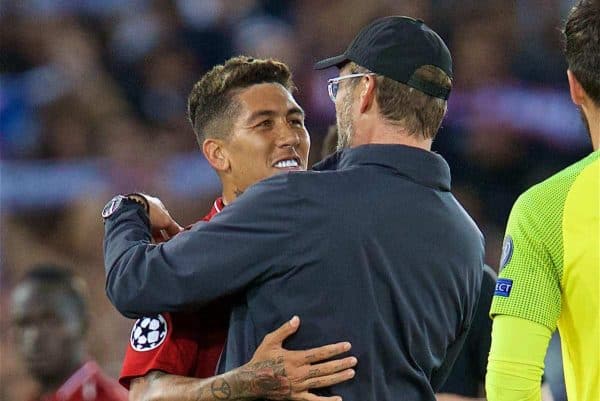 Find someone that looks at you the way Roberto Firmino looks at Klopp (above).
They are synonymous with the German, big hearty hugs that greet you on your first day, after a match and countless moments in between.
"I enjoy it more," Klopp said, when asked about the importance of hugging his players back in 2016.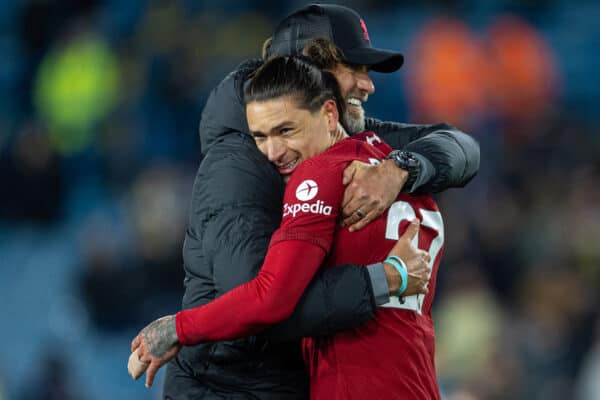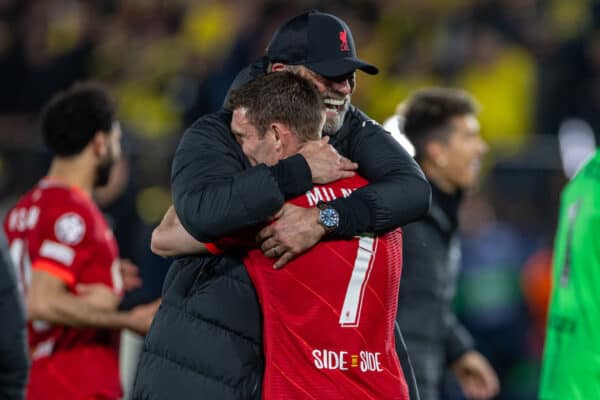 "I'm really demanding to be honest, and I really want a lot of them. When you can really see how they fight, with the last drop of fuel in their machine … that's the most easy thing to do (hug them)."
And hug them he does. Let's be honest, we've all wanted to be on the receiving end of one!
Story…

There are countless examples that could fit this brief, but it is always his interactions with fans that standout and show just what kind of person he is at heart.
For this one, we want to steer your attention towards when he wrote a heartwarming letter to an 11-year-old Liverpool fan after he wrote to him to share his struggles with anxiety.
The story, from 2020, saw Lewis Balfe write to the manager about his struggles ahead of starting secondary school and Klopp's response was brilliant.
"Hello Lewis, can I start by telling you a secret?" the letter read.
"I get nervous. To be totally honest, I would be worried if I did not get nervous because when it happens it gives me the chance to turn that energy into something positive.
"I know it might be strange for a boy of your age to think that the Liverpool manager can feel the way that you do but I do."
That is only a snippet, if you want to read his response in full, you can here.
Record…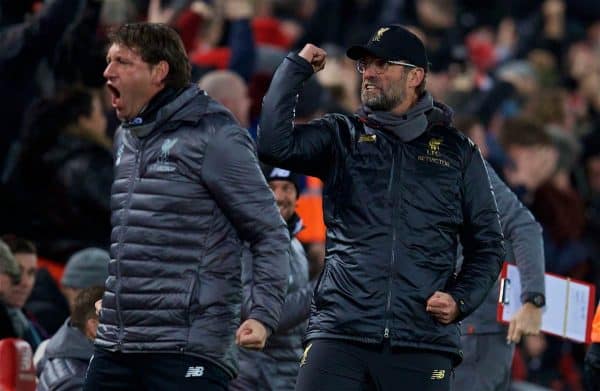 A whopping 68 games unbeaten in the league at Anfield, the second-longest run on the all-time list for top-flight unbeaten runs at home – what an achievement.
Klopp's side avoided defeat at Anfield in the Premier League from April 2017 until January 2021, winning 55 of the matches and drawing just 13.
The Reds scored 176 goals and allowed the opposition just 44 – quite the margin!
Fortress Anfield.
Bill Shankly's famous quote about the 'This Is Anfield' sign was given a modern take, "It's there to remind our lads who they're playing for and to remind the opposition who they're playing against!"
Sixty-eight games unbeaten is quite the record, think we will ever see something similar again under Klopp?