Here we are, talking about officials and VAR again, how they have cost one team, Liverpool, and played into the hands of another. We shouldn't have to talk about it, but we are. Again.
The fallout from Liverpool's trip to Tottenham continues to reverberate on and will continue to do so, and rightly so.
If there were to be one match to show future officials how it is not to be done, this would be it – it shone a spotlight on all that needs to change when it comes to Premier League officiating.
Instead of focusing and talking about Jurgen Klopp's new-look Liverpool and the positive signs they continue to show, we are dragged back into controversy that we all are sick and tired of discussing.
Officials change games, their decisions, or lack thereof, dictate outcomes of not only 90 minutes but title races, relegation battles and everything in between.
For a league that proudly professes to be the best in the world, its officials and procedures are not up to par. Something has to change, but can we ever have faith that it will?
Ineptitude only makes clubs pay ultimate price

"I never saw a game like this with the most unfair circumstances, crazy decisions," Jurgen Klopp said after his team lost in heartbreaking fashion on Saturday.
Considering all Liverpool have previously been involved in of late (Alexis Mac Allister's red card, the linesman elbowing Andy Robertson, Jordan Pickford's challenge on Virgil van Dijk), that is quite the statement.
Referee Simon Hooper led the way at Tottenham and was assisted by lead VAR Darren England and his assistant Dan Cook in what was a diabolical display of officiating – the latter duo, by the way, were officials in a match in the UAE only 48 hours before this match.
It is hard to let the frustration and anger wash over with this one. The season is still very much in its infancy, but Liverpool had the chance to go to the top of the league with a win.
They were unbeaten in their previous 19 matches in all competitions and with Man City having slipped up earlier in the day, there was an opportunity to seize.

If anyone knows how crucial every point is in this league it is a Liverpool side that have twice lost the title by a point, the margins are not forgiving in the slightest.
So, when officials play a major role in determining the outcome of a match with blatant incompetency, an acknowledgment of the error and an apology does absolutely nothing.
"Who does that help now?" Klopp asked after he was informed the PGMOL admitted a "significant human error" denied Luis Diaz a legitimate goal at Tottenham.
Referee chief Howard Webb is since said to have apologised to the club. But again, in the words of Klopp: "we will not get points for it, so it doesn't help."

The fallout from the ruling out of Diaz's goal has since seen the VAR operators stood down for the next matchday, but can they ever be trusted to do their jobs properly? That's seriously questionable.
If it was the case that lead VAR England wrongly thought the on-field decision was a goal and said 'check complete' to confirm it, but did not right the mistake when it was clear what was happening, there is a significant failure in procedure.
By the letter of the law, Tottenham taking the 'offside' free-kick to restart play meant that the officials could no longer rectify the mistake, but common sense has to come into play.
It was a goal, award it as such. It had to be the only option.
VAR was introduced to deliver the right decision in the face of human error, but with the technology operated by the same referees we see on the pitch, that is clearly not possible.
Just a couple of minutes after the wrongly disallowed goal, Liverpool were a goal down instead of 1-0 up while on the road and playing with 10 men. Game-changing does not even begin to cover it.
Liverpool 'against everyone'

It was actually surprising to see how calm Klopp was post-match after all the events that transpired – the blood is still boiling for supporters nearly 24 hours later.
He knows he will have been handed a hefty punishment if he dare cross a line and actually question the untouchable officials, but he displayed a rare sense of calm, or was it actually resignation?
Resignation that we see this time and time again, maybe not of this enormity, and nothing ever changes.
You cannot even bank on consistency that this will 'even' itself out over the season, if it does it will have to be absolutely mind blowing to top what we saw in north London.
We had Diogo Jota shown his first yellow card for Destiny Udogie tripping over his own legs, and VAR showing Hooper the worst possible angle of Curtis Jones' tackle straight away to create a predetermined reaction and decision from the referee.
Will the PGMOL volunteer the audio recording from the match? We would be surprised if they did. Transparency, who needs that, eh?
And yet, in spite of all of this, this Liverpool side so nearly escaped with a point.
This Liverpool side came within seconds of leaving north London with a big 'f**k you' to the officials by taking a result home, but you sense their performance did that anyway.

We should not have to talk about the continued ineptitude of officials in this league, how nothing ever changes – get independent VAR officials, for one – and how teams are being robbed of points.
We should not have to ask for better or for transparency, it ought to be a given.
Yes, humans make mistakes but this is beyond that. With the technology at their disposal and the number of officials overseeing games, we should not have to talk about these issues with frightening consistency.
Liverpool are not the only ones to feel the brunt, Hooper was stood down after the opening day after failing to award Wolves a last-gasp penalty.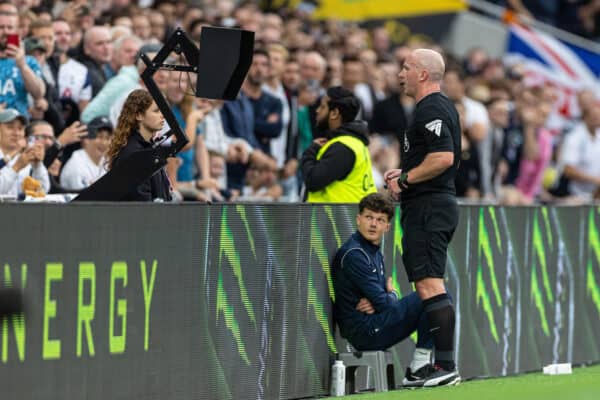 But being dropped from games cannot be the only punishment as they soon come back – and neither can dropping them into lower divisions, that's not fair on those teams!
It is not right that after what promised to be an entertaining clash between two in-form sides has ended like this.
Instead of commending the incredible spirit and relentlessness that this Liverpool side possess, or a victory that was very much possible, we are talking about the same issues from the same officials.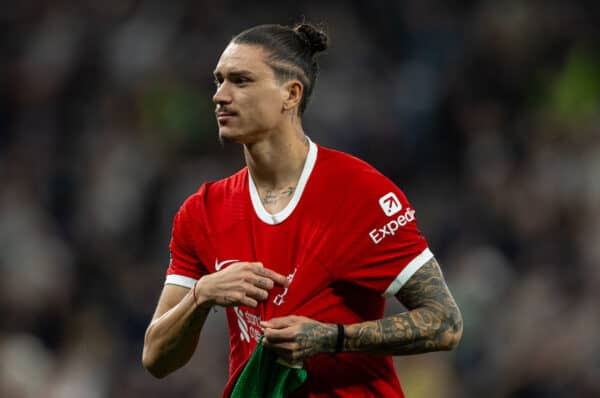 We should not have to talk about incompetent officials and their ability to single handedly dictate the outcome of a match, but here we are and no doubt we will be again.
This will galvanise Liverpool, though, and stoke that fire that is already burning bright in their bellies. In the words of Darwin Nunez, "we are together and against everyone."