Luis Diaz's late equaliser was a "wonderful moment" for the winger, but in the grand scheme of what is important and what is not, his father being released is the priority for Jurgen Klopp.
Football is an escape for so many of us and it can provide special moments, as it did for Liverpool and Diaz on the winger's return to the side following the unimaginable.
The search for his father remains ongoing after being kidnapped by guerrilla group ELN in Colombia last week, and Diaz revealed a special tribute after he headed home the equaliser at Luton.
His undershirt showed the words "LIBERTAD PARA PAPA" – "Freedom for dad" in English – and in the aftermath he was greeted with love by his team-mates, manager and the fans.
Prior to the match, Klopp explained that "positive" negotiations for the release of Diaz Sr. were "ongoing" and after watching his No. 7 score, it is clear where Klopp and Liverpool's thoughts lie.
"A wonderful moment but it doesn't change the situation," Klopp told Sky Sports post-match. "The most important thing is that his father gets released.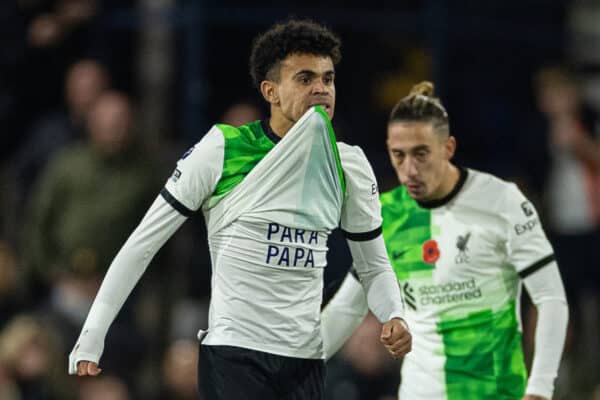 "It is wonderful, wonderful he wanted to be here and he gets that. That's it. For us, a super important goal and for him very important of course and very emotional, but that's it.
"He can always do that [play and important role]. When he is on the pitch he is always involved in special things, this season as well.
"We knew he would be a threat, we didn't know how long he can play because he only had a few sessions with the team but that's fine and that is not the most important part today.
"He scored the goal but we need some improvement in Colombia."
Alisson also praised Diaz for being able to turn up and perform despite circumstances that few will ever be able to relate to.
"It says a lot about his character, about his strength," Liverpool's No.1 said.
"I think not many can imagine what he's going through now. As we are close to him, we are supporting him, we feel his pain, but for him it's a different level.
"Football sometimes, in dark moments, can bring joy to people, can bring joy to somebody who is struggling."