Brighton ensured their Premier League survival last season despite heavy losses to Liverpool—is this their chance to become an established top-flight team?
When we play them: August 25 (home); January 12 (away)
Last season: Won 4-0 (home); Won 5-1 (away)
---
This time last year, many were tipping Chris Hughton's side to go straight back down to the Championship following promotion.
The Seagulls enjoyed an impressive first-ever season in the Premier League, however, finishing 15th and never really looking likely for the drop.
The 5-1 drubbing they received at home to Liverpool last December was a rare blip—they lost just four times at the Amex Stadium.
Hughton is doing a fantastic job as manager with limited resources, and Brighton have become a side that are easy to warm to.
The club is run in an efficient manner, the Amex is a top-class new home and they appear to be an outfit brimming with team spirit.
There is the obvious risk of a sophomore slump in 2018/19, but Hughton is sure to warn against complacency.
They should push on and just about improve on last season's finish.
Brighton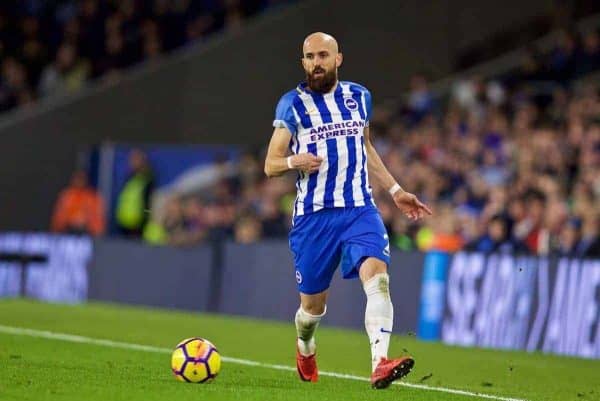 Players in: Alireza Jahanbakhsh, Yves Bissouma, Bernardo, Florin Andone, David Button, Percy Tau, Leon Balogun, Jason Steele
Players out: Connor Goldson, Jamie Murphy, Tyler Hornby-Forbes, Tim Krul, Uwe Hunemeier, Ales Mateju, Sam Baldock, Niki Maenpaa, Steve Sidwell, Rohan Ince, Liam Rosenior (retired)
Best XI: Ryan; Balogun, Duffy, Dunk, Bong; Gross, Stephens, Bissouma, Knockaert, Jahanbaksh; Andone
---
We spoke to Kieran Maguire (@KieranMaguire), lecturer in football finance at the University of Liverpool, to get the lowdown on Brighton's chances and Liverpool's campaign.
How optimistic or pessimistic are you for the new season, and why?
Most fans are pretty relaxed for the forthcoming season. The club have recruited half-a-dozen players, the transfer record has been broken again and we have kept hold of our best performers from last season.
Total spending in the 15 months since promotion to the Premier League has topped £100 million, which is incredible considering where we were seven years ago, playing at a council athletic track.
Personally I'm pessimistic. We have a tough start to the season—Watford away, Man United at home and Liverpool away—and could be playing catchup from September.
I thought we were fortunate last season in that the standard in the Premier League was poor, and we picked up 12 points and scored 11 goals against two teams (Swansea and West Ham)—a feat that is unlikely to be repeated.
We also had very few injuries and suspensions to the core of the team.
The sides that have come up are decent. Fulham and Wolves will both make the division stronger, and Cardiff will be dull but a grind to beat.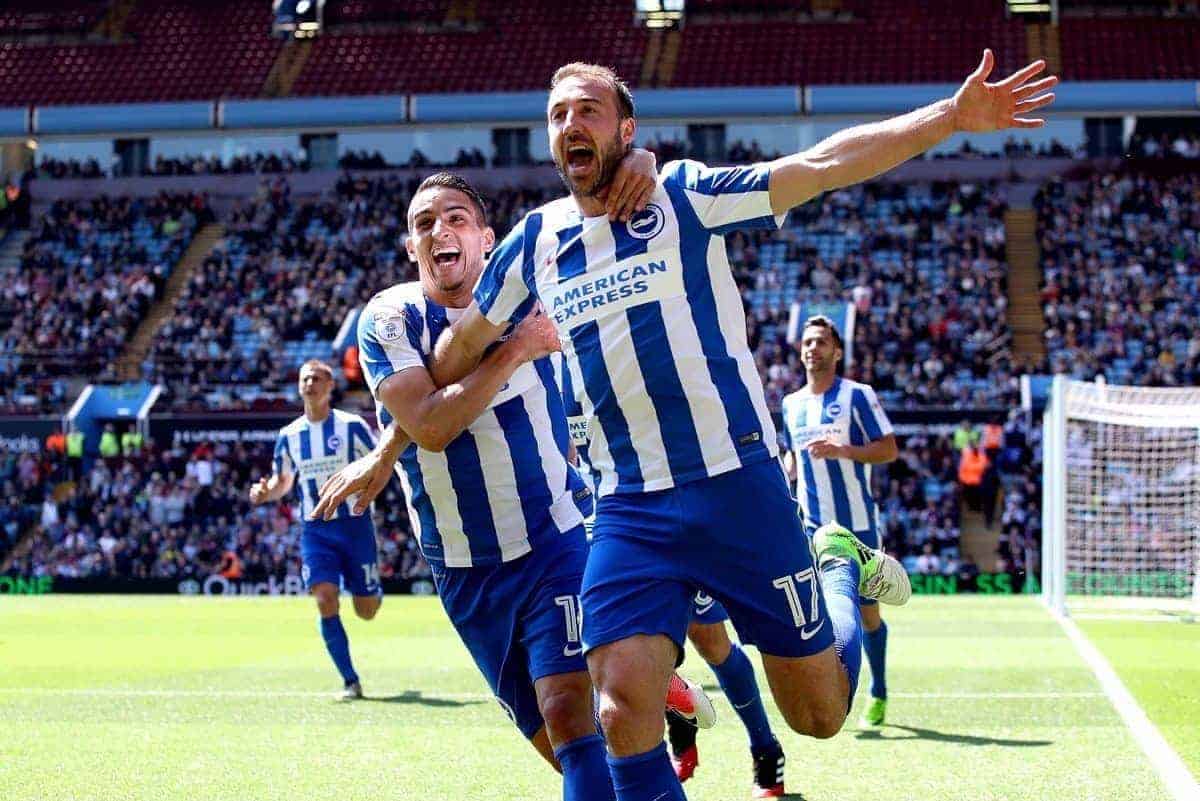 What are your aims for the season?
Realistically survival first, and ideally push on a bit. Our away form is an area that needs addressing for progress to be made.
At home last season we were solid, despite a few spankings (Liverpool and Chelsea), and we matched the opposition in the main.
Who's your man to watch?
Yves Bissouma, a Mali international signed from Lille for an unknown fee—our chairman is a professional poker player who likes to keep his cards close to his chest—which could be as high as £17 million.
He's only 21, but on the basis of pre-season friendlies he will either be the new Paul Pogba or disappear after half-a-dozen appearances.
Strong, athletic, a good tackler and has a foot like a traction engine when he shoots—if he showboats too much then he will get picked off easily, though.
Amex Stadium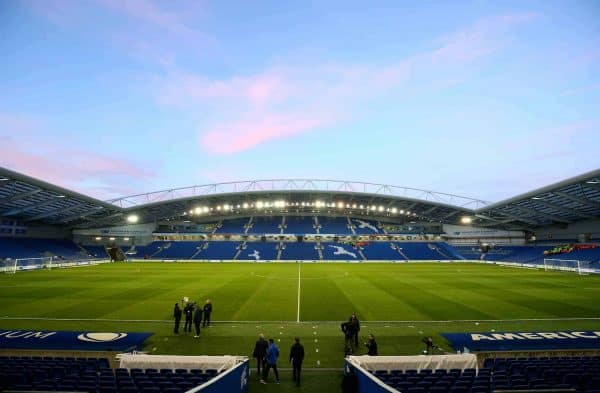 Capacity: 30,750
Away fans' pubs: There are loads around Brighton station, Prince Albert and The Caxton are always good.
One piece of advice for visiting fan: Stay for the weekend. The transport links for the Amex are poor, so best having a few drinks post-match on the concourse—it usually stays open for as long as people want—and then catch train back to Brighton when queues have quietened down and have a great night out.
Liverpool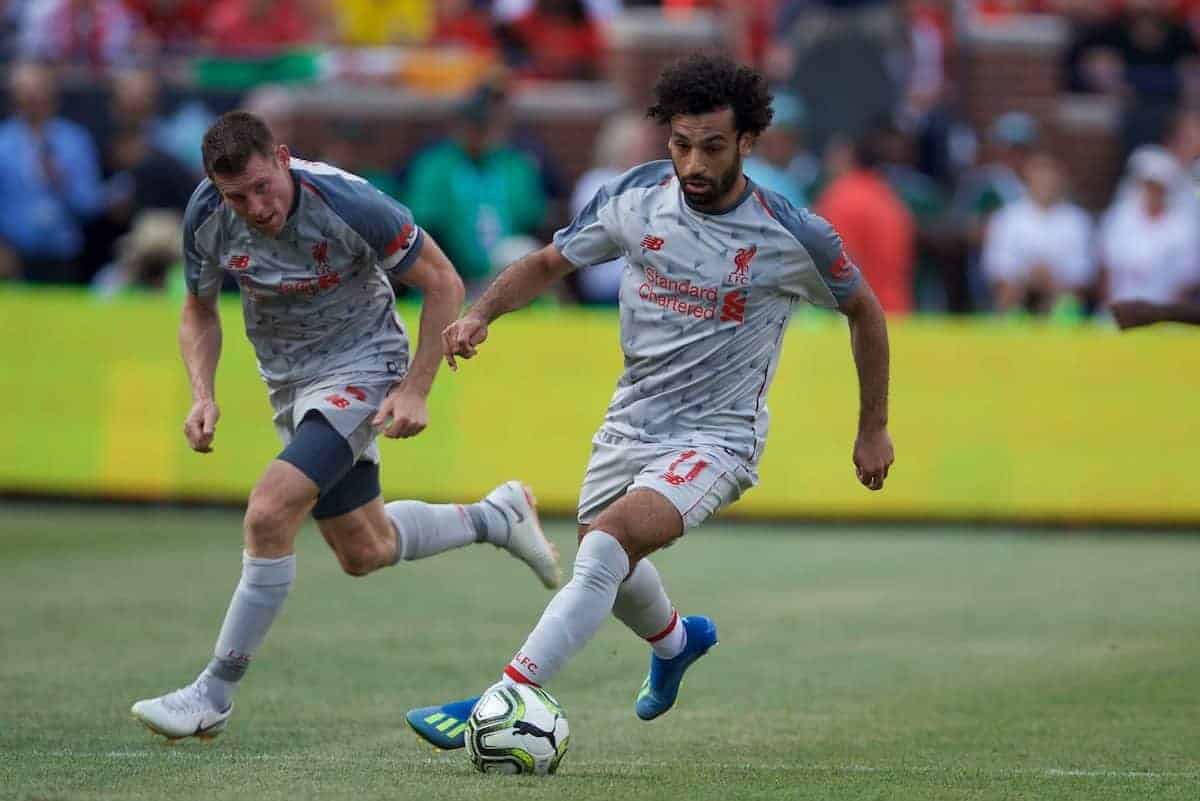 How do you rate Liverpool's chances heading into the season?
Liverpool have addressed the goalkeeping issue, but I still think they need someone with more guile in midfield.
I've seen crabs move forward more often in 90 minutes than Jordan Henderson did for England in the World Cup this summer.
Up front, injuries permitting, they will be scary.
Who's going to be the Reds' Player of the Year, and why?
Got to be Mo!
---
TIA's Brighton Predicted Finish: 17th (Average of the TIA writers' predictions)
Where Kieran says Brighton will finish: 18th
Where Kieran says Liverpool will finish: 2nd
---
This is part of our club-by-club opposition previews this summer, getting the views of away fans on their club and their thoughts on LFC:
Arsenal | Bournemouth | Brighton | Burnley | Cardiff | Chelsea | Crystal Palace | Everton | Fulham | Huddersfield | Leicester | Man City | Man United | Newcastle | Southampton | Tottenham | Watford | West Ham | Wolves