Liverpool have been backed to "do a Keita" this summer, with Borussia Dortmund preparing to sell prodigious American forward Christian Pulisic in 2019.
The Reds agreed a deal with RB Leipzig to sign long-term target Naby Keita a year in advance in 2017, with the Guinean eventually joining for pre-season.
Keita's final season in the Bundesliga, and Leipzig's sixth-placed finish, ensured a fee of £52.75 million, which serves as a bargain signing given the 23-year-old's talent.
Despite a difficult process negotiating with sporting director Ralf Rangnick, this proved to be an excellent piece of business from his opposite number Michael Edwards.
And now Liverpool could do the same as Dortmund eye a move for Pulisic next summer, when the teenager will enter the final year of his contract.
Though claims that Jurgen Klopp's former side could part ways with their No. 22 in the current transfer window have been refuted, German football expert Rafael Honigstein believes this could be the case.
"If the situation doesn't change as far as extending his contract is concerned, he will then definitely be sold in the summer of 2019," he told ESPN.
"That puts things in an interesting context, because if you know that as a club now you wouldn't necessarily have to force a deal through in the summer, you could say 'what about next summer?'
"I think Liverpool, who have been very smart in recent years, could do almost like a Keita.
"Say to him 'you know what, next summer Dortmund have to sell you, why don't you come to us then?'
"[They could] do a deal now. Of course, [approaching players] is not strictly legal, so it has to be very quiet, but it is being done all the time.
"I think that's a very realistic scenario."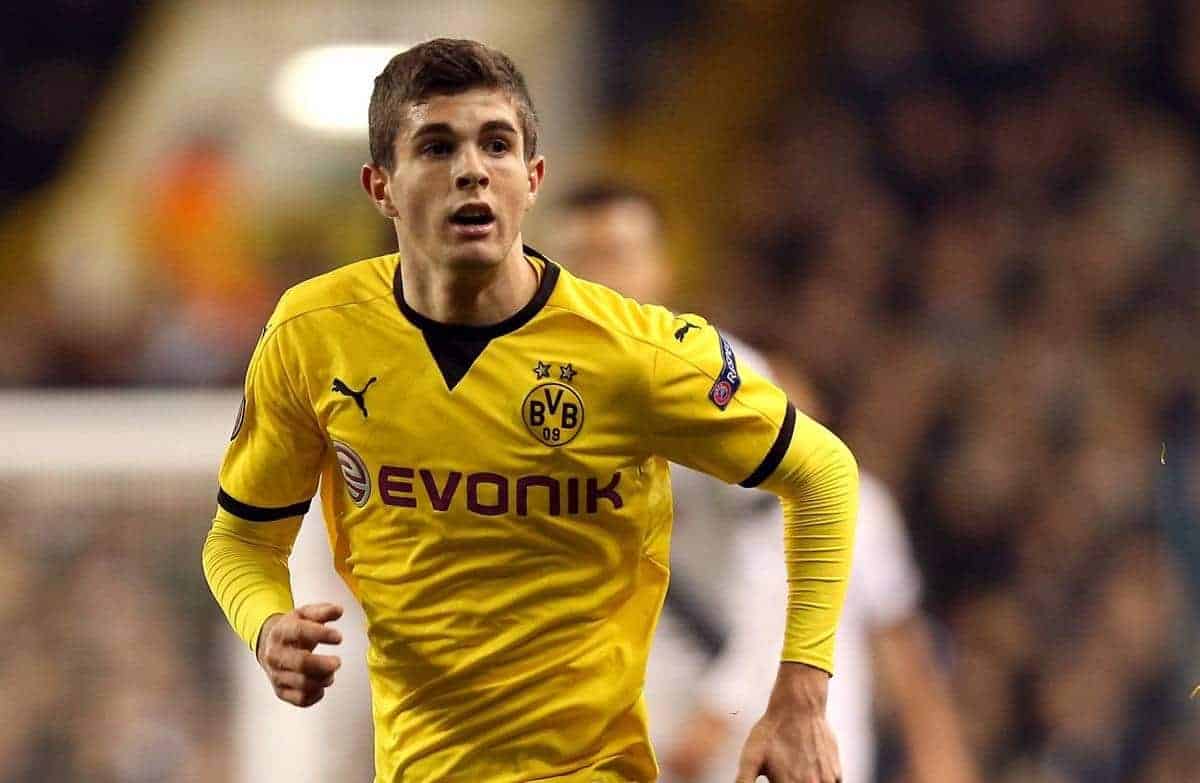 Honigstein has close journalist ties to both Klopp and Dortmund, and has previously intimated that a move for Pulisic is very likely.
Speaking to The Totally Football Show at the beginning of 2018, he said he would be "very surprised if they don't come in heavily for him next summer."
Though Dortmund are seemingly unwilling to sanction an exit for Pulisic before the final year of his contract, an agreement with Liverpool for 2019 is feasible.
The two clubs have a healthy relationship due to Klopp's successful seven-year tenure at the Westfalenstadion—and his amicable departure—and the manager is a big admirer of Pulisic.
Given Klopp has already suggested there would be no further business this window, with no plans to 'replace' Philippe Coutinho, it could be that the Reds play the long game again and wait for his preferred target.