The belief Naby Keita is a confidence player suffering with lack of just that at Liverpool has been reinforced by Jurgen Klopp's assessment of his latest outing.
Keita made his 23rd appearance for the Reds in Monday night's 1-1 draw with West Ham, days after Ralf Rangnick, manager of his former club RB Leipzig, explained how he is "not the player there that he was here."
The Guinean, who arrived in a deal worth £52.75 million last summer after a year in waiting, has yet to hit the heights of his stunning 2016/17 campaign at the Red Bull Arena.
He endured another hit-and-miss showing at the London Stadium, with flashes of brilliance undermined by a lack of strength and, vitally, end product.
Furthermore, he was criticised for his role in Michail Antonio's equaliser, having been blocked off by Mark Noble and failing to track the goalscorer in a well-planned set-piece routine.
Andy Robertson suggested the No. 8 had "not been able to react," due to Noble's interference, and with the goal coming just before the half-hour mark it clearly dented his confidence.
Speaking to BBC Sport after the game, Klopp acknowledged this, hinting that Keita had suffered mentally due to his role in conceding.
"Naby maybe thought, in the goal situation that he was involved, you could see it didn't help him," the manager said.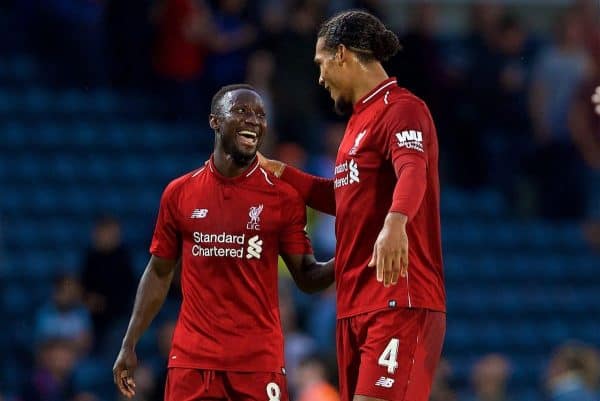 Keita arrived with a reputation a fearless, confident midfielder, taking up the legendary shirt last worn by Steven Gerrard, and quickly shone in pre-season.
In the early games in the campaign he was particularly impressive, with a bright one-touch turn to evade Andros Townsend in August's 2-0 win over Crystal Palace a highlight, but injuries have seen his form suffer.
He can often be seen giving up when losing the ball, or beating a man with a dribble only to skew the final pass, and Klopp's assertion that he is lacking confidence is not a new one.
"I'm completely happy with Naby. [But] could he be a bit more confident in the games? Yes," he said before the FA Cup third-round defeat to Wolves in January.
Fielded in his natural position in the middle of the park that night at Molineux, Keita turned in another poor showing that saw This is Anfield's Joel Rabinowitz conclude that he "needs to offer more."
There were signs in the second half against West Ham, and the manager attested that "he was there again" after the break, but his tendency to drop his head is concerning.
However, the hope is it is only a matter of time before he hits his stride, and if confidence is the only issue fans can look forward to a big impact when he eventually does.