Liverpool's fixtures for the 2019/20 season were confirmed on Thursday morning, for a campaign that will see Jurgen Klopp's side compete on seven fronts.
The Reds will begin the Premier League season at home to Championship winners Norwich, which will kick off the opening weekend at Anfield on Friday, August 9.
After tallying 97 points and not winning the title last term, losing out to Man City by one point, Liverpool will be setting their sights on lifting the trophy next May.
This challenge is set against the backdrop of a Champions League defence, along with five other competitions both domestically and on the continent.
Here's all you need to know on Liverpool's 2019/20 fixtures so far.
A Busy Start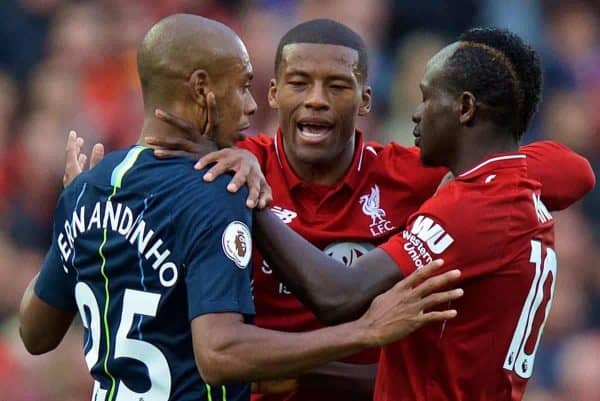 The visit of Norwich won't be the Reds' first game of the season—technically, that will be the Community Shield against Man City at Wembley on August 4.
The final game of pre-season was set to be against Schalke at Anfield on August 6, just three days before the Premier League opener, but those plans have now been scrapped.
Meanwhile, five days on from the league's curtain-raiser, Liverpool head to Istanbul to play Chelsea in the UEFA Super Cup on August 14.
They are currently scheduled to play Southampton at St Mary's on August 17, but this is likely to be moved for TV.
The Club World Cup Fiasco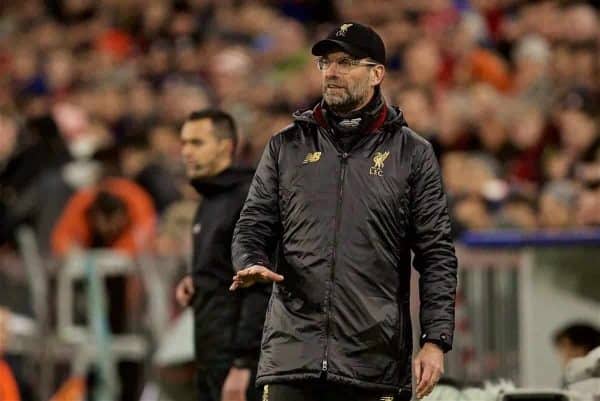 To Liverpool's bemusement, FIFA have made a U-turn in their plans for the Club World Cup, and they will be invited to the tournament in Qatar in December.
At the beginning of June, reports claimed the Reds were "yet to receive official confirmation from FIFA," and hadn't received "any kind of information from FIFA as to when they will be expected to travel to Qatar or what dates the games will be staged."
Regardless, if the Club World Cup goes ahead as expected Liverpool will enter at the semi-final stage, which was held on December 18/19 last year.
The final and third-place playoff were on December 22 in 2018.
If those dates are similar for this year's event, the Reds' time in Qatar will clash with the scheduled meeting with West Ham at London Stadium on December 21.
Amazon's December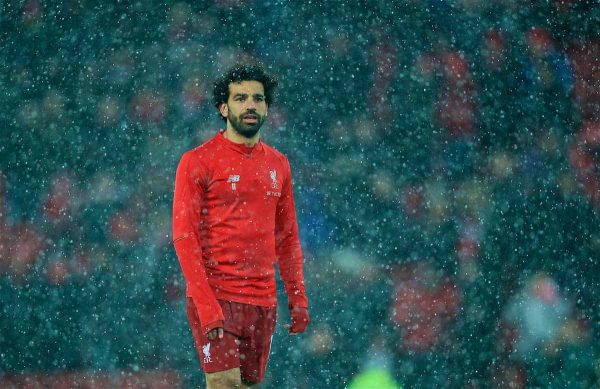 For the first time this season, Amazon Prime will join Sky Sports and BT Sport as a third broadcaster for the Premier League in the UK.
The streaming service bought the rights to show 20 games a season from 2019 to 2022 for an undisclosed amount last June, and it has been determined that these will fall in December.
Amazon Prime will show all 10 midweek fixtures on December 3/4/5 and all 10 on December 26/27.
Liverpool play Everton at Anfield on December 4, and travel to Leicester on Boxing Day.
Amazon Prime is available for a 30-day free trial, and then £7.99 per month or £79 for the year. Sign up here.
The Winter Break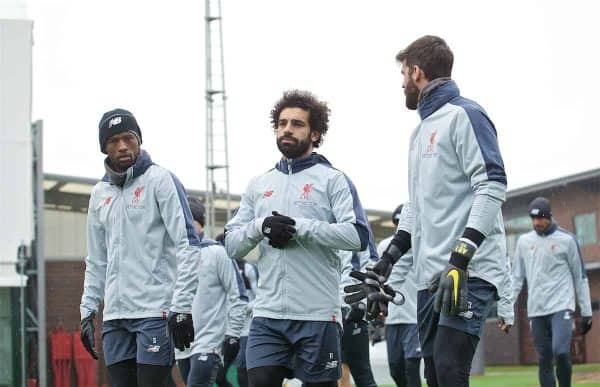 Another first for the Premier League comes with the introduction of a winter break in February.
The break will be staggered across two weekends, with only five games to be held on each of those, to provide much-needed rest for players following a ridiculous festive schedule.
Liverpool's break comes after the trip to Norwich on February 8, with the next game coming against West Ham at Anfield on February 22.
Domestic Cups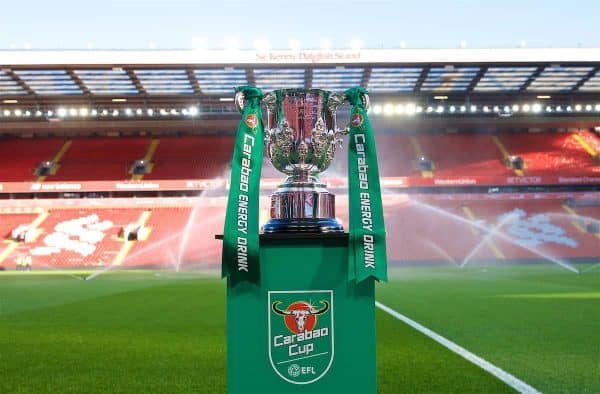 Last season Liverpool exited both the FA Cup and League Cup at the third-round stage, following defeats to Wolves and Chelsea respectively.
Given the increased demands on their schedule with the Community Shield, UEFA Super Cup and Club World Cup, it could be that Klopp opts to field a rotated side in both domestic cups again this season.
That remains to be seen, and the hope is that the Reds can instead bring home an unprecedented seven trophies in 2019/20.
The third round of the League Cup is set to take place in the week commencing September 23, while the FA Cup third round will be held on January 4/5.
Liverpool play Chelsea (A) on September 21, and Sheffield United (A) on September 28 and the same side (H) on January 1.
Our Champions League Defence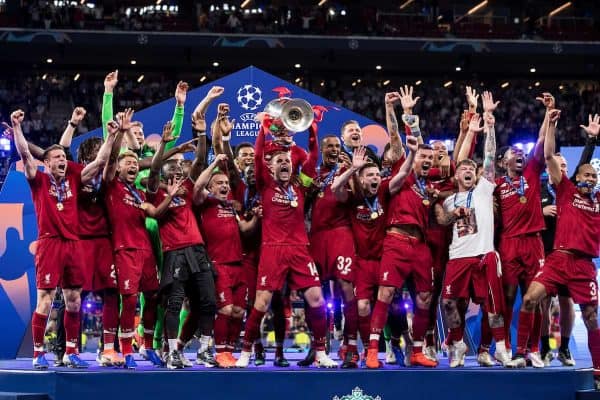 After a 14-year wait, Liverpool will head into the season as champions of Europe again.
Having fallen to defeat in the final in 2018, the Reds lifted the Champions League trophy in Madrid to establish themselves at the top.
Back-to-back European Cups should now be the target, and the draw for the group stage of this season's tournament will be held in Monaco on August 29.
The first game will then be held on September 17/18, before the tough trip to Chelsea (Sept 21).
Matchday two is on October 1/2, between clashes with Sheffield United (away, Sept 28) and Leicester (home, Oct 5); matchday three is on 22/23, with Man United (away, Oct 19) before and Tottenham (home, Oct 26) after.
Our fourth group game is set for November 5/6, between Aston Villa (away, Nov 2) and Man City (home, Nov 9), and the fifth is on November 26/27, between Crystal Palace (away, Nov 23) and Brighton (home, Nov 30).
Finally, the last clash of the group stage will be played on December 10/11, after a trip to Bournemouth (Dec 7) and before the visit of Watford (Dec 14).
Transfer Windows
The summer transfer window will close at 5pm on Thursday, August 8 (BST), just over 24 hours before Liverpool's Premier League opener.
It will then reopen for the winter on January 1, before closing as usual on January 31.
International Breaks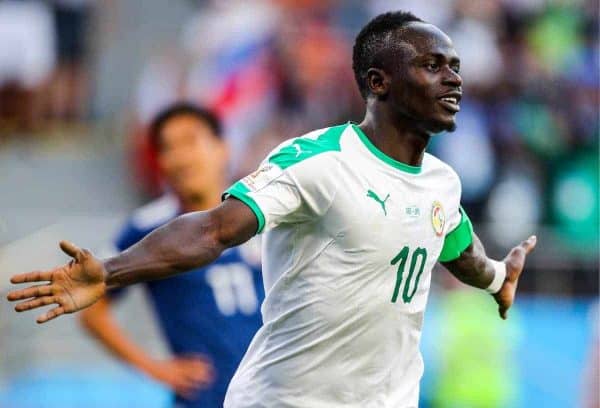 As ever, there will be four international breaks for the 2019/20 season, which come between the following games:
The trip to the Etihad on April 4, therefore, looks particularly troublesome already.
When Will TV Changes Be Made?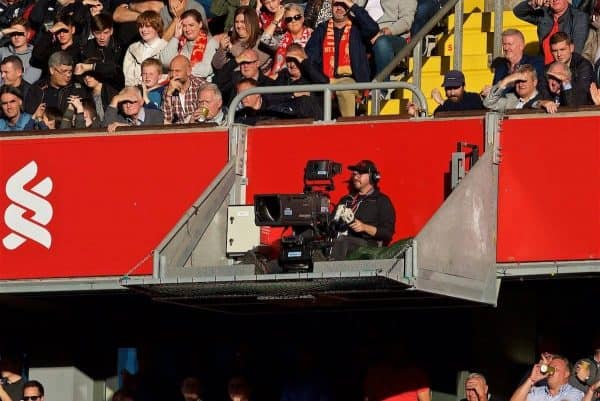 The provisional dates for fixtures changes for broadcast are yet to be confirmed, but are likely to be similar to last season's.
Though the opening weekend's games—including Liverpool vs. Norwich, live on Sky Sports—have already been announced, the rest of August and September are unlikely to be revealed until the first week of July.
Last year, changes for October and November came on August 7, December and January on October 14, February on December 20, March on January 25, April on March 19 and May on April 5.