Naby Keita is one of five Liverpool players entering the final months of their contract, but no definitive call on his future has yet been made, according to one reporter.
The Reds are at a crucial juncture to determine their future trajectory, with fresh legs needing to be injected to usher in the next era for Jurgen Klopp.
The Reds currently have three midfielders out of contract at the end of the season, Keita, Alex Oxlade-Chamberlain and James Milner.
On Monday, the manager insisted he is "not too loyal" to his existing players and that "changes" will be afoot to refresh the squad.
And the expectation from many is that Keita will be one of those changes as he becomes a free agent in the summer after five years at Anfield.
Sky Germany's Florian Plettenberg has reported that is not definitive, though, as "nothing is decided at this stage" and a "contract extension is not ruled out."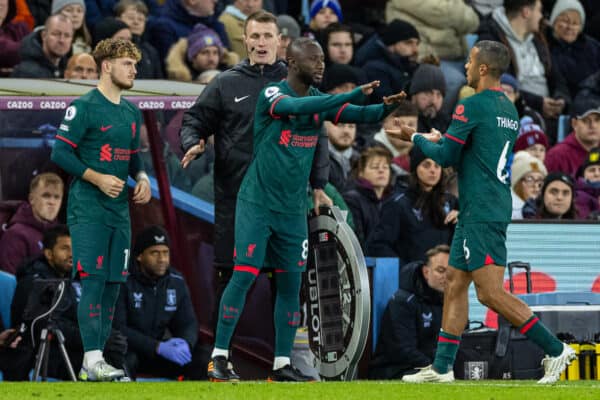 It corroborates what GOAL's Neil Jones reported in December, that Liverpool "would still quite like to keep Keita, but they would also like him to play a few games."
The 27-year-old has been plagued by injuries at Liverpool – he's missed 19 games this season alone – but has made appearances off the bench in the last six, yet Klopp has still been resistant to hand out a place in the XI.
You sense he has plenty to prove between now and May. Although, it could make sense for Liverpool to keep hold of a midfielder ahead of an expected overhaul in the position.
The Times' Paul Joyce reaffirmed that Jude Bellingham, who is valued in the region of £130 million, remains at the top of Liverpool's list, and Wolves' Matheus Nunes is still a target for the summer.
Those two players alone will demand a sizeable outlay and you can easily argue that Liverpool need more than just a couple of new faces.
Klopp has insisted he is not hesitant to make those changes but suggested club finances and the transfer policy has previously held Liverpool back from making necessary moves.
"You can have a good player who did a lot of good stuff in the past and then in your mind, you think 'maybe that's it now for him'," Klopp told reporters on Monday.
"If you can then go out and bring in another player to replace him, that makes sense for both sides. If you cannot bring anybody in, you can't take anybody out, that's the situation."
A significant summer is on the horizon.