As the debate over whether or not to move Trent Alexander-Arnold into midfield continues, there could be a tactical solution to satisfy all sides.
In the aftermath of Liverpool's Champions League exit, Jamie Carragher reopened the eternal debate about Trent Alexander-Arnold.
Great player? Yes.
Right back? "I'm not sure."
Jurgen Klopp has repeatedly ruled out the idea of playing Alexander-Arnold in midfield. Gareth Southgate tried it for 45 minutes and deemed it a failure.
Yet many still call for him to be replaced at right-back and redeployed in midfield.
The good news is: both sides are right. Here's how.
Why it doesn't work
Think of the classic Liverpool setup. A 4-3-3, full-backs flying forward, 'functional' midfield and two devastating wingers in front of a false nine.

The 'function' of that midfield is to win loose balls, back up the forward press and sprint back to cover behind the full-backs.
Imagine Alexander-Arnold on the right side of that midfield three. His job would be to anticipate danger, win 100 percent of his one-on-one duels and play short connecting passes.
Does any of that sound like his skillset?
Not according to Carragher: "We all know his defending is not good enough…the intensity when he goes to press and close down is just not there."

Having also been criticised for his propensity to lose concentration (see Madrid's goal at the Bernabeu), Trent seems a poor fit for this role.
Throw in the fact that his time on the ball to play creative passes would be drastically reduced, and it's easy to see why Klopp is so opposed.
Why it could work

When Klopp arrived in 2015, Google searches of the word 'gegenpressing' spiked on Merseyside.
The German had a reputation for playing an innovative, defined style of play.
His use of Roberto Firmino as a false nine and recruitment of two highly creative players for the full-back positions lived up to this reputation – and powered the Reds to a glut of trophies.
But these days, the tactical innovation seems to happen elsewhere.
Liverpool are just now catching up with the box midfield trend, while the tactic of lopsided full-backs has yet to reach Anfield.
But what if it did?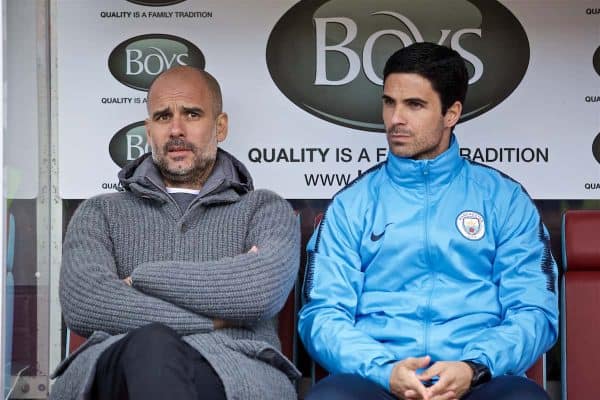 Many teams have recognised that playing two overlapping full-backs can leave them vulnerable to counter-attacks. Instead, they now use asymmetrical full-backs.
League leaders Arsenal deploy centre-back Benjamin White on the right, while left-back Oleksandr Zinchenko inverts – stepping into midfield alongside Thomas Partey.
This gives Arsenal a three-box-three shape in possession.

Pep Guardiola, the godfather of the inverted full-back, also employs this tactic with Man City.
The left-footed Nathan Ake forms the back three, while on the right, academy graduate Rico Lewis typically inverts alongside Rodri.

This allows both sides to dominate possession whilst staying extra safe against counter-attacks.
That's all well and good for title-challenging sides. But Carragher's point was "if Liverpool are trying to qualify for the Champions League on a yearly basis, I'm not sure Trent is your man at right back."
So what about those top-four-chasing sides?
Brighton have also employed lopsided full-backs and a three-box-three shape in their impressive campaign so far.
Joel Veltman tucks into the back three, while Pervis Estupinan overlaps similar to Robertson. The back three and midfield pivot means there's plenty of protection should he be caught high up the pitch.

Contrast this with Liverpool's classic '2-3-5'.
Liverpool get plenty of bodies in midfield to benefit from counter-pressing situations, but if they lose a duel, the wide split of the centre-backs means Fabinho is left alone to cover the centre of the pitch.
Should he be out of position for any reason, Liverpool are wide open – with both full-backs sprinting back the length of the pitch.

But what if Liverpool innovated their own version of the trend?
One option could be to use Alexander-Arnold as an inverted full-back, whilst keeping Robertson high and wide.
With Fabinho slotting into the back line during buildup, Alexander-Arnold inverting – alongside a defensive-minded player like Stefan Bajcetic – would see Liverpool form that three-box-three shape.

We've explored how Brighton broke Liverpool's press playing through the double pivot – and with respect to Moises Caicedo, Alexander-Arnold is a far superior playmaker.
Imagining him in this area of midfield, filling this function, is tremendously exciting.
This approach also gets Darwin Nunez into his preferred central role, with Cody Gakpo dropping between the lines and Mo Salah receiving the ball higher up the pitch.
So if you want Trent to stay at right back, Klopp has got you covered. If you want Trent to play in midfield, there is at least one version where it could work.
Sometimes, everybody gets to be right.