Southampton's relegation to the Championship has opened the door for a handful of exits, which includes Liverpool target Romeo Lavia.
The Saints were cemented to the bottom of the table for most of last season, consigning them to a return to the Championship after 11 years in the Premier League.
As is often the case with relegated clubs, rivals start to circle for their best talent and Southampton are under no illusions that they will escape that fate this summer.
Liverpool are one of several clubs credited with interest in 19-year-old Lavia, who was a standout player throughout his 34 appearances.
Latest reports suggest talks with the player's representatives are "advancing well," and new Southampton manager Russel Martin accepts he will lose some of his best players to the Premier League.
"I hope I can convince some people to stay who were maybe 50-50 about it. I think there are some players who we can't avoid who will be back in the Premier League," Martin told BBC Radio Solent.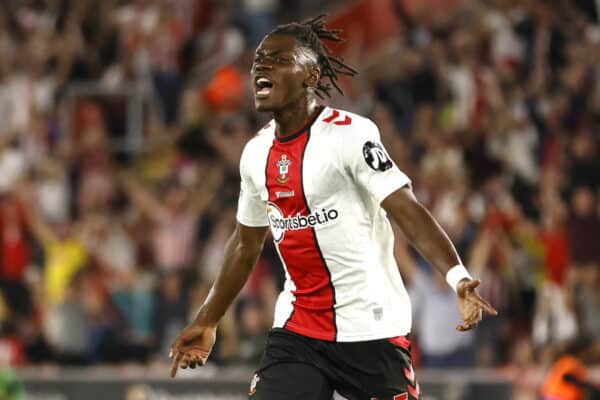 "That's the nature of the game and some of them will be far too attractive to Premier League teams and will want to go and play in the Premier League. You have to respect that."
The Saints are said to be asking for a fee in the region of £50 million for the midfielder, who will eventually qualify as a homegrown player – a valuable asset for Liverpool.
But while Martin respects he will likely lose the likes of Lavia and James Ward-Prowse, he is not as accepting of the transfer window closing nearly a month into the Championship season.
"I think it's nonsense that in the transfer window, you can start the season and then four weeks later, you can lose five players. I think it's ridiculous," he commented to the Daily Echo. "But that is what it is."
He added: "I've been really honest in the individual chats we've had.
"Even the ones who think they'll end up back playing in the Premier League and want to, and there's interest for them, as long as they give it all they've got while they're here, they owe that to the club after last season in particular."
Lavia looks to have become the Reds' next priority in the transfer window but a reporter has suggested Liverpool need to sell before they opt to add a third midfielder – a line no doubt coming out of the club.
Thiago's name has done the rounds amid interest from Saudi Arabia, but we saw how quickly things changed with Dominik Szoboszlai when the right deal presents itself.
Either way, it all makes for an interesting few weeks ahead for Liverpool.