Kostas Tsimikas insists that Andy Robertson's injury is a blow for himself and the team but admits that it has opened up an "opportunity" for game time at left-back.
Robertson sustained a dislocated shoulder while on international duty with Scotland earlier this month, with Jurgen Klopp later confirming that the 29-year-old will require surgery.
It means that Liverpool's first-choice left-back is expected to be out of action until the new year, leaving the door ajar for his understudies to lay down a marker of their own in the position.
Tsimikas is the natural replacement in Robertson's absence, but the Greek defender maintains that his focus remains on the bigger picture despite the "big opportunity" that has presented itself.
"I think always, as a player, I see that as a big opportunity," he told Sky Sports.
"I wasn't happy, we are good friends." ?

Kostas Tsimikas on stepping up to replace the injured Andrew Robertson ? pic.twitter.com/2PJPGcjzy6

— Sky Sports Premier League (@SkySportsPL) October 27, 2023
"When they called me and said to me they expect me to be happy, but me I wasn't because first of all, with Andy, we are good friends and also we are team-mates. Of course, I need him and he needs me.
"We can't play all the games, because there are so many. From my point, I see no difference. I see every game as a final for me personally, I always try to give my best.
"For me, it's not to take the position, I think that doesn't really matter.
"I think for me, the most important thing is to be yourself in every game, to try to give absolutely your best and the guy who is the best, in the best moment and the best shape, he will play."
Tsimikas has featured 66 times since joining the Reds in 2020, with his involvement largely restricted to filling in for Robertson as and when he is needed.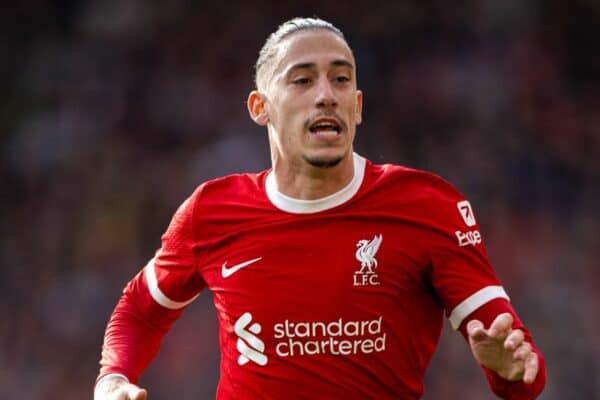 He made himself a hero by scoring the winning penalty in the 2022 FA Cup final shootout victory over Chelsea and committed his future to the club by signing a new long-term deal last month.
The defender conceded that "rhythm" is a crucial part of building momentum as a player and that his relative lack of regular minutes has not helped him thus far in his Liverpool career.
"The rhythm is very important for a football player. I think when I play a game and after I rest and after I play again, always this didn't do too much for my rhythm," he continued.
"But always I try to work even harder in training, to keep this good shape. I think now the rhythm will come, I will be more ready and more fit.
"So it's very, very important, the rhythm. I have to be there and have to play every game as well as I can."